Leanne's Spoiler List: Kaley Cuoco's Sister to Star on 'Big Bang Theory's Valentine's Day Ep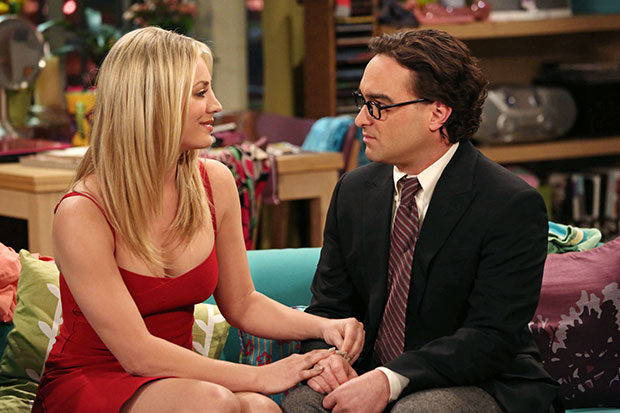 This week's edition of Leanne's Spoiler List is overflowing with fun and exclusive details from six spectacular shows. I've got the first scoop on The Big Bang Theory's Valentine's Day extravaganza, a sweet behind-the-scenes story from Glee, and a sneak peak at next week's chilling episode of Bones. Plus, I chatted with the stars from Grey's Anatomy, Beauty and the Beast, and Shameless to bring you your weekly dose of delicious spoilers. Read on for all the smile-inducing TV craziness below…
RELATED: Leanne's Spoiler List: Couple Alert! What's Next for Nick and Jess on 'New Girl'?
1. The Big Bang Theory: Sweethearts and Sisters
There are two things in this world that I love with all my heart: The Big Bang Theory and Valentine's Day. So the fact that BBT is having a V-day-themed episode next week means I'm pretty much bouncing off the walls with excitement right now. (That also may have something to do with the fact that I've had five cups of coffee today… ) In the "The Tangible Affection Proof," love is in the air for our favorite CBS beauties and geeks, but I've learned complications will be served up by Kaley Cuoco's real-life sister, Briana Cuoco!
Our lovey-dovey foursome — Leonard, Penny, Howard, and Bernadette — are headed out for a romantic double date. Don't worry girls — they're not taking them to The Cheesecake Factory. Instead, they're treating their gals to a very nice dinner in hopes of giving them the perfect Valentine's Day. But of course — in true Big Bang Theory fashion — things never go quite as planned. (But why would you want them to?!) While at dinner, Penny spots her ex-boyfriend Matt and the girl that he cheated on her with, Gretchen. You guessed it, Gretchen is played by none other than Briana Cuoco.
While Penny and Co. are dealing with an awkward encounter, Raj and Stuart are planning a singles-only party at the comic book store in hopes of meeting some nice ladies. And over on the world of Shamy, Sheldon and Amy are frantically running around in search of the perfect heartfelt gifts. (Side-Note: Fingers crossed this will be even better than the time Sheldon gave Penny all those bathroom baskets for Christmas!) I can't reveal all of the amazing details, but I can tell you that this is one Valentine's Day episode that you definitely don't want to miss!
2. Grey's Anatomy: Mr. Seattle Grace
Physician's advisor Dr. Alana Cahill hasn't exactly been the most popular addition to Seattle Grace this season. Okay, let's face it, she's incredibly irritating — especially after last week's shocking reveal that she's prepping the hospital to be sold. (The nerve!) Just when you think she can't get any worse, Cahill decides to channel her inner Effie Trinket and proposes a not-so-friendly competition. One of my spoiler fairies at Hollywood.com got the chance to speak with the brilliant Constance Zimmer (who is absolutely nothing like her strict, harsh character, I promise!) about what Cahill has in store for Thursday's all-new Grey's Anatomy, "The Face of Change."
"We're trying to put a face to the hospital, specifically Jackson or Alex, so they are trying to compete to be that face," Zimmer says. "That pits two teams against each other, to see who can look the best in what they're doing, in their surgeries, in the African exchange program of Karev's, etc." That's right, y'all — be prepared for an all-out battle royale in the halls of Seattle Grace where the interns are the tributes and we're at the Capitol watching the craziness unfold. (Can you tell I just re-read all of The Hunger Games books?)
Although this is sure to be an interesting episode, it is obnoxious that only Karev and Jackson are fighting to be the face of the hospital. Um, excuse me, but why weren't any of the ladies considered?! "They're thinking who would look good on a poster," Zimmer says. "I know I was asking the question, why not a woman? But I think it's an overall sense of the hospital and they want to have someone that seems very appealing and likeable and who would be the most approachable. And for whatever reason, that came down to Jackson and Alex." Humph. Fine, I can't argue with the fact that both of those fellas would look mighty fine on a poster. But, of course, since this is Grey's Anatomy, there will be a plethora of twists and turns in the quest for Mr. Seattle Grace.
RELATED: Leanne's Spoiler List: Which 'Pretty Little Liar' Could Be A? 'Glee,' 'The Following' and More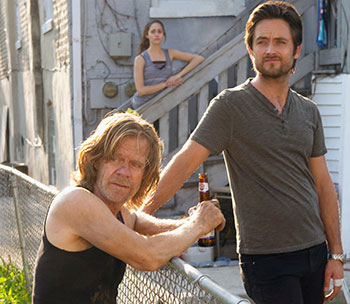 3. Shameless: Daddy Issues
We're only three episodes into Season 3 of Shameless and it's hard to imagine that things could get any crazier in the Gallagher household — but goodness gracious, they most certainly do! The king of secrets, Jimmy/Steve, has a particularly intense revelation in this Sunday's episode, "The Helpful Gallaghers," when he realizes that his father has been weaving a web of lies for years now. Like father, like son, right? 
I recently chatted with the delightfully sweet Justin Chatwin to discuss all of the skeletons Jimmy finds in his father's closet (metaphorically, of course). "He learns that his childhood wasn't what it was, and that his parents weren't who they were, and he eventually finds out that their financial situation wasn't what it was," he revealed. "Everything that he relied on as a Plan B, C, and D, has completely fallen apart."
Jimmy's married pop has been getting down and dirty with Fiona's underage little brother, Ian. This is a pretty huge secret, and one that is definitely going to be discovered in this week's episode. I'm not going to reveal how the Gallaghers find out, but let's just say that the entire neighborhood probably knows by now. So how does Jimmy react to this news? "Jimmy is a little bit homophobic at first, almost," the actor explains. "Then we realize it's not homophobia he's reacting to, he's reacting to the same thing Fiona is reacting to with Jimmy — is my entire relationship with you dishonest? Is it untrue? How much have you been lying? I think Jimmy has this very judgmental response to it, and I think through judging his father, he starts to see more about himself." 
Does this mean that Jimmy is going to tell Fiona that his marriage to Estefania is still very real? Sorry, TV fans, I'm not going to spoil that one for you, but I feel like I've given you quite enough Shameless scoop for one week. Moving on!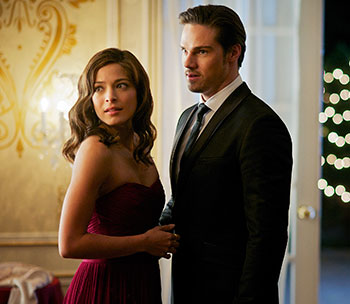 4. Beauty and the Beast: Vincent's Choice
Last week, Catherine (and fans everywhere) were thrown for a loop when Vincent's ex-fiancé, Alex, came back into the picture — conveniently right when Cat and Vincent decided to give their relationship a chance. Oh CW, you sure know how to mess with our hearts, don't cha? Now that Alex is intent on giving her relationship with Vincent a second chance, Vincent must finally make a choice. But would Alex still be so eager to start a new life with Vincent if she knew the truth about his beastly side?
Earlier this week, my CW expert chatted with the oh-so sweet Bridget Regan, who is lucky enough to play hunky Jay Ryan's significant other. (Can you tell I'm seething with jealousy?) And the first thing they discussed is how Alex might react if/when she finds out Vince's secret. The actress explains, "That's what we're going to run into in the next episode. Alex is a nurse. She's a strong woman who is experienced and has face a lot of scary things in her life, but something like this? It's completely foreign!" Foreign? More like a fairy tale!
"It's really hard to wrap your mind around," Regan teases. "So that's going to be the next challenge for her, to see if she can understand this, what would happen, and how she would deal with this." 
Does she think knowing the truth would change how Alex felt about Vincent? "I understand why the fans are so protective of the relationship with Catherine and Vincent, because she does know all of him and she does accept him for all of who he is," Regan says. "And at this stage, Alex doesn't know. She loves this memory of a man. She doesn't really know this man." BATB fans will have to tune in to Thursday's all-new episode, "Cold Turkey," to see if Vincent does indeed share his secret with Alex.
RELATED: Leanne's Spoiler List: Cocaine Fueled Adventure on 'Girls', Megan Hilty Talks 'Smash' Romance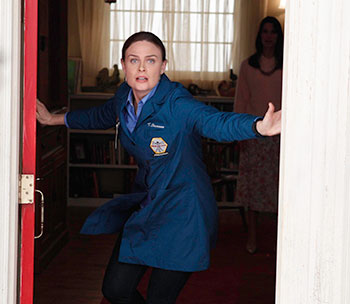 5. Bones: Stay Away From the Light!
Of all the procedural dramas that flood the airwaves each and every night — and let's face it, there are a lot — Bones has always been one of my favorites. The only bone I have to pick with FOX drama is the ultra-squishy sounds that poison my eardrums whenever the team handles the guts and goo of their victims. Blegh! 
Luckily, next week's episode, "The Shot in the Dark." focuses more on who shot Brennan and less upon poking and prodding dead bodies. That's right, Bones fans — I hate to be the one to break it to you, but our beloved forensic anthropologist will be shot while working late in the Jeffersonian lab. Not only are we presented with the question of "Who done it?" we also need to know how. There's no bullet!
Fast-forwarding just a bit, we see that Booth, the amazing man that we all know and love, is at her hospital bedside 24/7, but Brennan keeps visiting "another place." We all know that Brennan very firmly does not believe in God, or heaven, or any other kind of non-logical event, so you can imagine her confusion when she sees her mother sitting on a couch next to her. Grab your waterproof mascara and start lining up your boxes of tissues now, Bones fans, because next week's episode is without a doubt a tearjerker.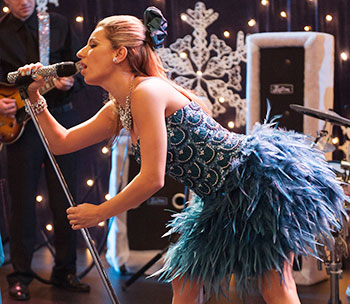 6. Glee Twitter Question: @Faberrything Leanne, you precious cupcake lady, I'm in pain, just took out 2 wisdom teeth. Any good news or something to cheer me up??
Confession: This is the first time I've even been referred to as a "precious cupcake lady" and now I don't want to be called anything else. I'm oh-so-sorry that you are in pain (and probably have really cubby cheeks right now), so how about I tell you about my recent encounter with Glee's Vanessa Lengies? That girl can cheer anyone up! As you all may or may not know, the creative Brittana fans have imagined a very intriguing background story for Lengies' Glee character, Sugar Motta (AKA my favorite character.) Basically, the fandom has decided that Sugar is Brittany and Santana's love child who was sent to the halls of McKinley from the future — thus explaining her wacky outfits and positively perfect personality. Here's where it gets good: Not only does Lengies know about this theory, she is 100 percent convinced that it is true!
"Oh, in my mind I am definitely the lovechild of Santana and Brittany. There is definitely no doubt," the actress says. "Ever since day one when I read that online and I was like, 'Okay that's my story,' and I kind of just go with that in my head. " But Lengies is not the only one who believes the story — Heather Morris is in on the conspiracy as well! "Heather and I have been planning this whole thing where we're going to build a spaceship and plan to go back," she says. "Basically, our idea is that Sugar came back and she told Brittany and Brittany was like, 'I knew It. I knew it the whole time!' but we couldn't tell Santana because she would think it's crazy."
Futuristic follies aside, Lengies tells me she admires how passionate the Glee fans are. "I love all the stories that they write. They're so epic and amazing, but the thing is when she show doesn't go along with it, I feel so bad personally, because I'm a Brittana lover." The actress continues, "Recently, I've found it hard to keep biased because I feel like the show is the Bible." Well Glee-bees, hopefully this silly little story helped cheer you up!
RELATED: Leanne's Spoiler List: 'Glee' Star Naya Rivera Talks NYC and Bram, 'Justified' Season 4 Scoop
Are you exited to see Kaley Cuoco's sister on The Big Bang Theory? Who do you think will win in the Grey's Anatomy battle? Nervous to learn Brenna's fate in Bones? Do you agree with Vanessa, is Sugar the futuristic lovechild of Brittana on Glee? Tell me everything in the comments below!
Follow Leanne on Twitter @LeanneAguilera
—Additional Reporting by Sydney Bucksbaum, and Shaunna Murphy
[Photo Credit: CBS, Showtime, ABC, FOX, The CW]
---
You Might Also Like:

 Adam Brody, Leighton Meester Dating?

'Smash' Crashes in Ratings: What Went Wrong

'Walking Dead' Tops Deadliest Shows: Exclusive