Leanne's Spoiler List: Love is Brewing on 'Glee,' Lucy Hale Scares Up 'PLL' Secrets

Happy Halloween! I'm here to bring you six spooktacular spoilers that will leave you spellbound by your favorite shows. After going house-to-house, I've now got the oh-so-sweet Glee scoop on McKinley High's newest musical, discovered devilish secrets on a Pretty Little Liars' return, and gathered all the gory details of what's coming up next on The Vampire Diaries. Not to mention three horrifyingly fun teasers for American Horror Story: Asylum, Nikita, and Bones. Oh, and this week's Spoiler List features a little bit of a twist. Each headline is either a treat or a trick. Either way, they're more delicious than Reeses Pieces, so you know you'll be full when you're finished. Trick or treat TV lovers!
1.Glee: Old Faces and New Relationships!
Treat! With the Glee hiatus finally coming to a close (Damn it's been a rough five weeks!), rumors are swirling all over the interwebs regarding our favorite New Directioners returning to Lima for the holidays. To help get things straight, I caught up with the beautiful Melissa Benoist, and she was kind enough to dish details about the vibe on set. "It's been really exciting! There is a new energy around," she says. "It's, like, buzzing and the writing has been awesome." Benoist says that Marley will have the pleasure of interacting with all of the original Glee club members, but there is one actress in particular that was absolutely delightful. The 24-year-old says, "Meeting everyone has been great. I met Dianna Agron for the first time and she's, like, the loveliest, most beautiful person inside and out." Agreed. So fans can share in our distain to learn that Quinn will be dating a not-so-nice fells when we finally see her again. In a recent Twitter Q&A, Ryan Murphy revealed that the Yale student will have "[A] new boyfriend. And not a good one. Santana (Naya Rivera) is vey unhappy. #slapheardroundtheworld" Yikes! For me, this is just yet another reason why Quinn should transfer to NYU and be with Rachel (Lea Michele) and Kurt (Chris Colfer)! Please excuse me while I say a quick prayer to the TV Gods…
Let's move on to a happier topic shall we? One word: Jarley. They're more adorable than a basket full of kittens and now that Jake (Jacob Artist) is back on the market, many fans are dying to see these two newbies make it official. But Benoist warns that it won't exactly be a smooth transition from friend to girlfriend. She explains, "They definitely have a road ahead of them in terms of their relationship. Maybe a bumpy one, maybe one with some obstacles, but there is no romance if there is no challenge." Awww. And speaking of challenges, it seems that in a very Rachel Berry-esque move, Marley has decided that she wants to be the lead in the upcoming school musical Grease. "She's stepping it up," she says. "She's growing a pair and she definitely is really motivated to get Sandy. That's the only part she wants and and she's going to work as hard as she has to to get it." But who else is ready to dig her claws into the part of Sandra Dee? Kitty (Becca Tobin), of course! Ooh I'm sensing a McKinley High cat-fight is in our future in addition to a "really fun" Marley/Kitty duet.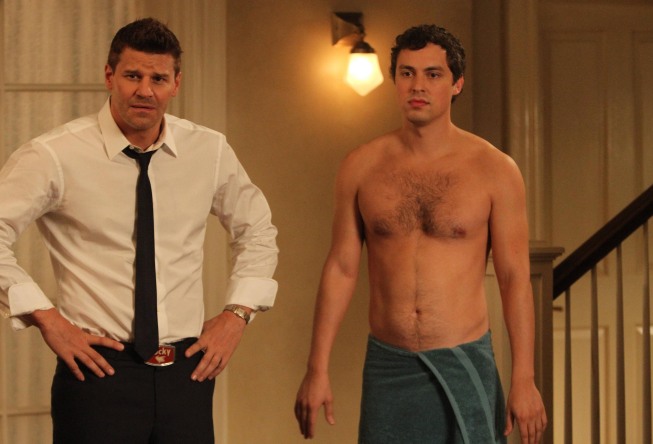 2. Bones: Booth Has Spider-Man Tighty-Whities!
Trick! They're actually Captain American boxers. Oh yes, just go ahead and take a minute to picture our favorite FBI agent running around, solving crimes, and being a badass all while wearing a pair of red, white and blue underoos. Too cute right? Next week's episode of Bones gives us this vital piece of information courtesy of Sweets (John Francis Daley) and his recent breakup from Daisy. Sweets has been feeling pretty lost — not to mention claustrophobic from sleeping in his office — so Booth (David Boreanaz) invites him to stay with Brennan (Emily Deschanel) and him for a few days. I now know that Sweets is an excellent laundry folder and he thoroughly enjoys taking baths. (Much to Booth's disdain.)
Over in the lab, the Jeffersonian team will be investigating the death of a woman whose body was found mutilated and discarded in a garbage can. But the real crime is that when she was alive, this woman was selling jars of applesauce for nine dollars! Sheesh, how 'bout them apples? (So sorry, I'm fully aware of how lame that sounded, but I just couldn't resist.) Plus, make sure you watch the final two minutes of the episode to see a truly giggle-worthy moment between Brennan and Sweets. Hint: Although Brennan is a beyond amazing forensic anthropologist, her dancing skills are not quite as graceful as you would expect.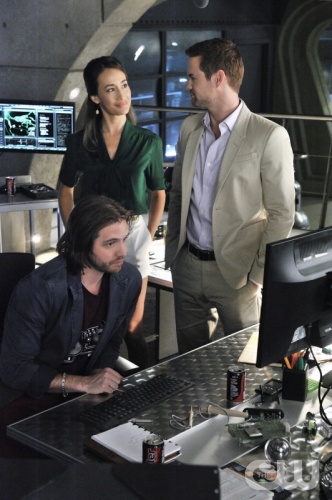 3. Nikita: The Mikita Engagement Ring is Still Gorgeous!
Treat! In this Friday's episode "True Believer," fans will get three glorious glimpses at the sparkler and every Mikita fan knows exactly what I'm talking about when I say, "Squeeee!" (I'm still ridiculously giddy when I think about the newly engaged couple!) In a moment of reflection and confusion, Nikita (Maggie Q) will calm her nerves by absentmindedly playing with her new pave-diamond encrusted rock. Although Nikita is beyond confident in her relationship with Michael (Shane West), we'll see that she's still not 100 percent sure about her new re-alliance with Division.
"I went there to kill this crazy bitch and I found myself looking in a mirror," Nikita confesses to Alex (Lyndsy Fonseca). Our heroine is always so cool, calm and collected — not to mention a total badass — but when she is asked if she is willing to die for Division, fans see that her faith is a bit shaky at the moment. One thing that is still strong is Nikita's friendship with Alex. The two women have been through so much together and it's both sweet and scary to see Nikita's reaction when her long-time friend gets hurt. Hell hath no fury like a bestie scorned!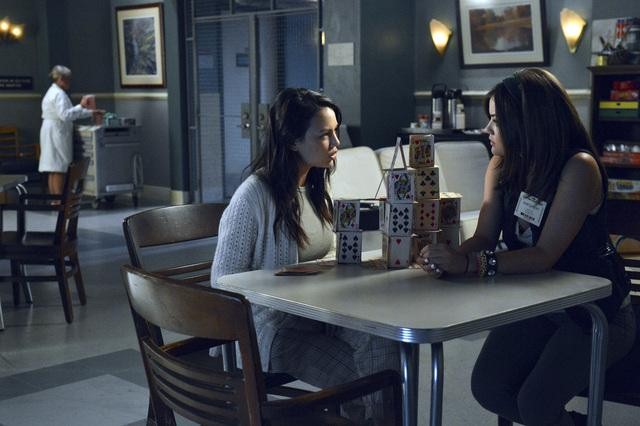 4. Pretty Little Liars: Mona Will Stay Locked Up Forever!
Trick! We already know that this crazy little liar has perfected an escape route from the Radley Asylum, but be prepared to see Mona roaming the halls of Rosewood High again in January. When I caught up with the lovely Lucy Hale at the Halloween special, she told me that the liars are not exactly thrilled to see that "A" will be back in class everyday. Hale teases, "She's playing this game of, has she truly changed? Has she really turned her life around or is she just playing that game again?" Hale explains, "So [the four friends] are struggling with having to see this person everyday and trying to figure out what is really going on."
Janel Parrish is beyond thrilled to see that Mona will be out of the insane asylum — especially due to the fact that she'll get to trade in her drab nightgowns for some of the killer PLL fashion. Parrish says, "I'm excited for fans to see Mona's return. I want to see what they think about that because the vote is still out. The first episode [after the break], she comes back to school and she had no idea how people are going to react to her." The person that is going to have the toughest time adjusting to Mona's release is definitely going to be Hannah (Ashley Benson), her former BFF. "Mona may come to her and say, 'I'm all better and I want to be friends, I want to fix this' and the question is: What will Hannah do?" The actress reveals that Hannah will definitely have some hesitations about Mona's return — and rightfully so! "It's like, well, Mona you tried to kill me, how can I trust you and I to be best friends?" Parrish said when describing Hannah's reluctance. While I'm not sure if Hannah will ever be able to forgive her former friend, I do know that I will never forgive Mona for ruining a beloved childhood song for me. Now every time I hear "The Teddy Bears Picnic" I start rocking back-and-forth from fear and panic.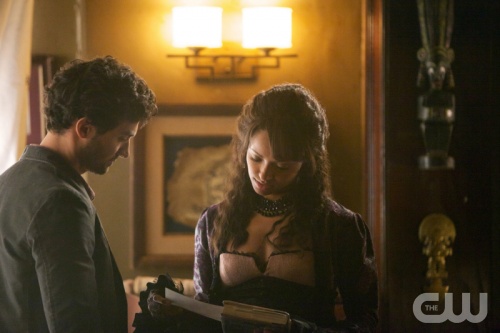 5. The Vampire Diaries: Bonnie's Back and She Brought Booze!
Treat! With Elena (Nina Dobrev) suffering through the changes of becoming a vampire, we've barely seen our favorite Bennett witch all season! Not to worry, magic-deprived fans (RIP The Secret Circle), this Thursday's episode, "The Five," will give us some much-needed best friend, Bamon and Delena moments. Grab a red Solo cup and your favorite 6-pack because Bonnie, Damon (Ian Somerhalder), and Elena are crashing a Frat party! Damon is determined to help his lady learn how to feed like a proper vampire — "snatch, eat, erase" — so naturally the perfect place to choose a victim is on a college campus where there are plenty of douchebags just waiting for a little action.
But while Elena and Damon are bonding, I can't help but wonder (this is my Carrie Bradshaw moment of the day): When will Bonnie get a fella? Luckily, I spoke with the so-pretty-it-hurts-your-eyes Kat Graham and she told me that romance will always be in the cards for Bonnie. "There will be a new love interest," she says. "I can't say who but Bonnie always meets someone." Graham continues, "But I will say that right now the focus is on Elena and figuring out the situation and then Bonnie dealing with her own mess. Trying to figure out what she is without the power of a thousand witches or without parents really being solidly there for her." Don't fret lady! Fans will be pleased to know that Bonnie's dad is coming to Mystic Falls later this season (episode 10 to be exact) to reconnect with his daughter. Better late than never right?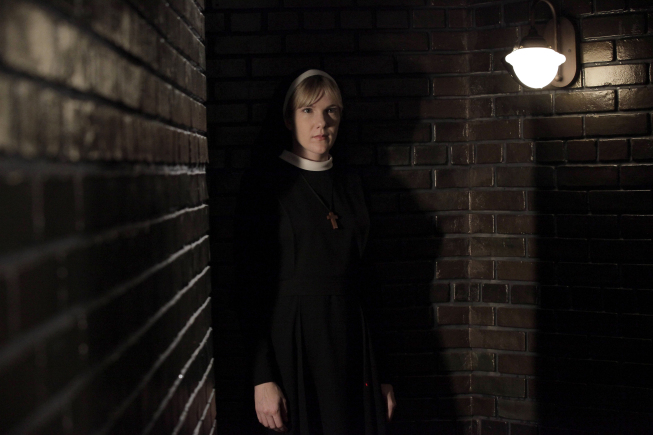 6.American Horror Story: Asylum: All Is Calm at Briarcliff!
Trick! The storm of the century may be winding down on the east coast, but back at Briarcliff, the patients are about to experience a whole new Hurricane of crazy. A strong nor'easter is on its way and while the rains rages against the walls of the asylum, the charges will receive an unexpected treat: a movie night. Should be fun right? Wrong. As the lights flicker into darkness, Sister Jude (Jessica Lange) will shed some light on her past and viewers will be completely shocked to know why the blonde beauty decided to turn herself into the monastery. (By the way did you know that her favorite color is red?) After last week's exorcism, it's safe to say that Sister March Eunice (Lily Rabe) is just a couple beads short of a full rosary. Oh and I need to warns you that when one of the little birdies tries to fly the coupe, their wings get clipped.
What do you think about Quinn's new beau on Glee? Excited to watch Elena go hunting tomorrow night on The Vampire Diaries? Looking forward to Pretty Little Liars' return? Scream out your thoughts in the comments below!
Follow Leanne on Twitter @LeanneAguilera
[Photo Credit: FOX, The CW, ABC Family, FX]
MORE:
Leanne's Spoiler List: Zachary Quinto Makes His 'Asylum' Debut, 'Glee' Goes Black Swan
Leanne's Spoiler List: Thrills and Kills on 'Pretty Little Liars', 'Glee' Adds a New Twist
Leanne's Spoiler List: 'Smash' Will Shake Things Up, 'Vampire Diaries' Gets Intense

Heidi Klum Cancels Her Annual Halloween Party Due to Superstorm Sandy
(Celebuzz)