Leanne's Spoiler List: Love is Shaky on 'Grey's Anatomy,' 'Vampire Diaries' Gets Darker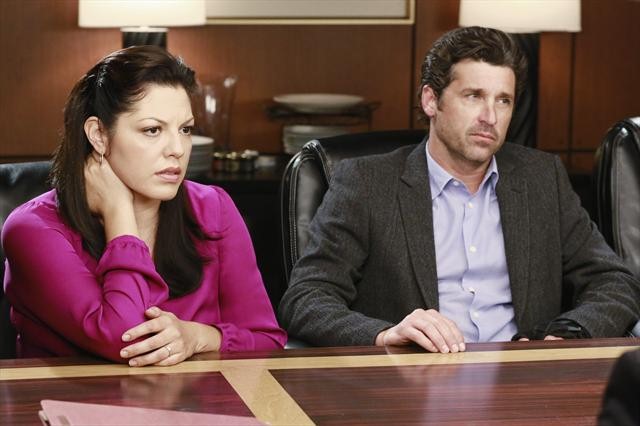 It's Wednesday! And come hell or high water, rain or shine, I'm here to bring you your weekly list of oh-so-fun spoilers. This week's edition of Leanne's Spoiler List comes to you from the cloudy land of the Great North. That's right, TV lovers, I'm currently in Canada searching for the real Robin Sparkles, and visiting the sets of some of my favorite shows. (More on that next week but here's a teaser: Things on Once Upon a Time are about to get terrifyingly twisted y'all!) This week is packed with top-rated shows. I've got all the details on a rocky Grey's Anatomy romance, chatted with Criminal Minds' Joe Mantegna about tonight's shocking new episode, and nabbed some Vampire Diaries scoop from its all-knowing creator, Julie Plec. Plus, I've got the goods on what's coming up on Supernatural, How I Met Your Mother, and Arrow! Enjoy these steamy spoilers while I try not to freeze to death to get you more scoop!
1. Grey's Anatomy: Cheer Up Callie!
There are two things in life that I'll always love: 1. Actors who play doctors. (They're always happy because they get to wear scrubs everyday!) 2. Sparkly things.(Duh.) So you can imagine my extreme delight last Saturday when I interviewed Sara Ramirez while wearing a pink tiara at Disney Junior's Sofia the First premiere. (By the way, Ramirez plays Queen Miranda, an actually sweet stepmother.) After we "ooh-ed" and "aah-ed" about the fairies on the lavender carpet (No lie), Ramirez and I had some serious girl talk about what's coming up for Callie after her particularly devastating life changes so far this season. The actress reveals, "Basically she's just in survival mode in her personal life and in her professional life she has busied herself with Derek Shepherd's hand/wrist, helping with all that nerve damage that he experienced from the plane crash. She's keeping busy and trying to make herself useful at the hospital."
Callie's personal life with Arizona (Jessica Capshaw) has been rocky in these past few episodes (to say the least), and Ramirez explains that Callie will continue to be cautious with her behavior at home. "I think that given that her wife is just getting back up on her feet — or foot as it were — Callie is sort of just trying not to make anything worse." 
Though Calzona (I freakin' love that shipper name, bee tee dubs) is experiencing yet another rough patch, Ramirez told me that she is actually excited for this one. "What I kind of love is that a couple seasons ago, Arizona was there for Callie when Callie was going through [a lot] — you know, she almost died and lost her baby. So what's really great this season was seeing how, in a sense, the roles have been reversed and Arizona is now going through something medical and that is very, very scary and upsetting and Callie is now having to be strong and be the rock and very forgiving. So we'll see how that plays out." 
Something tells me that this couple will definitely make it through this mess, but I do wish that Callie would start smiling a bit more. Ramirez says with a laugh, "Totally! I couldn't agree more." Looking ahead to this week's episode, Ramirez says Seattle Grace fans can look forward to yet another amazing episode. "We've shot some pretty intense scenes," she says. "This next episode, which is Chandra Wilson's, is really fantastic. She did a really great job, so I'm excited for that episode."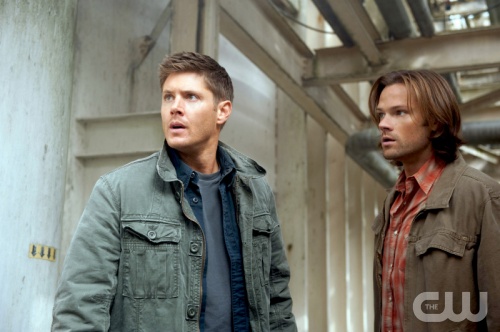 2. Supernatural: Meet The New Ladies!
Grab your lassoes and hop on your horses, Supernatural fans, because later this season, the sexiest brothers on TV are ready to cowboy up and get down and dirty on a ranch. In episode 13, "Trial and Error," fans will be introduced to three new ladies that Sam (Jared Padalecki) and Dean (Jensen Ackles) meet in Idaho. Yes, you read that correctly: Idaho. It sounds a little boring compared to some of our recent adventures, but let's decide that after we meet the little hoes, shall we? First up is Ellie, a girl in her mid-20s that is being described as "cowgirl hot" — think girl next door, but with a county twist. Ellie manages a ranch and her personality weaves between straight-forward and spunky.
But the most important part about Ellie is that she's got to be gorgeous. (Um hello! It is a CW show after all!) The casting breakdown says the show's hoping to nab a "younger Sandra Bullock to Emma Stone" type of girl. The brothers will also be chatting it up with two sisters — twins to be exact. Alice and Cindy Cassity are two thirtysomething girls, and are simply described as "pretty" — think Gwyneth Paltrow. They are the slightly pretentious daughters of Cyrus Cassidy, the owner of a ranch. Whether or not this is the same ranch that Ellie manages is TBD. All right I've got to be honest, these girls all seem great and all but the biggest question is this: Can they bake pie?
3. Criminal Minds: Rossi's Reveal
Criminal Minds is freakin' awesome. I used to be scarily obsessed with it, but when I saw the an episode guest-starring James Van Der Beek as a split personality, homicidal maniac, my Dawson's Creek heart couldn't take it and I had nightmares for weeks. Now that I'm a bit older, and have discovered that my cell phone can double as a nightlight, I've fully re-embraced Criminal Minds, adding it back onto my elite DVR list. Last week I had to pleasure of chatting with Joe Mantegna and he explained why he believes fans are so obsessed — and rightfully so — with this CBS hit. "We like to think we're a thinking person's show," he says. "We don't speak down to our audience. We try to challenge them and let them explore this world with us."
This week's episode, titled "The Fallen," is going to be a huge treat for long-time viewers of the series. After all, we're finally going to get a more in-depth look into David Rossi's past. "We've alluded to the fact that my character, David Rossi, had some background in the military," the actor says. "That's going to really get explored [this week]. As a young man, he was in Vietnam with his commanding officer at that time and now David runs into him many, many years after and see that he is homeless on the streets of Los Angeles." 
Through flashbacks, we're going to gain more knowledge of Rossi's past as a soldier in Vietnam and Mantegna says he was delighted to meet Robert Dunne, the actor who plays young David. "We only got to meet at the read-through because, obviously, we can't be at the same place at the same time, but he did a wonderful job and I bought it," he says. "And I figure if I bought it then everybody else would be able to buy it." 
So prepare yourself, Criminal Minds fans, for a personal and provocative episode. "In this case, Veterans and homelessness are issues that are relevant and I think that we do it in a very interesting and entertaining way," Mantegna says. "I couldn't be happier with the episode."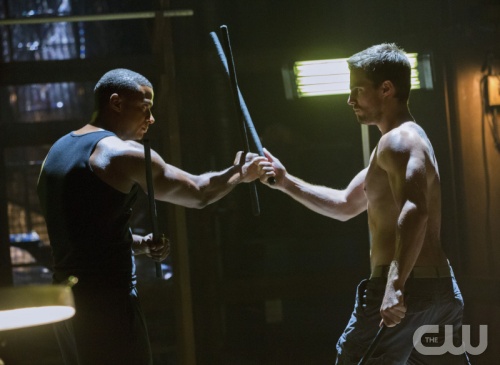 4. Arrow: That's So 2007
Tonight's episode of Arrow once again starts off with a shirtless Oliver (Stephen Amell). I really hope that this becomes a weekly tradition, because, holy hell, that man is definitely bringing sexy back. And speaking of out-of-date pop culture references, it looks like Ollie needs to take a crash course on what's hot and what's not in 2012. For example (as Thea so painstaking points out on the series), "Oh snap" is no longer a socially acceptable comeback and Dr. Oz is in no way, shape, or form connected to Dorothy and her Ruby slippers. (It's okay Oliver, I'll still love you even if you really have no idea how to navigate a Facebook timeline.)
Moving along to this week's bad guys, Diggle is determined to stop a group of mask-wearing bank robbers, but Oliver says he wants nothing to do with these sub-par Starling evil doers: "I don't fight street crime." Of course it doesn't take long for Diggle to convince his new partner to tweak his crime-fighting standards. Spoiler Alert: Even in the middle of a heated attack, the Starling City Police still call him a "vigilante." Can someone please send them a post-it note explaining that his badass superhero name is Arrow?! In other more romantical news, Tommy is doing his best to woo Laurel and he turns to a somewhat unlikely friend for help. Thus, our show's love-triangle transforms into a kinda, sorta love-square. Oh The CW, you sure know how to toy with our emotions while all the hot people fall in love with one another, don'tcha?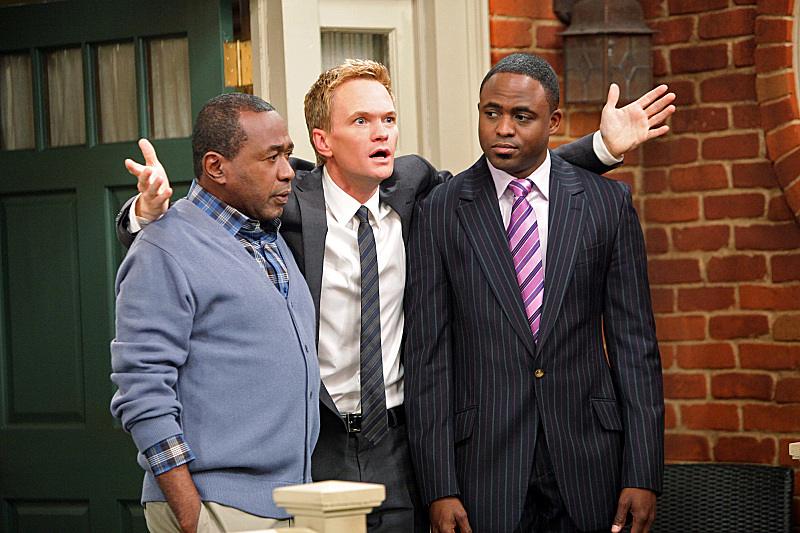 5. How I Met Your Mother: Oh Brother, Where Art Thou?
This season of HIMYM has been a tad stale, even for the most ardent of the show's fans. That includes myself — I love this show so much, it pains me to admit that six episodes have already aired and very little (of interest, at least) has happened. Barney and Quinn are caput, Robin and her newest beau on are the rocks, and Victoria left Ted without making a single cupcake! So basically, we're back to square one and hoping praying that we will soon get some progress towards the infamous wedding/mother reveal.
Until then, I caught up with my favorite bro-ther, Wayne Brady, to see if James Stinson is going to make his way back to MacLaren's Pub anytime soon. "I believe James is," Brady confirms with a smile. "I don't know when. I really can't say. They're bros and he has to be there to back him up. Especially if his big day is going to happen." 
Yay! Barney is always at his best when his fellow suit-lover is around. So what has the other legendary Stinson been up to since we last saw him? Brady muses, "As far as I know, James and his husband, Jay — they hang out, they have the baby and they're good. They go to fashion week in New York and they go to a couple Broadway shows and life is great." Now only if he can convince Barney to start thinking about settling down — then we could finally get some progress!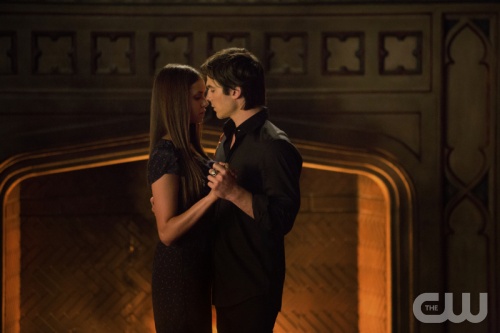 6. The Vampire Diaries: Dark, Rock Bottom
Last week's episode of TVD was flawless. Elena had her first kill, Jeremy is now a member of The Five, and Matt learned that he could compel a girl just by looking ridiculously hot. But now that so many game changers have come into play, I looked to Vampire Diaries boss lady Julie Plec to shed some light on what's up next. First up, Stelena: In this week's episode, Plec says Elena's irritation over her boyfriend's deceit will definitely linger. "She's mad at him," Plec says. "And she definitely starts [this] week super mad at him. And so, forgiveness and understanding and learning the truth of what he was up to and is up to — all those things are up ahead and we'll see how she handles it." The showrunner also teased that mistrust is going to impact and possibly shift our love triangle beginning this week. You hear that Delena fans? Oh, you're hyperventilating with excitement? Proceed.
Now let's tackle the mythology details, y'all. We've met other vampire hunters in Mystic Falls before (RIP Alaric), but what distinguishes The Five from these wannabes? "This is the original story of the vampire hunter told to its end, as opposed to Alaric, who was really pissed off and had a good stake," Plec reveals. 
The quest for answers about the cure is going to be a large arc that we focus on this season, and there are some major challenges ahead. "Oh, everything's about to change in some way or another," Plec says. "Those changes will have a ripple effect through the entire season. I'm not saying it's all going to change next Thursday at 8 o'clock, but there are some pretty big moves next week as a result of this." 
Right now, everything is going to be dark and twisty as Elena deals with the repercussions of killing a hunter, but her life life will eventually improve. "Elena's certainly been in a pretty dark place," Plec says. "[This] week, we kind of hit dark, rock bottom, and then, the episode that follows is like this episode of light and pretty and sun." We can all thank the Miss Mystic Falls event for our upcoming sunny disposition. Yay for tiaras!
Follow Leanne on Twitter @LeanneAguilera
–Additional reporting by Shaunna Murphy
[Photo Credit: ABC, CBS, The CW]
MORE:
Leanne's Spoiler List: Which 'Once Upon a Time' Character is Ready for a Comeback?
Leanne's Spoiler List: Love is Brewing on 'Glee,' Lucy Hale Scares Up 'PLL' Secrets
Leanne's Spoiler List: Zachary Quinto Makes His 'Asylum' Debut, 'Glee' Goes Black Swan

'Twilight Saga: Breaking Dawn — Part 2' Star Kristen Stewart on 'Twilight' Finale: I'm 'Desperate' For a Job Now (VIDEO)
(Celebuzz)