Leanne's Spoiler List: Seth Gabel Spills 'Arrow' Secrets, 'The Vampire Diaries' Gets Darker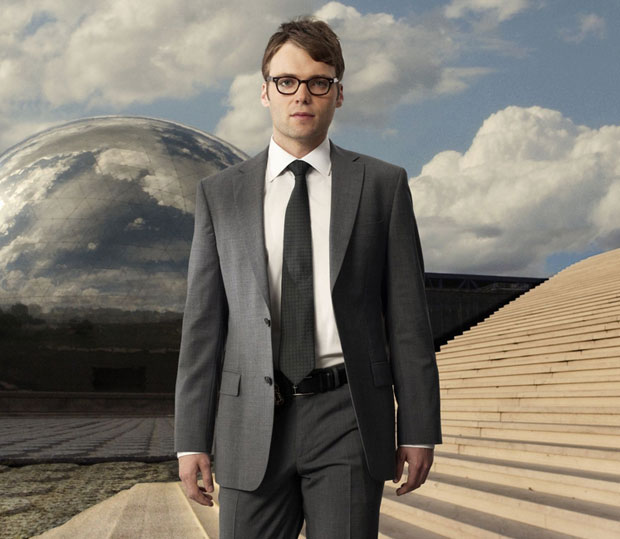 Since Christmas is less than a week away, I wanted to do something special for my fellow TV fanatics. So I gathered up scoop for 6 fantastic shows, stuffed 'em in an article, and wrapped it all together with a big sparkly bow. This is way better than a candy gram you guys! (Sorry Glenn Coco.) This week's edition of Leanne's Spoiler List features exclusive Arrow scoop from the loveable Seth Gabel, upcoming details from the all-knowing Vampire Diaries boss Julie Plec, and hilarious Happy Endings dish from the cast. I also threw in some stocking stuffers from the premieres of Suits, Bunheads and Shameless!
Plus, for the first time ever I answered one of your Twitter questions! I think I'd like to make this a regular thing so don't forget you can request scoop on your favorite shows using the hashtag #LeannesList. Remember, I give extra point for alacrity and effulgence. Happy Holidays TV Lovers!
1.Arrow: Starling City Pill Pusher
You all know that I love me some Arrow — and that's not just because Stephen Amell is the closest thing to a perfect human being since Hunter Parrish. Arrow is smart, creative, thrilling, and has a vast repertoire of comic book characters that spice up every episode. (Granted the closest I've ever come to a comic book is through the cast of The Big Bang Theory, but hey, I'm sure they're great!) One of the most highly anticipated Arrow villains is without a doubt Count Vertigo, and what makes it even more exciting is the fact that beloved Fringe alum Seth Gabel will be bringing the antihero to life. 
Gabel — who first appears in episode 12, entitled "Vertigo" — explains, "It's a definite adaptation to this darker, more realistic world that is "Vertigo." And instead of being an Eastern European count as is depicted in the comic, I am a street thug drug kingpin who doesn't have superpowers." The actor continues, "But the superpowers that the character has in the comic book are manifested in the form of the drug called Vertigo, which I push on the citizens of Starling City." Oh! This is gonna be good, I can tell.
Fans of The CW freshman hit know that Oliver is not particularly focused on the petty street crimes of his city — however, it seems that The Count's drug dealing might hit a bit too close to home. When I pressed for details, Gabel revealed that The Count would not just be sharing scenes with Arrow/Oliver. Could this be connected to Thea and her drug habits? Gabel was sly with his answer, saying, "Hmm, it's possible but I can't say for sure." I'm just going to go ahead and say with Thea's less-than stellar track record, I would not be surpised at all if she went on a little superhero drug binder. (P.S. I am in no way obligated to tell you that Gabel's movie Allegiance is now available on VOD, in theaters on December 28th in New York and January 4th in Los Angeles. Just thought you'd like to know.)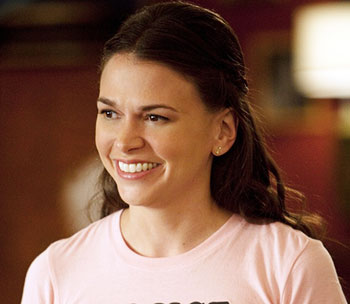 Bunheads: A Gilmore Girls Guest Star!
Bunheads is one of the cutest shows to have ever graced our TV screens, and the fact that reminds me so much of Amy Sherman Palladino's first great love Gilmore Girls is just icing on the cake. I don't usually like to admit this, but one of the reasons I wanted to become a journalist is because of Rory Gilmore. So yes, Gilmore Girls will always have a special place in my heart. So you can imagine my squeals of delight when I was watching the Bunheads winter premiere and saw a familiar Stars Hallow face. Remember TJ (Michael DeLuise)? Well, he's back and more magical than ever!
A few months ago I had the pleasure of sitting down with the legendary Sutton Foster to discuss the Bunheads finale, and we gushed on our shared loved of all things Gilmore Girls (Psst! You can check it out right here!). Now I was able to chat with the iconic Broadway legend about what fans can expect from the show's Jan. 7 premiere. When we last saw Michelle, she had just maced her entire class minutes before their big Nutcracker finale, and she left the hospital full of shame despite the adorable "Oh captain! My captain!" salute the girls gave her. So where is Michelle after the summer jump? "I've left Paradise and I'm living in Vegas on a friend's couch," Foster says. "And working in Henderson, Nevada as a magician's assistant in a casino. Everyone is kind of at a standstill." I can safely reveal that Michelle does indeed make it back to Paradise, but it does take quite a bit of coaxing, and one adorably sweet video. Foster explains, "It takes several forces to get Michelle to come back, and I think it all boils down to people seeing greatness in Michelle that she actually has to offer that even Michelle doesn't believe in." But Hubbell does…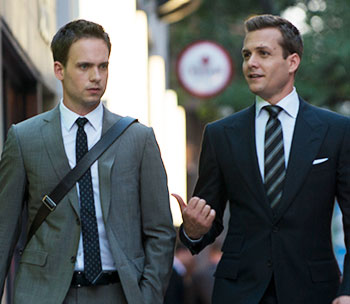 3. Suits: Handsome? Party of Two?
Dapper, dashing, and damn he's sexy. There's just something about a man in a suit that puts a smile on a girl's face and daydreams in her head. Luckily, I was able to catch up with my favorite stylish twosome in the Suits winter premiere. When we first see the Pearson Hardman gang for the second half of Season 2, the mood in the office is — how shall I put this? — tense, to say the very least. Morale is less than stellar following the big partnership civil war, especially for Louis. (He was on the losing side of that fight, remember?)
With Mike still reeling from the death of his grandmother, the case he and Harvey tackle in the premiere hits especially close to home. Mike lost his parents when they were hit by a drunk driver, so the fact that he's defending a teenage driver who killed a man and fled the scene doesn't exactly sit well with him. But not to worry Suits-lovers! It's not only gloom and doom — there's still room for a little levity thanks to Donna and Louis' romantic tryst with the spunky Sheila Sasz. (Say her name out loud. Laugh. Repeat.) Oh and bee tee dubs, Suits returns to our lives on Thursday, Jan. 17.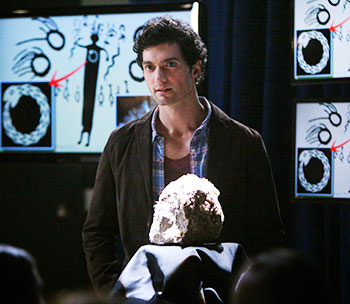 4.The Vampire Diaries: Mystic Falls Magic
After last week's Christmas massacre, many fans (myself included) are dying to know what's in store for the second half of Season 4. Not only did executive producer Julie Plec reveal an obscene amount of details to Holywood.com about Klaus and the cure, she also shed some light on our new oncam eye-candy Professor Shane. Plec says that the all-knowing teacher will continue to be a major presence in the second half of the season. "We'll definitely learn a lot more about Shane's agenda — the why, the where, and the how, the who — over the next couple of episodes."
We do know one thing for sure: Professor Shane is one super shady guy. He is currently teaching Bonnie — aka the most boring character of the season (come on you know it's true!) — about a new type of magic called Expression. For those of you that are still in shock over the death of Mayor Lockwood, let me remind you: Expression is an unnatural form of witchcraft that requires the use of 12 human sacrifices in order to channel a darkness that is even worse than black magic. What's most curious is the fact that Professor Shane helped get those 12 hybrids slaughtered/sacrificed, so does this mean that Expression becomes even more powerful? Plec explains that almost all of the answers that we need have already been revealed, "If you look back from the beginning of the season and sort of connect all the dots we've given you so far you can probably piece together quite a lot of the story." Looks like this is a perfect excuse to binge-watch the first nine episodes again over our holiday break!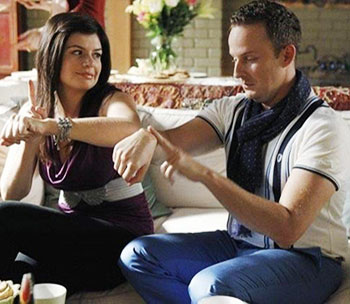 5. Happy Endings: Best News Ever!
Yes, it's true that Happy Endings has without a doubt one of the quirkiest and most all around awesome casts on TV, but there is one person who is the hilarious cherry on top of a perfect sundae: Derrick. For those of who don't know who Derrick is, I'm sorry but I don't think we can be friends. (D-R-A-M-A. Drama!) Sigh. Okay, fine, watch this. Amahzing, right? Now that you all understand the perfection of Derrick, I am beyond excited to tell you that he's coming back! A few months ago I visited the set of Happy Endings, and was overloaded with fantastical details of what's to come — and now I can finally spill! One of my favorite people in this world, Adam Pally, reveals, "Derrick has a fun story line with me where I'm having trouble finding my gay identity, and Derrick takes me through the gay underworld on kind of a gay vision quest." We've seen Max in the past as a bear — no, I'm, serious — but Pally says that our favorite freeloader is now evolving. "He was a cub, but the years are passing…. he's not quite a bear anymore, so he's gotta figure it out." Casey Wilson adds, "Not quite a bear, not yet a woman."
Another giggle-worthy episode that's coming up features the best co-dependent girl and gubby (gay hubby) relationship on TV. Fans will soon be treated to an episode that Pally describes as "Penny and Max's Requiem For a Dream storyline." Wilson explains, "There's a real funny story coming up with us… Penny's coaching Max on how to not call a guy too much if you don't want to call him, and how to lose weight, which is to take NyQuil and drug yourself around 4pm so you sleep through the night. So you don't call anyone and you lose weight. And they become NyQuil addicts and never leave the apartment. And we think we look great." Just you wait, NyQuil-ing is now going to be one of the hottest dieting trends of 2013. "I like when they treat Max and Penny like girlfriends," Pally says. "That to me is some fun stuff." Well, to me, anything this show does is "fun stuff," but I think that's enough Happy Endings gushing for one day. Moving on!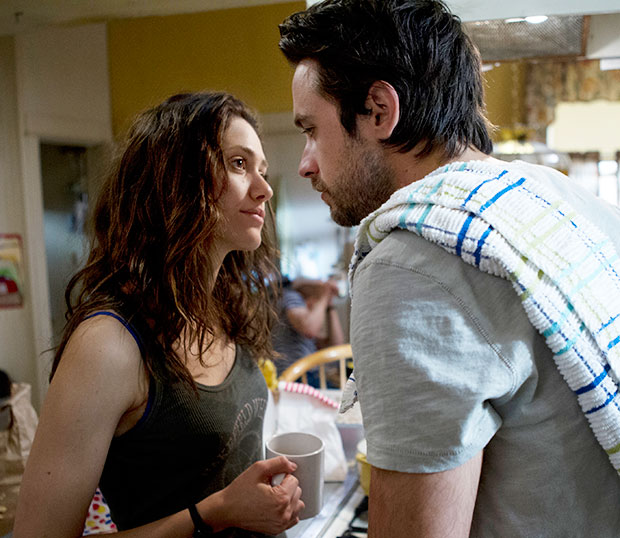 6. Twitter Question: @NotATherapist What do you have on Shameless or House of Lies?
Eenie meenie miney… Shameless! Confession: I love this show. Like almost to an unhealthy level. When I watch it I suddenly feel like I'm just as much of a badass as the Gallaghers, and at any moment I'll break a beer bottle and threaten to stab someone with it. But then I remember that I'm 5'3", from Orange County, and have a Sprinkles cupcake subscription. 
The Season 3 premiere of Shameless is filled with everything we've been missing these past 6 months: crazy characters, hilariously crude plotlines, and dead naked guys. (Oh yes, you read that last one correctly.) It's been 137 days since the Gallaghers have seen their pathetic patriarch Frank, and it seems like Debbie is the only one who is desperate to see him. Jimmy is now a Rachel Ray-watching, cookie-baking Mr. Mom, but a visit from his past could ruin his chaotically perfect life with Fiona. Lip and Ian get into a inhaler-inducing chase with the police, and Veronica and Kevin are performing a racy and racist new web show. Madness! Also, get excited for one of the most exciting battle robot competitions you've ever seen.
Follow Leanne on Twitter @LeanneAguilera
—Additional reporting by Sydney Bucksbaum and Jean Bentley
[Photo Credit: The CW, ABC Family, ABC, USA Network, Showtime]
MORE:
Leanne's Spoiler List: A Fiery 'Pretty Little Liars' Premiere, A Badass Back On 'Revenge'
Leanne's Spoiler List: 'Gossip Girl' Flashbacks and Fatalities, 'Dexter' Makes His Choice
Leanne's Spoiler List: 'True Blood' Wants Fresh Meat, 'Parenthood' Heads to Court, & More!

'Jack Reacher': The Beginner's Guide To The New Tom Cruise Movie

'Les Miserables' Unscripted: Hugh Jackman, Anne Hathaway On Singing And Being Modest