Leanne's Spoiler List: 'Smash' Will Shake Things Up, 'Vampire Diaries' Gets Intense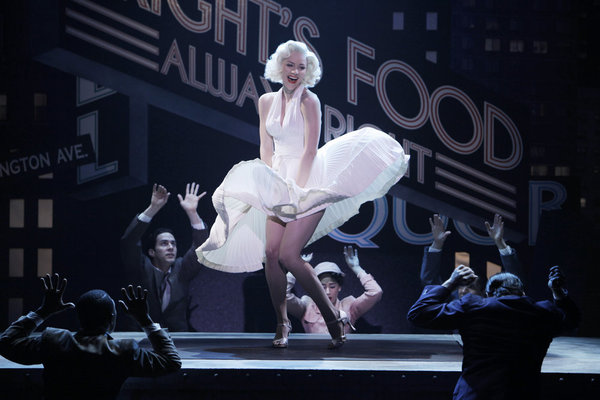 Vampires, Upper East Siders, Broadway beauties and suburbanites. There's scoop on all these characters and more in this week's edition of Leanne's Spoiler List. So let's get to it! I've got details on the Smashing plans for a new musical, chatted with the stars of Fringe about some mind-altering moments, and previewed tomorrow night's premiere of The Vampire Diaries. Plus, dish on some hilarious upcoming moments on Suburgatory and Happy Endings and the return of a Gossip Girl rival! Go ahead and read on. You know you want to. 
1. Smash: A New Twist for Season 2!
The Season 2 premiere of Smash is far, far away. We still have to get through candy, costumes, cranberry sauce, crazy family get-togethers and Christmas before we're reunited with our beloved musical drama. Luckily, Emmy award-winning choreographer Joshua Bergasse was kind enough to spill some major secrets to me about the new season. Emphasis on the new, people! "As great as the first season was, we can't repeat it. We have to try new things, so we're trying a bunch of new ideas." Bergasse explains, "New characters are getting musical numbers, we're using some special effects and we're using television and the technology a little bit more this season." Of course there is one new thing that is the most exciting of all: a new musical!
In addition to "Bombshell," Smash will be featuring another Broadway bound show, and I was able to shimmy some details out of this choreographer. He reveals, "Of course we've got Marc [Shaiman] and Scott [Wittman] writing great songs again and then we have a bunch of new song writers…They're writing contemporary, downtown songs for this show. So the choreography is a little grungier, a little edgier and it's a whole new area for us." Keeping with the show's ultra-competitive rift between Karen (Katharine McPhee) and Ivy (Megan Hilty), Bergasse hints that it wouldn't be a huge surprise if some of our core characters would be drawn to the spotlight in this new show. "I can only say this: Smash is inherently about the battle between those two women and so whether they are battling over that or they're battling over something else, they're going to be battling. I can assure you that." Hell hath no fury like a Marilyn scorned!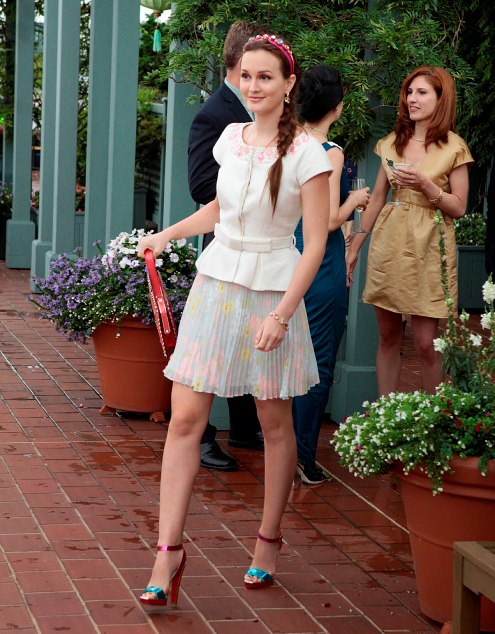 2. Gossip Girl: Guess Who's Back?!
It's time for a blast from our Constance past! One of the few (hundred) people that Blair (Leighton Meester) has victimized over the past five seasons is back. And honey, she's going all Emily Thorne on Blair's behind, because she wants revenge. (Cross-network references FTW!) While Gossip Girl has made me swear upon all that glitters not to reveal who she is, the blogger didn't say anything about dropping a few one-liners to help you guess.
The mystery Upper East Sider tells Blair. "I still have nightmares about nartinis and yogurt bombs. Sometimes I wake up in the middle of the night shouting, 'Tights are not pants!'" Okay, okay, fine you've twisted the cashmere scarf around my neck tight enough. It's Nellie Yuki! How and when this smarty pants makes her return is something I'm keeping hush-hush, but I will say this: Nellie and Dan (Penn Badgley) share a sweet and slightly sad moment together. Oh and she's got a Dior bag that would gladly trade my apartment for.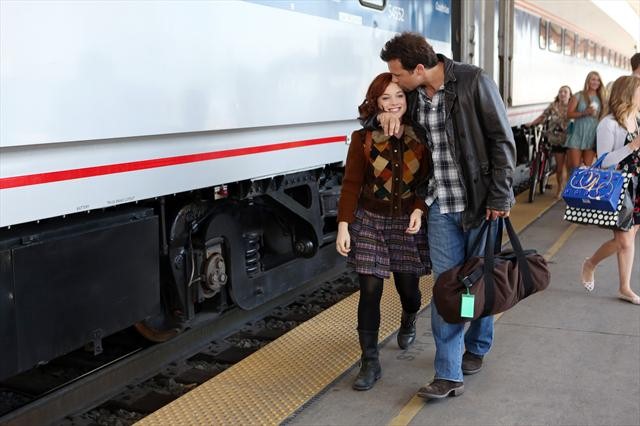 3. Suburgatory: Roo's and Romance!
The new season of Suburgatory starts next Wednesday and now that I've watched the premiere, I'm happy to say it definitely won't disappoint! After spending the summer at her grandma's in NYC, Tessa (Jane Levy) is desperately trying to find a way to feel a connection to her MIA mama (who we now know will be played by Malin Akerman later this season!) So Tessa decides to enter the Chatswin talent show—aka the Fall Follies—and those who love the show's beyond catchy theme-song will be quite pleased. Also here's your Royce Pet Update: No sign of Yakult, but Dalia's (Carly Chaikin) amazing kangaroo makes a brief appearance. Bonus fun fact: 'Roos love Red Vines.
Now let's fast-forward to episode ten of the season. Yes, I know it's a bit far away, but this scoop is so juicy that I just have to share it: Tessa's getting a fella! Oh and not just any fella, a football player. We've met him, he's hilarious and also equal parts sweet and slightly stupid. Fans, you know exactly which ab-tastic guy I'm talking about. Anyways, now that Tessa has a new beau, she is introduced to the "Football Girlfriends"—Think Stepford Wives but with a peppy cheerleader twist—and she quickly realizes that baking cookies is not just a way to pass the time, it's a way of life.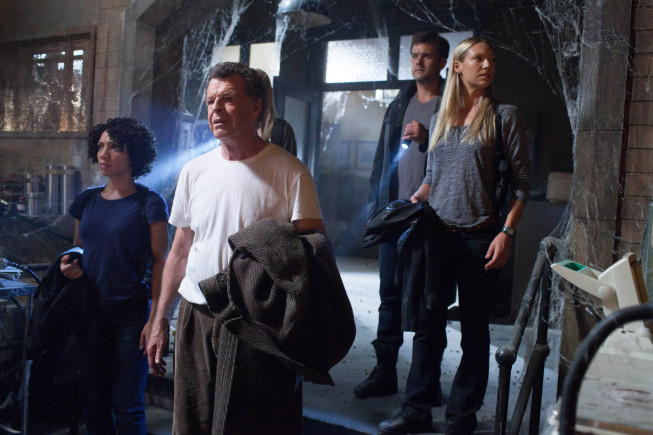 4. Fringe: LSD in 2036?
Things have been pretty dark this season on Fringe — the world has been taken over, Walter's brain was scrambled due to Observer torture, and the food tastes like crap. But according to Jasika Nicole, some fun may be found via a certain substance that has stood the test of time in Walter's lab. "There is a scene where we are in his lab, and he has all these secret hiding places. 'We're like, 'How does this last for 20-something years??' I won't say anything more about it because it's pretty funny… He's got a lot of secret hiding places. John Noble laughed when we asked him for further detail, but didn't deny that a little somethin' somethin' was going down. "There is a little case of something or other [in the lab]. I think you know what it is, that's why you asked the question! But… I think you'll find a case of something down there. It's twenty years old, but…" I bet it still does the trick!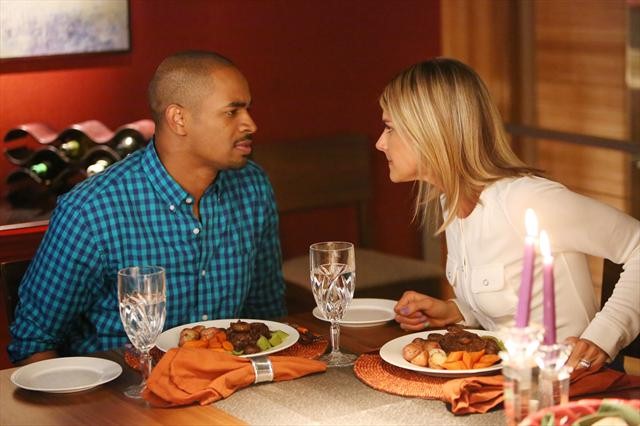 5. Happy Endings: Jobless and Power-Hungry!
If Happy Endings doesn't make you happy, then I'm not sure we would get along. To me, this show has everything. And by everything I mean a group of friends who hang out, get into shenanigans and also throws the occasional love interest into the mix. Plus any show that includes pajoveralls, invisible hula-hooping and the one-liner, "What's up skanks?! Wheeeee! Ugh, I'm fat," is perfection in my book. I caught up with Eliza Coupe and Damon Wayans Jr. on their set a few weeks ago, and the sexually charged duo teased what's coming up for their characters this season. Wayans says "I like the fact that Brad is unemployed right now. He's having a lot more fun, he gets to wear a lot less suits and he's just having a grand-old time."
This grand old-time includes hanging out with our favorite lazy-man Max (Adam Pally), and learning how to get the most out of life, without paying for it. And as for Jane? Coupe says that Jane could not be more thrilled to be the new breadwinner in the relationship. "She gets to do the whole type-A personality thing which is to work and take control." Jane finds that her super-intense personality shines when she is accepts a job as a car salesman and Coupe says that hilarity is sure to ensue, "There has been a lot of things going down at that dealership, a lot of weird things. There's been some animals involved…It's just a lot of her wanting to be one of the guys too, and seeing how that pans out." I'm sure it's going to be amahzing.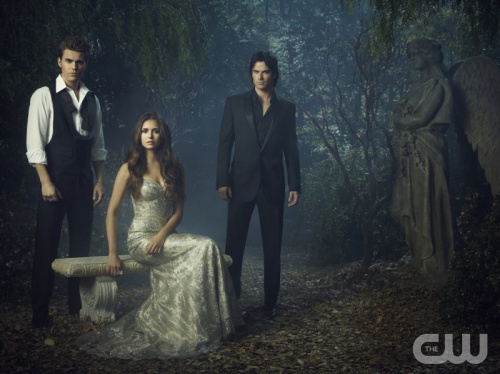 6. The Vampire Diaries: Transitions and Triangles!
Tomorrow night is the season premiere of The Vampire Diaries and putting it lightly, it's a heart-stopping 48 minutes of absolutely intense perfection. Watching Elena (Nina Dobrev) come to terms with the fact that she is now "dead…ish" makes you feel all of her heightened emotions in such a short amount of time. I'm pretty sure I blacked out for a good five minutes because I didn't breathe at all during one scene in particular: Elena choosing whether or not to transition. Oh and as for all those memories that she was compelled to forget? (cough*Damon*cough) Get excited because not only does Elena remember them, she relives them! Not to worry Stelena fans, Elena and Stefan (Paul Wesley) share some truly beautiful moments together in an unexpected place.
Kat Graham teases that this premiere is one that fans should be beyond excited to see. The actress says, "The first episode back, that was the hardest episode for me to shoot so far, it was so intense. After that I mean it really sets the standard so everything just gets bigger and better from there." It's true. After watching the second episode, it's safe to say that the fourth season of The Vampire Diaries is unlike anything fans have seen before. Graham agrees saying, "The whole season is like a transition into a lot of it into a new ways of living, a new life for all of them. There is so much sadness and heartbreak and change and it's so uncomfortable and you'll see that you'll se everyone trying to avoid it." But they can only avoid their grief for so long. By the end of the second episode you'll see the Mystic Falls gang address all that they've lost over the past three years and the result is a chilling (and slightly tear-inducing) scene.
What are you most looking forward to on the new season of The Vampire Diaries? Excited to see the return of Nellie Yuki on Gossip Girl? Intrigued by the new musical on Smash? Wish you had a pet kangaroo like Dalia, too? Of course you do! Share your thoughts in the comments below!
Follow Leanne on Twitter @LeanneAguilera
—Additional reporting by Shaunna Murphy.
[Photo Credit: ABC, NBC, The CW, FOX]
MORE:
Leanne's Spoiler List: Is There a New Love Triangle on 'The Vampire Diaries'?
Leanne's Spoiler List: Will There Be Another Death on 'Revenge'?
Leanne's Spoiler List: What's Next for Leonard and Penny on 'Big Bang Theory'?