Leanne's Spoiler List: 'True Blood' Wants Fresh Meat, 'Parenthood' Heads to Court, & More!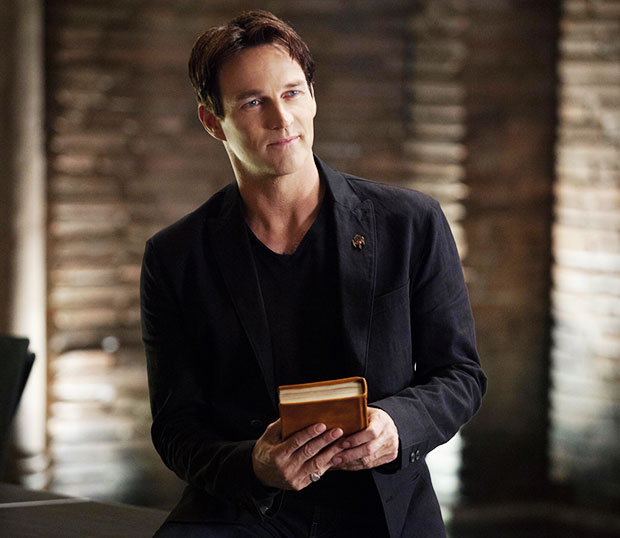 I'm too excited to share these TV goodies with you, so I'm going to make this intro short and sweet. This week's edition of Leanne's Spoiler List is packed with vampires, princesses, b**ches, Bravermans and much more! I've got all the scoop on two brand-new True Blood characters, word from Ginnifer Goodwin about Snow's bittersweet reunion on Once Upon a Time, and sexy James Van Der Beek secrets from Don't Trust the B—- in Apt. 23. Plus spoilerettes from Parenthood, Happy Endings and American Horror Story: Asylum. I've said it before and (thanks to the amazingness of Park and Rec) I'll say it again: Treat yo self!
1. True Blood: New Blood
Last season was about 19 kinds of crazy to say the least. Bill (Stephen Moyer) is now Bill-ith (the crazed bloodthirsty reincarnate of Lilith) and the entire vampire world is in a state of utter chaos due to the fact all of the Tru Blood factories have been burned to the ground. Yeah, not ideal. Luckily, it looks like we're getting a new series regular who has a pure heart and a strong sprirt—two things that definitely seem to be lacking in Bon Temps lately. Those in charge of the HBO hit are currently looking for an actress to play Nicole Jannsen, a girl in her early twenties who is not at all concerned with life's material possessions—only with the common good and doing what's right. Sound too good to be true? Possibly. The casting break down reveals, "Nicole's naive optimism is charming but ultimately vaguely idiotic and dangerous." Hmm… interesting.
But Nicole is not the only new face joining the cast in Season 6. Producers are also seeking the perfect actor to play new series regular Creighton Burrell, the governor of Louisiana and "classic good ol' boy politician.' Governor Burrell has had a deep dark disgust towards vampires ever since his wife left him and their only daughter Ali, ran away with one. Aww, well that's kinda heartbreaking. Unfortunately, Creighton's personal issues frequently overshadow his humanity. When you combine that with the fact that he's a politically savvy and overly ambitious, it can definitely prove to be trouble for Sookie and our favorite vamps.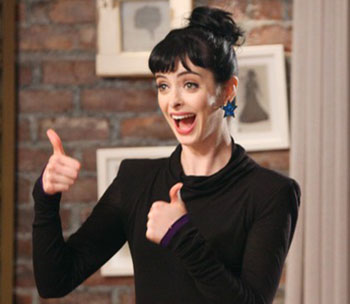 2. Don't Trust the B—- in Apt. 23: Dawson Can Dance!
Any show that puts James Van Der Beek on my TV screen each week is top-notch in my book, but the fact that Apt. 23 is legitimately laugh-out-loud funny makes it even better. To provide you with some new, bitchtastic details, I called up the 'B' herself, Krysten Ritter and got all the scoop on what's coming up on the quirky comedy. Ritter reveals, "There is an episode coming up where James and Chloe have a bit of a falling out and they are not sure if they can continue on with the relationship and they take a break from each other." In between my gasps of despair, the actress continues, "And while on said break, both hit their versions of rock bottom: James gets fat and my character gets a job. She's never had to have a real job before, but she has to pay her cell phone bill so she gets a job at a cell phone retail store." Get excited to see the typically posh Chloe in a dorky uniform and orthopedic Velcro shoes, y'all!
We've known for a while (too long in fact) that James—aka "The Beek"—will be shaking his cute thing on Apt 23's version of Dancing with the Stars. And soon the wait will finally be over! Ritter gushed, "James is so good at dancing I think that people are going to be blown away, I couldn't believe it! And he got into the sickest shape ever while doing it." James with an even more attractive physique? Yes please! And if you think this Dancing gig is just going to be a one-episode thing, think again! The actress explains, "It's a multi-episode arc, it's all going to be in the second season and I think it's like over the course of like six episodes. It's a big deal. It's a whole thing, so buckle up!" You heard the lady. Grab your favorite Velcro light-up sneakers and buckle up!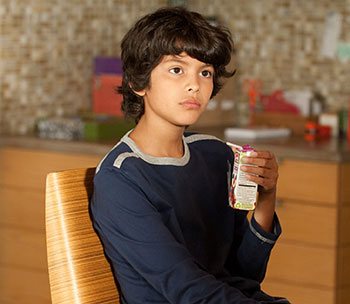 3. Parenthood: Making it Official!
Despite the fact that Victor has had a rough assimilation into the Braverman-Graham family, it's been an absolute joy to watch Joel and Julia finally raising the second child they so desperately wanted—especially after their adoption heartbreak in Season 3. (We're still not over it. Zoe! The guy who played Bug on Life Unexpected is never gonna change!) Things are about to get even better when their foster child (who is already a series regular, bee-tee-dubs) becomes a Braverman in the legal sense, too.
It's happening not a moment too soon—this family needs some happy news for once! It'll be a joyous occasion later this season (episode 14 to be exact) when the Bravermans crowd into a judge's chambers to make Victor an official member of their family. (Unless there's a twist coming up featuring a different child that they've been keeping under wraps—in which case, bravo, you cruel powers that be!) With that said, it's safe to assume Victor is the new Braverman in question. Squee! Producers are currently seeking an actor to play the judge who makes it all happen, along with an actress who is not too pleased with the boisterous Bravermans take over the courtroom.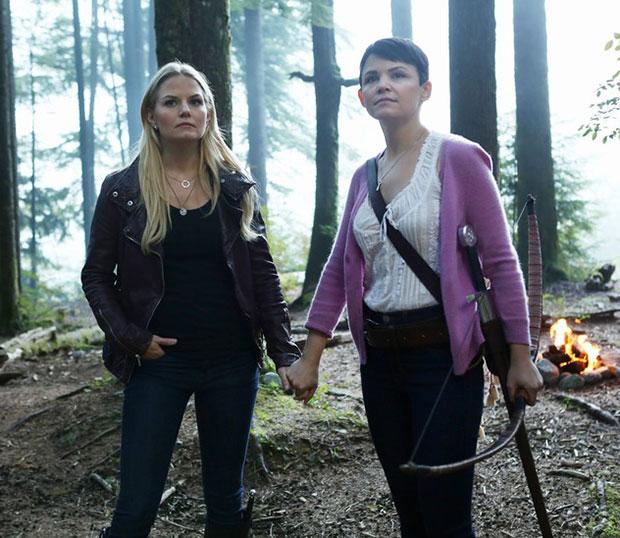 4. Once Upon a Time: Like Mother Like Daughter
A few weeks ago I had the pleasure of traveling to Vancouver, Canada (eh!) and visit the Once Upon a Time set. After I spent hours drooling over the gorgeous clothes in wardrobe, exploring Granny's Diner and feeling like a queen in Regina's office chair, I sat down with Ginnifer Goodwin—the perfect Snow White—to talk about her character's journey so far this season. Goodwin revealed that once she learned the curse was going to be broke, she couldn't wait to start her bonding with her onscreen daughter Jennifer Morrison (Emma). She says, "I didn't know that we were going to be thrust into a fairytale world and therefore our bonding would occur as a result of our having to deal with magical obstacles. But that's actually, I think probably, the best way to learn who someone is, to discover how it is that they sort of navigate adversity."
After last Sunday's bittersweet reunion between Snow and Charming (Josh Dallas) in the Netherworld, Goodwin says Snow will now need her daughter more than ever before in the next episode. The actress explains, "The dynamic between Emma and Snow actually shifts a bit because of that experience. Snow needs a bit of caretaking after coming face to face with Charming and thinking that they were going to be able to be together—even if it was in this sort of hallucinatory dream state." Luckily, it seem that being a badass is hereditary in this royal family, so I'm positive that Emma will be able to reignite her mother's spirit and take the lead on their Fairytale Land journey. Check back to Hollywood.com this Friday for even more Once Upon a Time scoop!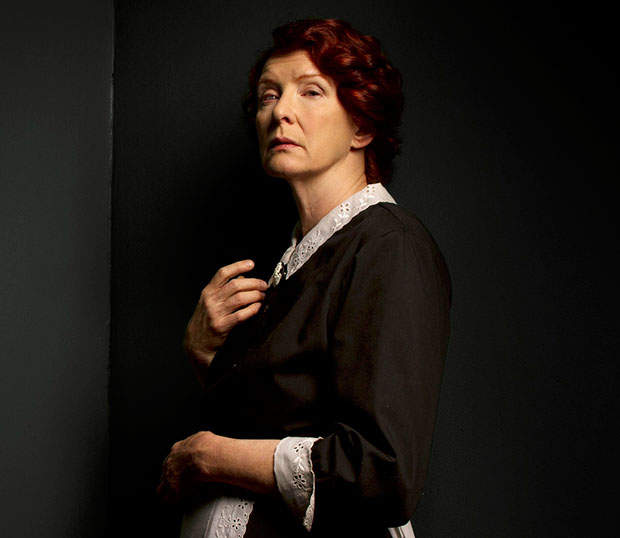 5. American Horror Story: Asylum: From Cleaning to Kissing
The Dark Angel has arrived at Briarcliff. But not to worry, all she wants to do is give the patients a kiss—the kiss of death that is. Frances Conroy finally makes her season two debut and all I can say is get excited AHS fans because her performance is hauntingly beautiful. If you thought she was amazing in the Harmon house last year, you're going to love this new angelic role. With her blood red lips, Conroy kisses two Briarcliff patients in this week's episode (my lips are sealed on who) and exchanges heated words with her "cousin" Sister Mary Eunice. Let's just say that our favorite satanic nun is not too pleased to see a new face walking gliding through the halls of her asylum.
Outside of the crazy walls, Sister Jude is struggling to come to terms with her past demons and we are graced with a few flashbacks that show us exactly how she arrived at the monastery. (Hint: It wasn't the smoothest of rides.) Lastly if you're at all squeamish about blood, then I suggest that you prepare to watch the majority of tonight's episode from the cracks between your fingers. At least that's what I did…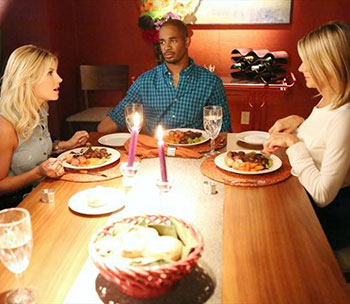 6. Happy Endings: Scorned Sisters
The Kerkovich sisters are a perfect pair: they're gorgeous, loyal, hilarious, and fiercely supportive of each other's unique—and at times confusing—quirks. (At this point I would quote Season 1 Penny and call them amahzing, but I've pretty much hit my limit with that one. So, instead I'll just say they're supa-cayut.) But did you know that there was once a deep dark time when Alex and Jane were intensely heated enemies? In episode 14, "The Incident," Max is going to learn all about the sisters' secrets through Krisjahn, Alex and Jane's gossipy hairdresser, and of course Max is more than happy to reignite the fiery feud. Don't you fret, Happy Endings lovers! If there is one person who can rebuild this relationship, it's definitely… Nana! It would be glorious enough just having another Kerkovich relative grace out TV screens, but when you add in the fact that there will be a "Sister Dance," life is now pretty much perfect.
What do you think a Happy Endings "Sister Dance" will entail? Are you excited yet another emotional Parenthood episode? Tired of waiting for True Blood to return? Tell me everything in the comments below!
Follow Leanne on Twitter @LeanneAguilera
Additional Reporting by Jean Bentley
[Photo Credit: HBO, ABC, NBC, FX]
More:
Leanne's Spoiler List: 'AHS: Asylum' Mommy Issues, Love and Loss on 'Dexter'
Leanne's Spoiler List: Love is Shaky on 'Grey's Anatomy,' 'Vampire Diaries' Gets Darker
Leanne's Spoiler List: Which 'Once Upon a Time' Character is Ready for a Comeback?
You Might Also Like:

Best Nude Scenes of 2012 — PICS

'Hunger Games: Catching Fire' First Look: The Quarter Quell Begins! — PICS