Leanne's Spoiler List: What's Next for Leonard and Penny on 'Big Bang Theory'?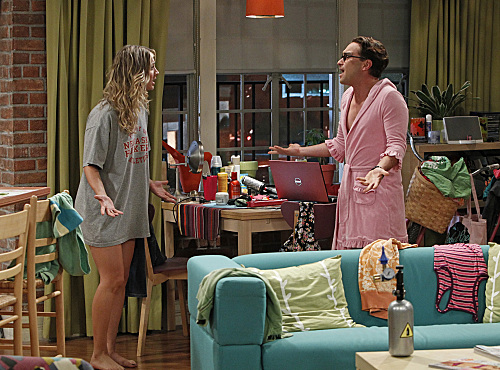 Oh hey! You're back? Nice. Let's get straight to it. I've got a stellar line-up in this week's Spoiler List for all you TV obsessers out there. And yes I am aware that "obsessers" is not an actual word, but I like it and I've already typed it out so I think I'm just gonna keep it. I've sweet talked my way into getting all the details on an epic Big Bang Theory showdown, what's up next on Once Upon a Time now that magic has arrived, and when Glee fans can expect to see the cleanest wedding of the century! Plus, I've gift-wrapped some terrific tidbits from Happy Endings, 2 Broke Girls, and Go On. So buckle your seat belts, because I'm about to pour you a tall glass of "This is how it is." (Name that quote! No, seriously name it and I'll probably send you a cookie.)
1. The Big Bang Theory: It's the Ultimate Girls v. Boys battle!
At the Creative Arts Emmys last weekend, I endured record-setting temperatures to chat with Johnny Galecki and bring you back some much-needed BBT scoop. (Please feel free to send thank you notes and popsicles to my apartment.) So what's coming up for your favorite geeks next door? Galecki tells me about his new favorite upcoming episode in which things get "very, very competitive." The actor reveals, "Leonard and Penny and Sheldon and Amy [are] playing board games. It's boys against girls and it's one of my favorites that we've ever done. It's a simple idea but a really wonderful episode." Anything involving my beloved Amy Farrah Fowler (Mayim Bialik) gets me giddy, but knowing that she'll be teaming up with her "bestie" against her contractually obligated boyfriend is sure to cause all kinds of hilarity!
And as for shipper news, Galecki explains that Leonard and Penny (Kaley Cuoco) are in more of "comfortable" relationship this season. "It's not so hyper-sensitive as it's been in previous seasons … so it's not the same anxiety of 'Oh my God, how might she react to this?!' We kind of tease each other and give each other a hard time as most people do when they've known each other for half a decade." Thank goodness! Now we've just got to keep our fingers crossed that Leonard will pop the question again this year, but preferably not mid-coitus this time. Hey, it's Sheldon's (Jim Parsons) word not mine…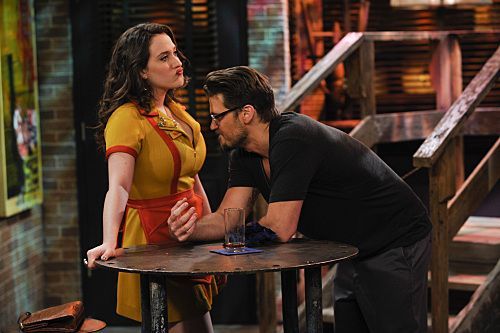 2. 2 Broke Girls: Will the girls really stay broke forever?
My brother and I are particularly fond of this show, and particularly fond of Oleg (Jonathan Kite) the foul-mouthed fry cook who once admitted his fondness for models: "You are like someone super-sized a Victoria's Secret angel. I'd like to Gisele on your Bündchens." I can't help but laugh. Oh-so-classy, I know. But the one thing that has always bothered me about the CBS comedy is that at the end of each episode we see how much money the girls have made (or usually lost) in those 22 minutes of cupcake-ing and cat-fighting. Come on now, girls, show me the money! Kat Dennings reveals that fans can expect to see their cupcake fund start to seriously increase this season. "I think we will definitely see a jump," she says. "There has to be a jump because [the girls] are so driven."
Max and Caroline may be short on cash, but last season they were never short on eye candy. But if you were hoping to see Max's kinda-sorta relationship with Johnny (Nick Zano) return, keep on wishing. "No, I feel like that was it for her," Dennings says. "I feel like that broke her heart and she is done now. She will always have feelings for him and if he comes back into her life, it will be dramatic for her, but I do not see her having a serious thing for a long time." Oh, and in case you were wondering, Dennings says fans can expect to see more sexually charged diner outbursts form Oleg this season. "I'm almost 100 percent sure that will stay," she says with a laugh.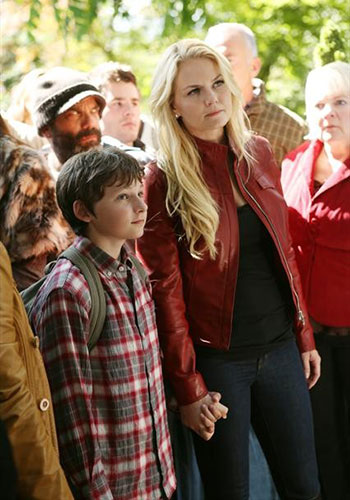 3. Once Upon a Time: Emma is the new Alice In Wonderland!
Now that the oddly intimidating purple smoke has entered Storybrooke, the second season of the ABC hit drama will show us the problems that will arise now that magic is back. At Saturday's Creative Arts Emmys, Jennifer Morrison (who was looking absolutely stunning in a red gown) says fans can look forward to a "complicated" family reunion this season. "Everything has changed and the world is upside-down for Emma … in a sense. she feels like Alice in Wonderland, who has gone the rabbit hole," Morrison says. "She's kind of born in a whole new way now and has to find a way to protect her son and protect her relationships with her family and develop them." Yeah, something tells me that realizing you're the daughter of fairy-tale royalty like Snow White and Prince Charming would be just a little bit daunting.
Though Emma will be in the middle of an identity crisis this season, many fans are campaigning to see the character nab a more consistent love interest this year. So is love in the air for Emma? The actress was quick to reveal, "Absolutely! There's definitely some romance coming." Hmm, perhaps that romance is with last season's hunky Huntsman? Remember, just because someone has died in the real world doesn't mean he/she can't come back in the fairy-tale world. Morrison nods with a smile, "It's so funny — our show seems to bring everyone back around and around and around, so that is something that I can't say." I don't know about you, but I'm taking that last bit as a heck yes!
4. Go On: Can We Expect a Community Crossover?
I recently chatted with Tyler James Williams, who plays Owen on the new NBC comedy alongside sitcom super-veteran Matthew Perry. When asked who of his ensemble cast could benefit most from a real-life therapy sesh, Williams had an interesting answer: all of 'em! The Everybody Hates Chris actor explains, "I think we could all use a little therapy, quite frankly. I think that anyone who decides to be an actor and decides they want to be other people on a regular basis could use some therapy." Touché.
Community fans, however, have more than shard their feelings about network neighbor Go On, which they feel is unsettlingly similar in nature to Dan Harmon's (former) series. But Williams, a champion of Community, says that Perry and the rest of his cast are definitely not trying to steal any eyes away from those at Greendale Community College. "I'm hoping that some of the fan base will cross over, but they'll also see us as our own project," Williams says. "We've gotten that comparison quite a bit and as much as we love Community, we are hoping to also stand alone." Bummer! I was hoping that we would see a relative of Star-Burns join the group because he just can't face the fact that we'll never see that top hat and quirky facial hair again.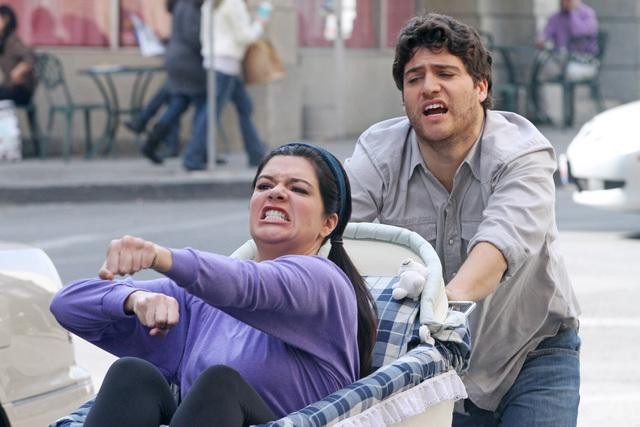 5. Happy Endings: Meet the newest members of the group!
Let me start of saying that if I could physically hug this show, then I would never, ever, ever let it go. So imagine my delight when I was on their set Tuesday morning to chat with the cast about all the hilarious shenanigans set to debut in Season 3. Although I have plenty of scoop to share (to be continued!), I wanted to center this particular piece of news around Casey Wilson's character, Penny. If you're not familiar with her, then please watch this, and then come right back. I know! Amahzing, right?
Penny is finally getting a long-term love interest this season, played by that handsome guy who is seriously in everything (please see No. 2), Nick Zano. But when Penny's new fella enters the group, her gubby (gay hubby, duh), Max (Adam Pally), is less than pleased. Pally explains, "Max is not psyched about it. Max is a little jealous … Although he's gay, I think there's a really strong love for Penny and he's jealous of her attention to anyone else."
So, naturally, Max does what any grown manboy would do: He gets a replacement Penny named Nicole. "But Max pronounces it 'Nickles,'" Pally says with a laugh. "Because it's five times as much as Penny." And in true Happy Endings fashion, this replacement is also "five times as crazy" as Penny. Oh, and in case you were wondering, this new wannabe Penny will be played by Childrens Hospital actress Kulap Vilaysack.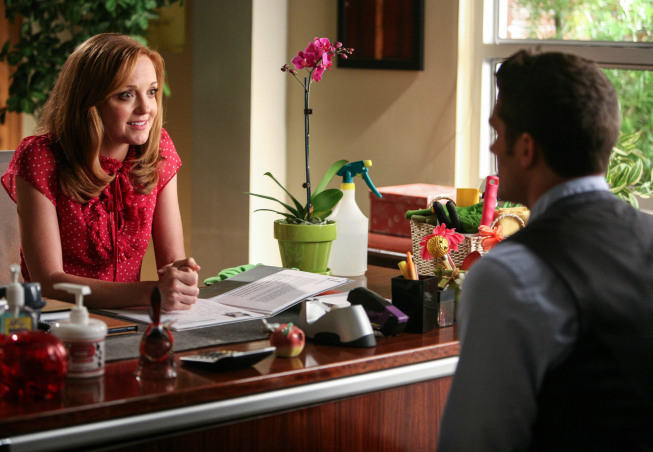 6. Glee: When's the Wemma Wedding?!
As I've