Leanne's Spoiler List: Which 'Once Upon a Time' Character is Ready for a Comeback?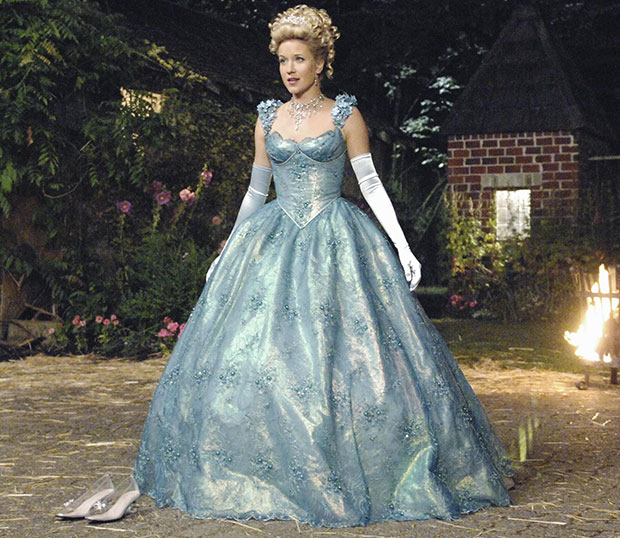 I'm addicted to many things: Coffee, shiny objects, teacup piglets (how can you say no to this face??), caramel, Sour Patch Kids, Diet Coke, and cinnamon candles, just to name a few. But the cherry on top of my almost dysfunctional sundae is of course television. In this week's edition of Leanne's Spoiler List, I chatted with a former Once Upon a Time princess, Jessy Schram, to see if the glass slippers still fit and gossiped with Revenge's Christa B. Allen to get all the "twisted" details on what's coming up for the Graysons. Not to mention Jane Levy told me all about Tessa's upcoming romance on Suburgatory and the new drug of choice in Chatswin. Plus, I got an early glimpse at what's coming up next on The Walking Dead, and Ben and Kate, to get your heart a flutter for all the upcoming awesomeness that will eventually come to a TV screen near you. Ready, set, spoil away!
1. Once Upon a Time: If The Shoe Fits…
At the beginning of last season, ABC's beloved fairytale drama reintroduced the world to the Princess Cinderella—aka Ella for short—and her Storybrooke counterpart Ashley Boyd. Since the show's return, many fans have been hoping to see Ella, her hubby Prince Thomas, and their sweet baby girl Alexandra return to their TV screens now that the curse has been lifted. (They were Snow and Charming's best friends after all…) To help get some magical answers, I spoke with the princess herself Jessy Schram to see if a return to Storybrooke is in her near future. The ABC actress exclaimed, "There is most certainly a possibility!"
"The second season is going so strong on it's own right now and there are so many characters…but if a storyline came up I know that they wouldn't mind sharing me and giving me back the glass slippers." Squee! Just imagining another girls night complete with Ella, Snow, Ruby, Belle and Emma makes my heart all warm and fuzzy. Schram playfully teases, "There's always a possibility, nothing is unknown in the land of Once Upon a Time." Now if we could just somehow get the huntsman to come back in the same episode, then I'm pretty sure I would hyperventilate with happiness for at least a week.
P.S. Exciting news for Once Upon a Time fans! I am leaving for Vancouver early next week to visit the set of Storybrooke and interview the cast! Send me all of your bewitching questions in the comments below, or feel free to pass along your enchanted tweets to @LeanneAguilera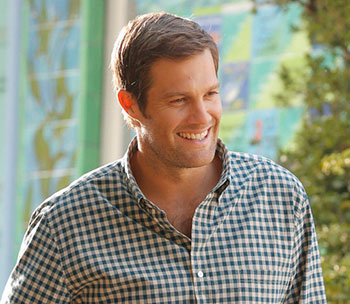 2. Ben and Kate: Low Heat Lovin'
In next week's episode of the hilarious freshman comedy "Operation Crockpot" is officially underway! What the heck is that, you ask? Well Kate (Dakota Johnson) is still beyond interested in her ridiculously hunky next-door-neighbor—played by FOX comedy veteran Geoff Stults—but she wants to take things slow and let the romance simmer at a steady pace. No need to rush into anything when you've been on a small 57-month hiatus from sex, right? But of course Ben (Nat Faxon) is ready to stir things up and cause a mess in Kate's kitchen of love. (Side-Note: Can anyone tell that my tummy is rumbling right now?)
In between his quest to find a fun and spirited new job in time for Maddie's (Maggie Elizabeth Jones) career day, Ben looks to the desperate housewives of his neighborhood to get all the gossip on Kate's potential new beau. But my absolute favorite part of next Tuesday's episode was learning that sweet little Maddie has got quite the way with words. You won't believe her creative yet terrifying technique she uses to stop being teased on the playground. Warning: Don't mess with Maddie or you may have severe nightmares.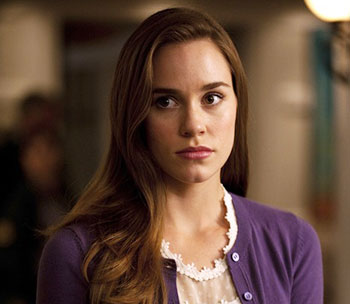 3. Revenge: A Hamptons Honeymoon
Now that the Graysons have re-tied the knot—complete with a name-inspiring wedding dress and a super romantic police search of their home—it's time to freak out wonder what's next for the Hampton's royalty. And there is no one better to help answer this question then their own on-screen daughter Christa B. Allen. In a recent phone interview I chatted with Allen about this season's crazy over-the-top plans for Victoria (Madeleine Stowe) and Conrad (Henry Czerny) as a couple. Allen explains, "One of my favorite aspects is just how twisted you see Victoria get, and then Conrad in response to her. These are two people who have the sickest motives at heart. The way they use each other to get what they want, and then pit everybody else towards each other as well is just sick. and you can't decide whether it's coming from a place of love or sheer vindictiveness. You really can't tell." The actress adds, "I still don't know!"
One thing we do know is that Conrad is once again in hot waters for the alleged murder of Gordon Murphy—crazy white-haired man. (Damn Emily you've still got it…) But Allen warns that you should never underestimate the lengths that Victoria and Conrad are willing to go to maintain their perfect facades. "The fact is that they are both two very strong individuals with very different agendas. In most cases the only one stopping them from getting what they want is each other, but they can only do it together. Apart, they're nothing." Looks like those new wedding bands are definitely not coming off any time soon.
4. Suburgatory: Getting High on Love
Remember back a few weeks ago when I told you that Tessa would be getting a football-playing fella? Well I just chatted with our favorite out-of-place suburbanite Jane Levy about her new beau and I'm just bursting to share the details. (Pssst! In case you couldn't already tell, I love this show.) So what's coming up for Ryan (Parker Young) and Tessa? Levy gushed, "They start dating! And like pretty soon too." Last week fans saw an adorably sweet moment between the too and Levy says audiences can get excited for a "really really fun" upcoming episode. In a pretty uncharacteristic move, Tessa tries to fit in more with the Chatswin kids—the football girlfriends to be exact—even though their priorities in life could not be more opposite. Levy explains, "She tries really hard in this episode to fit in and make Ryan happy and just be nice and accepting and not judgmental or preachy, but she just sort of can't help herself."
Tessa's new friends are more like high school versions of Stepford wives and Levy laughs that it doesn't take long for Tessa to crack. "There is a really funny moment where she's up in the middle of the night with all these football girlfriends making banners and everyone is hungry and tired." So what is their secret to staying so perfectly perky you ask? "They get through the night by sniffing their sparkly pens." Levy reveals with a laguth. (My brain is so torn right now. Drugs are of course bad but I'm drawn to anything with glitter.) Luckily, it seems that Tessa is going to have stronger willpower. "She just can't take it anymore" Levy says, "And Tessa turns into a little Norma Rae." Anything involving a Sally Fields reference is amazing in my book!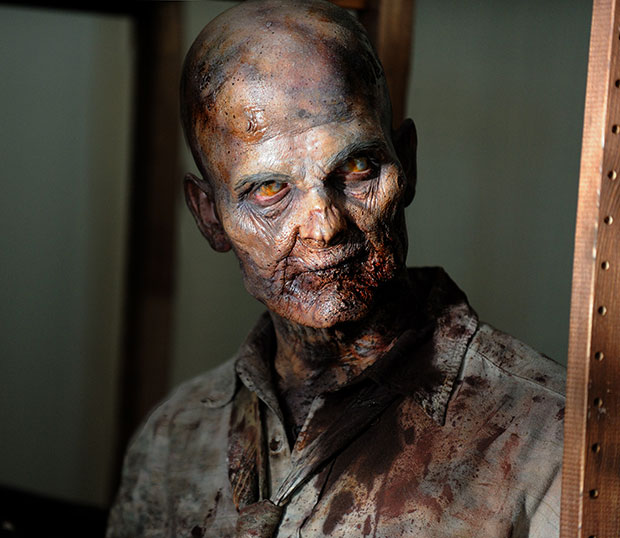 5. The Walking Dead: Do Not Eat While Watching
This show seriously scares the beejeebers out of me (I'd like to thank Jimmy Neutron for embedding that term into my vocabularly) And I can only imagine that out of all the apocalyptic worlds, being a survivor on Walking Dead must be by far the worst. You lose limbs and family members, have to subsist on old canned food, and sometimes have to hang out with Carl. But you know what must really suck for TV-philes like us? Not being able to curl up in front of the tube for our favorite stories. This week's all-new episode shows us what the citizens of Woodbury do to replace our modern entertainment — and to say it's brutal and disturbing is an understatement. Word to the wise: Do NOT eat anything while watching this episode unless you really want to see it come back up again later. (Sorry for the visual. But seriously, gross!)
Now on to what really matters: Rick (Andrew Lincoln). After his wife Lori's (Sarah Wayne Callies) unbelievable death in last week's tear-jerking episode, many fans are still in shock—and so is Rick. The widower is absolutely inconsolable and channels his loss and anger into a full-fledged rampage. His weapon of choice this week? An ax. And believe me when I say, I have never been more excited to see so much blood flying through the air. If this is his way to cope with the grief, then I say go for it and take no prisoners! As for Rick and Lori's baby? He/she (you'll have to watch to find out the sex) is perfectly fine, just very very hungry.
Would you like to see Cinderella return to Once Upon a Time? Excited for the upcoming hilarity on Suburgatory and Ben and Kate? Intrigued to see how Conrad and Victoria are going to overcome their latest hurdle on Revenge? Tell me everything in the comments below!
Follow Leanne on Twitter @LeanneAguilera
[Photo Credit: AMC, ABC, FOX]
MORE:
Leanne's Spoiler List: Love is Brewing on 'Glee,' Lucy Hale Scares Up 'PLL' Secrets
Leanne's Spoiler List: Zachary Quinto Makes His 'Asylum' Debut, 'Glee' Goes Black Swan
Leanne's Spoiler List: Thrills and Kills on 'Pretty Little Liars', 'Glee' Adds a New Twist

'Twilight' Stars Kristen Stewart, Robert Pattinson Hop on Private Jet in Matching Outfits (PHOTOS)
(Celebuzz)

Kim Kardashian: 'I've Lost 10 lbs'
(Celebuzz)