Leanne's Spoiler List: Zachary Quinto Makes His 'Asylum' Debut, 'Glee' Goes Black Swan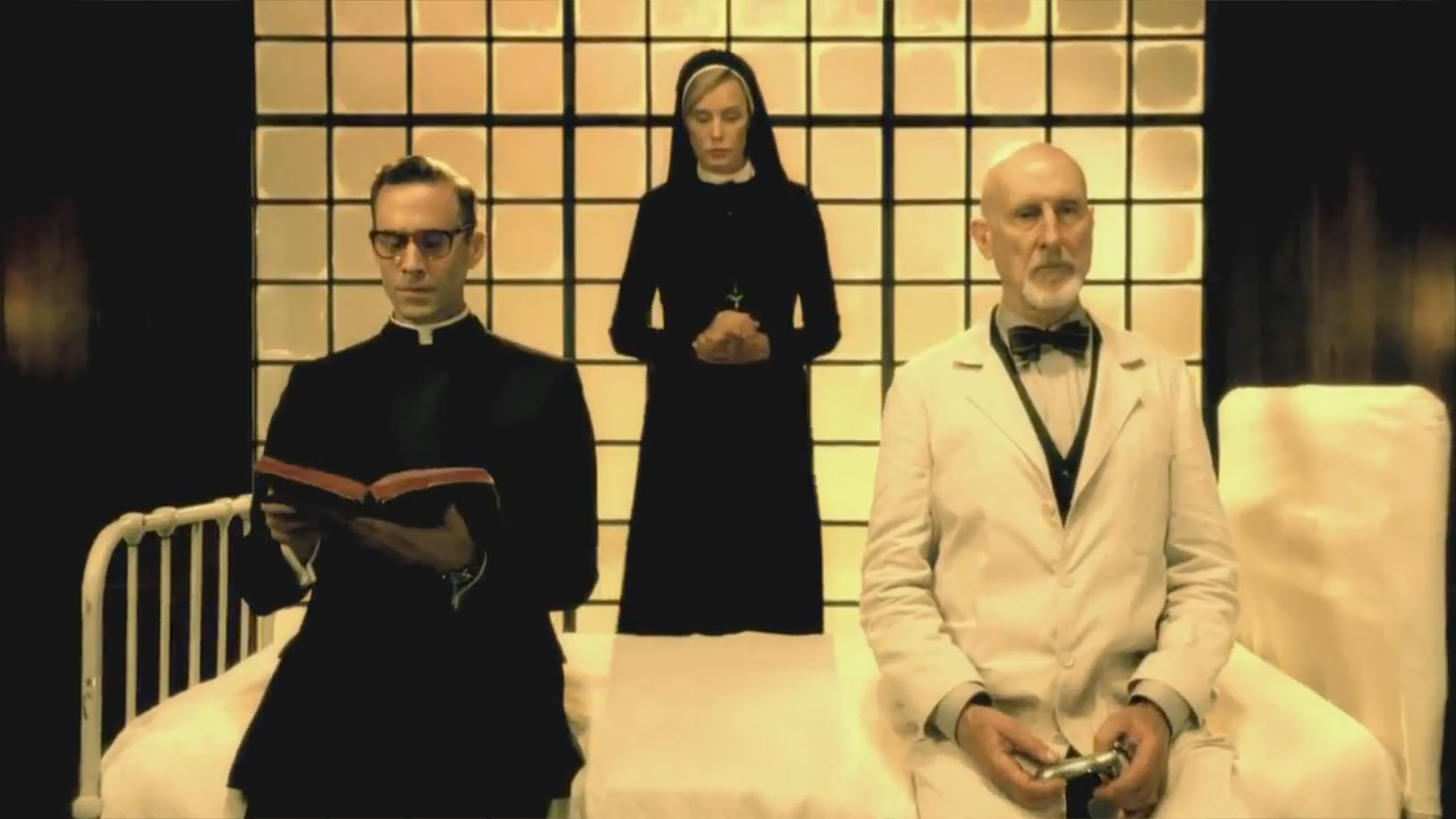 I've just consumed about 27 Sour Patch Kids and four cups of coffee, so let's get straight to it, shall we? For those of you who don't remember (or all those newbies out there), my name is Leanne and I'm mildly obsessed with television. Not just the fact that they are shiny boxes filled with mysterious shapes and colors. I love that at any given time of the day, I can turn it on with my magical remote and be transported into another world. Okay, now before this turns into an awkward school paper that the weird kid wrote or you all begin to think that I was TV-deprived as a child, I present to you this week's Spoiler List! American Horror Story: Asylum returns tonight and as soon as I stopped hyperventilating with fear, I wrote up a preview. There's a new girl coming to Glee and she's gonna be spinning circles around Miss Berry. And Andrew Rannells reveals what's coming up for the gang on The New Normal. Plus, I've got details on upcoming episodes of Happy Endings and Arrow!
1. American Horror Story: Asylum: Exorcism? Party of One? 
You thought last week's AHS brought the spiritual spooks? Wait until tonight, when Joseph Fiennes' Monsignor Timothy performs an exorcism that may or may not result in one beloved character housing a serious demon. Warning: If you're not rocking back and forth in the fetal position after watching this episode then there is something mighty wrong with you. We saw last week that Sister Jude (Jessica Lange) has a thing for the Monsignor, but not everyone at Briarcliff feels the same way.
Zachary Quinto's Dr. Oliver is not happy to see tonight's victim receive his exorcism. (Side-Note: Quinto's acting is once again flawless, and be prepared to love his season two character so much more than last year's Harmon house hide-away.) Looking ahead, we'll soon be finding out much, much more about the patients running around in Briarcliff. Fiennes beamed, "It's so brilliantly plotted, the characters, the arcs of all these characters," Of course I had to ask when we're going to be learning more about the twisted staff's past. Fiennes replied, "I love Episode 6 because that's where you begin to see a bit of a back story on Monsignor Howard and how he got working with the people that he's working with." Ooh, I love me a good flashback!
2. Happy Endings: Swag and Shia LaBeouf!
Season 3 of Happy Endings premiered last night and if you thought Jane's (Eliza Coupe) blurred-out naked bod was fantastic, wait until you see next week's small screen sensation! Now that Brad (Damon Wayans Jr.) is fully embracing the unemployed life, he turns to the world's best moocher Max (Adam Pally) for a little swag tutorial. And no I'm not talking about swag meaning cool, I'm talking about S.W.A.G. as in "stuff we all get." (Come on guys, Max is a loveable cub and all, but he's nowhere near Brad on the "Damn that dude's cool!" scale.)
So, while the boys are out getting an urban steam, Alex (Elisha Cuthbert) and Dave (Zachary Knighton) are on the hunt for their very own dream apartment. Here's just some of their list of requirements: 1.) Ample room for chicken fights. 2.) No wi-fi—they're dial-up people and FYI Alex's mid-nineties modem impression is flawless. 3.) The apartment can't be too Shia LaBeouf-y. What does that mean? I have no flipping clue, but I do know it's a deal-breaker, my friends. Penny (Casey Wilson) and Jane are also up to their own hilarious shenanigans but I'm sorry, I'm keeping that one to myself. I'm a lady y'all, and my mom says that I need to keep an air of mystery in my list or else I'll get a reputation as a spoiler slut. (Thanks for keeping me classy, momma!)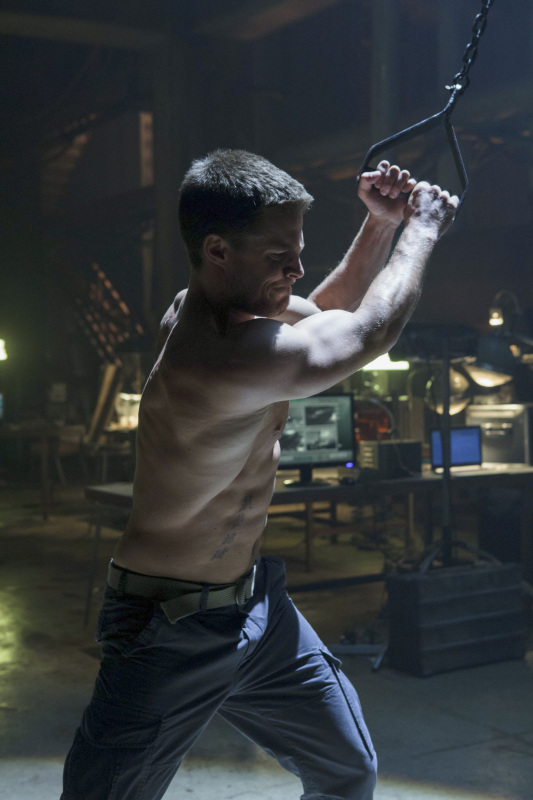 3. Arrow: The Secret's Out!
This week's episode of Arrow opens with Oliver (Stephen Amell) showing off his swoon-worthy muscles while lifting some ridiculously heavy things and basically showing the world that he is the peak of physical perfection. There's your spoiler. You're welcome!
Okay, okay. I guess I can try to look past those chiseled abs for some more action-packed details for you. Tonight's episode "Lone Gunman" shows our hero doing something we've never seen before: asking for help. When a poison-bullet favoring sniper is after his family, Ollie (as Arrow), demands politely asks Detective Lance (Paul Blackthorne) for some extra backup. Unfortunately, even with the entire Starling City police force on standby all hell breaks loose and someone close to Ollie gets hit. (Extra Spoiler: It's not Tommy or his Mommy.) To save this person's life, Oliver exposes him/her to his super-secret, badass underground lair and the episode leaves us on a mini cliffhanger: Holy crap, is this person going to blab our billionaire boyfriend's secret?! P.S. if you thought Arrow was a badass before, just wait until you see him stitching up a bullet wound like he's putting on a band-aid!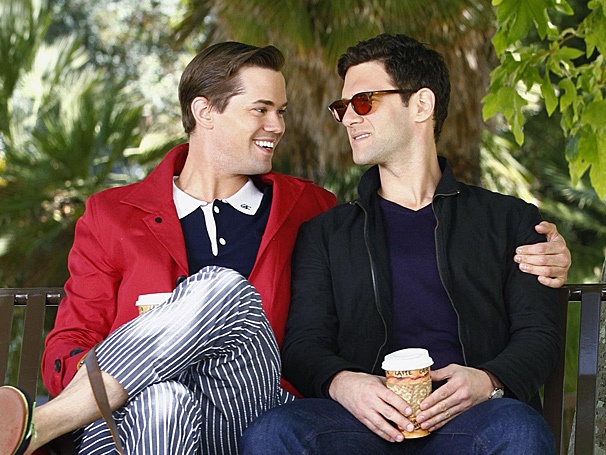 4. The New Normal: Flashbacks and Family
I know that it is pointless to crush so hard on Andrew Rannells because let's face it, his door doesn't really swing my way, but that doesn't change the fact that I stil get all squealy when he graces my TV screen. When I chatted with the former Broadway babe a few weeks ago, he told me that it's beginning to look a lot like Christmas on The New Normal. "Well, it's the holidays and we're getting into more drama. We got to meet David's mom in the last couple episodes so there will be more family interaction, which is very exciting. [We'll see] my family and more of Justin [Bartha's] family, so I'm really looking forward to that." Fans will remember that a few weeks back Rannell's onscreen alter ego Bryan reached out to his mother after not speaking for years, so of course I had to ask if she'll be entering the picture just in time for eggnog and presents. "He did call her, so we'll see. I know that I'm curious about that myself so we'll see about that. But I know with the holidays coming up; that may happen. " Rannells trails off with a smile.
In addition to a family reunion, fans of the new NBC comedy can also get pumped for more glimpses into Bryan and David's (Justin Bartha) dating past. "Yes there are definitely more flashbacks!" Rannells gushes. But what is it about these scenes does the actor like the most? Is it learning more about his character's past? The awesome '80/'90s club scenes? Or acting out the awkward beginnings of a new relationship? And the answer is D) None of the above! "I love it for my hair!" Rannells admits while casually caressing his light brown locks. "I love it when they mess with my hair, but I love the flashbacks. I'm always game for that." And I'm always game for you, Andrew. (Did that get weird? I feel like I just made that weird…)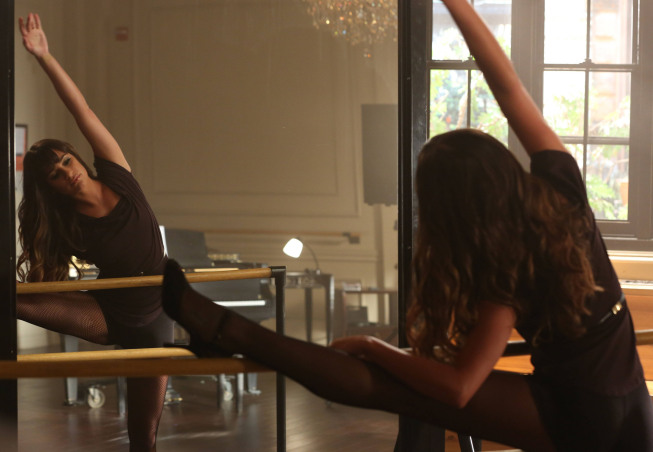 5. Glee: Bitchy Black Swan
Are you ready to meet another newbie, Gleeks? It seems that there's a light at the end of this seemingly forever-hiatus because in Episode 9 we'll meet a new New Yorker. Start preparing yourselves for Anna-Marie: an attractive, yet bitchy ballerina who will be gracing the screens with an intense performance of Balanchine-style ballet. Originally the powers-that-be at Glee were looking for someone who would be able to sing and dance "extremely well," but have since lowered their requirements to just an expert ballet dancer. Well, sheesh! First Kate Hudson and then Sarah Jessica Parker, does anyone know if Natalie Portman's tutu still fits? Looks like Rachel (Lea Michele) is going to have to seriously step up her dancing skills once this girl spins onto our TV screens.
Do you think Anna-Marie is going to shake things up on Glee? Are you excited for Zachary Quinto's AHS: Asylum debut tonight? How much are you loving Arrow and Happy Endings?! Tell me everything in the comments below!
Follow Leanne on Twitter @LeanneAguilera
Additional reporting by Shaunna Murphy.
[Photo Credit: FOX, ABC, The CW, NBC, FX]
MORE:
Leanne's Spoiler List: Thrills and Kills on 'Pretty Little Liars', 'Glee' Adds a New Twist
Leanne's Spoiler List: 'Smash' Will Shake Things Up, 'Vampire Diaries' Gets Intense
Leanne's Spoiler List: Is There a New Love Triangle on 'The Vampire Diaries'?


Jon Hamm Goes Shirtless With Bikini-Clad Jessica Paré
(Celebuzz)

Kardashians Share Scary-Cute Childhood Halloween Pics
(Celebuzz)