Leanne's Spoiler List: 'Once Upon a Time' Reveals the Father of All Secrets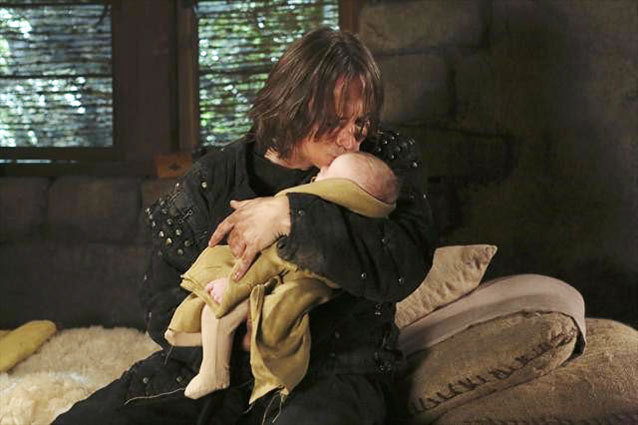 It's almost Valentine's Day! The day known for love, compassion, and spending a fortune on pretty weeds and chocolate-covered calories. Yay! Unlike the majority of the female population, I personally love February 14. It's the one-day of the year that combines three of the world's best things: wine, glitter, and oh-so sweet shipper moments on our favorite TV shows!
This week's edition of Leanne's Spoiler List is sweetly sprinkled with love and plenty of your favorite TV goodies. I spilled almost everything I know from Sunday's jaw-dropping episode of Once Upon a Time and the drama-packed hour of The Good Wife. I gathered some Valentine's Day scoop for The Middle and will they/won't they details from The Carrie Diaries. I also chatted with the unbelievably lovely Sutton Foster about what's twirling into town on Bunheads. Happy Valentine's Day, TV lovers!
RELATED: Leanne's Spoiler List: Kaley Cuoco's Sister To Star On 'Big Bang Theory's Valentine's Day Ep
1. Twitter Question: @charmingfinchel: Once Upon a Time the "Manhattan" episode!
Hmm, well that wasn't really a question; it was more like an excited demand. Luckily for you, my head is still spinning from watching this Sunday's all-new episode, "Manhattan," and I need to gush about what happened. Not only do we learn the identity of Rumpelstiltskin's son Baelfire, the episode is also jam-packed with answers to our most burning questions.
In the flashbacks to Fairytale Land, fans will get a deeper peak into Rumple's life B.M. — Before Magic, that is. Mila is back and for a brief, shining moment you'll see a sweet side to the pirate-loving, child-abandoning cheater. OUaT lovers will also finally learn exactly what happened to Rumple in The Ogre Wars and trust me when I tell you, the situation was much more complicated than you could ever imagine. Some might still call Rumple a coward, but after seeing this episode, I now think of him as a caring, kind-hearted hero. Weird, I know.
Over in Storybrooke, Emma calls with news that leaves Charming and Snow adorably baffled, while the evil threesome—Regina, Cora, and Hook—are searching for the one thing that can finally take down "The Dark One."
But here's where it gets good: Rumple and Bae finally have their much-needed heart to heart. (Even though it's only three minutes long, per Bae's request.) Although I can't reveal who his son is — I'm pretty sure ABC would send Snow to shoot an arrow straight though my heart — I can tell you that we may have seen this person in the past. Or maybe not. Oh, and all you August fans out there are definitely going to want to tune in this week!
RELATED: Leanne's Spoiler List: Couple Alert! What's Next for Nick and Jess on 'New Girl'?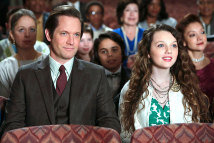 2. The Carrie Diaries: Limo Loving
New Goal in Life: Be an extra for a day on the set of The Carrie Diaries. Bonus points if they're filming another school dance like in the upcoming episode "Caught" (airing Feb. 25, bee-tee-dubs). If you're not watching this delightful Sex and the City prequel, then you really need to reevaluate your DVR priorities. Not only is this show addictingly sweet and filled to the brim with Google-worthy fashion pieces, young Carrie (AnnaSophia Robb) is simply sensational.
This week we met Carrie's new beau George, and in a few weeks we'll see that this super tall hunk is still very much in our leading lady's life — but so is Sebastian. While Carrie is rocking the world's most amazing mint green dress at the Winter Dance, fans will see that V-word is something that will finally be addressed. And to all you sweet-minded fans, I'm not talking about valentines. Let's just say she'll be having a very Chuck and Blair moment in the back of a limo.
With Carrie off dancing the night away, Dorrit is finally spending some one-on-one time with their dad. And fans will also see a first glimpse of Carrie's knack for writing when her quippy headline makes it into Interview Magazine.
Plus, get excited for Carrie's best line of the episode — and the best SATC jab yet: "If I'm still dating and talking about guys in my thirties, someone needs to smother me with a pillow." Hah! Oh, Miss Bradshaw, if only you knew…
RELATED: Leanne's Spoiler List: Which 'Pretty Little Liar' Could Be A? 'Glee,' 'The Following' and More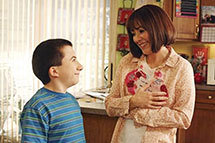 3. The Middle: I Heart The Hecks
It's no surprise that I love sparkly things. So you can imagine my extreme delight when Brick Heck, sent me a personalized valentine yesterday. There is red glitter all over my desk and I've never been happier — that is until I saw tonight's episode of The Middle and realized that he gave Frankie and I the exact same valentine. Matching girlfriend and mother presents is quite a big step, but I'm glad that Brick is confident in our love. Swoon!
Love is in the air in the Heck house tonight, and while Mike's idea of romance is finally taking the Christmas tree out to the curb, his co-workers decide to tackle his "intimacy issues" and suggest new ways to show his love for Frankie. Meanwhile, Axl and his Boss Co. crew come up with the world's most genius — and yet incredibly douchey — way to make money off his classmates' V-Day misery.
And Sue is once again trying to channel the world's supply of optimism and signs up to be on the clean-up crew for the school's Valentine's Day dance. She exclaims, "I may not be in love, but I can still clean up from people in love!"
The Middle is not typically a show filled with spoilers, but I reveal that tonight's episode has a massively amazing twist at the end. I literally gasped, squealed from delight, and the re-watched the moment three more times. If you've never seen The Middle, then shame on you! But you're in luck, because tonight is the perfect episode to jump into the craziness of the Heck house.
RELATED: Leanne's Spoiler List: Cocaine Fueled Adventure on 'Girls', Megan Hilty Talks 'Smash' Romance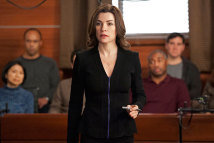 4. The Good Wife: A Sweet Surprise
This Sunday's episode, "Red Team/BlueTeam" is a whirlwind of classic Good Wife drama. Now that Lockhart Gardner's debt issue has been resolved, the partners are less inclined to let newbies in — so the status of Alicia, Carey, and the rest of the fourth years' partnership offers is up in the air. In the meantime, Diane and Will ask the officemates to argue against them in a mock trial to prep for a lawsuit against their energy drink company clients.
As Alicia and Carey throw themselves into the case, they get angrier and angrier that they might not get their promotions. Could they strike out on their own together? From competitors to potential partners — those two have come a long way over the years and I'm keeping my fingers crossed for this to happen.
Eli enlists Elsbeth's help in the criminal case building against him, and once again the quirky lawyer finds a way to outsmart her competition. Sure, she's a weirdo, but I'd hire her in a heartbeat!
And since Valentine's Day is tomorrow, here's a sweet treat: Keep an eye out for an unexpected romantic moment during Sunday's episode. I'm not telling who kisses, but let's just say I screamed at my screen — and you will too!
RELATED: Leanne's Spoiler List: 'Glee' Star Naya Rivera Talks NYC and Bram, 'Justified' Season 4 Scoop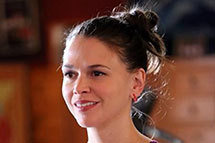 5. Bunheads: Red-Hot Fun
Lemme just start this off by saying that my go-to show is Gilmore Girls — always has been, always will be. So the fact that Amy Sherman-Palladino is has sprinkling some of my favorite Stars Hallow residents into Bunheads has been particularly thrilling for me. Thanks for letting me share my thoughts with you.
There are only two more episodes left in the winter season of Bunheads, and they will definitely make your head spin. I had the pleasure of speaking with the legenday Sutton Foster yesterday and she filled me in on everything that's coming up in next Monday's episode.
"There's a fire and the dance studio becomes one of the evacuation zones, so Michelle becomes one of the co-captains to oversee the disaster." Foster continues, "All the characters are forced to be in the same place at the same time all the girls, all their love-interests and the girls decide to take their relationships to new levels." Cue the cat fight and tutus!
So while the girls are figuring out their love lives, our leading lady is left trying to keep everything in order. Sutton says, "Michelle becomes more of a parental figure and watching every body and then reluctantly being put into a position of responsibility and that is ot necessarily her strong points."
I then suggested that Michelle should bring back her polyester-powered panysuit to give her the courage to handle the responsibilities. Sutton laughed, "Oh no! Thank god I'll never have to put that pant suit back on. But there is a lot of silly crazy and fun stuff in the next two episodes." Can't wait to watch it all twirl out of control!
Who do you think is Rumplestilskin's son in Once Upon a Time? Is Carrie ready to give up her V-card in The Carrie Diaries? Excited to see all the drama unfold on Bunheads? Will you be my Valentine, TV lovers? Tell me everything in the comments below!
—Additional Reporting by Jean Bentley
Follow Leanne on Twitter @LeanneAguilera
[Photo Credit: CREDIT: Jack Rowand/ABC; David M. Russell/CBS; Adam Taylor/ABC Family; Michael Ansell/ABC; Patrick Harbron/The CW]