Leanne's Spoiler List: Baby Daddy Drama on 'Glee,' Caroline's Terrifying Encounter on 'The Vampire Diaries,' and More!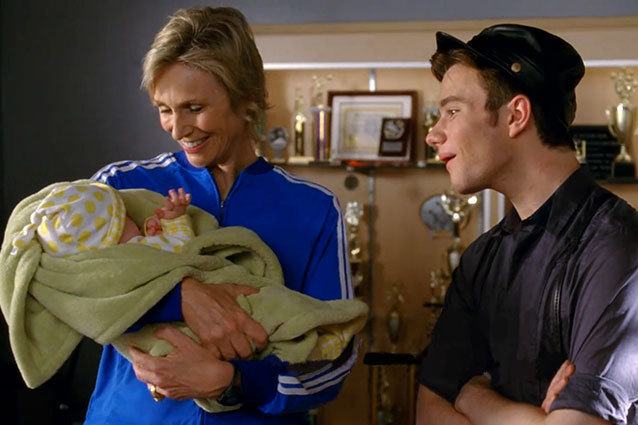 This week's edition of Leanne's Spoiler List features five fabulous shows that will make you giggle with excitement and gasp from all the amazing moments that will soon flood your TV screens. Are you ready to learn the truth?! I chatted with Glee star Jane Lynch and she promised me that fans will soon learn the answer to a question they've been pondering for nearly a year now.
Arrow's Stephen Amell reveals what's coming up next for the ladies in his life and Jesse Spencer teases that an old flame is coming back to ignite some problems on Chicago Fire. Plus, I've gathered Caroline-centric scoop for The Vampire Diaires and watched this week's Community to bring you all the Greendale details you could ever want. This week's list is packed to the brim with spoilers so grab a spoon and dig in to the deliciousness!
1. Glee: Oh Baby (Daddy)!
Let's travel way back to the beginning of Season 4 when we still remembered that at one point Sue had a baby. Since these early episodes many fans have forgotten about this off-the-wall season 3 pregnancy because we haven't heard much — or anything actually —about Sue's sweet baby Robin. However, when I caught up with Jane Lynch Monday evening the Glee star promised me that's all about to change.
When asked if we're ever going to learn who's the father of little Robin, Lynch was quick to answer: "We do! You're actually the first person I've told," the actress said with a smile. "But I wont tell you who." Did you hear that, gleeks? Finally we're getting some answers! The baby daddy will be revealed in the Season 4 finale and Lynch says that she was thrilled to finally know the truth. "I thought it was great and so funny! I was a little surprised — I had absolutely no inkling."
Lynch reveals that you'll be completely baffled when you learn the mystery man's identity. For months Glee fans have been under the impression that he's someone who lives in the spotlight, so can fans expect to meet a famous father? "Maybe, maybe not." Lynch teases. "I can't tell you, but it was hilarious and wonderful and apt… There's no way you would know." Start throwing your guesses down in the comments Glee-bees!
Bonus Scoop! After the terrifying (yet totally fake) school shooting, Sue has been MIA from McKinley. But Glee fans will find out what our favorite coach has been up to in this week's episode, "Lights Out." Lynch explains, "Well, Sue is teaching aerobics now and she has a new life at The 23 Hour Fitness." Wait… The 23 Hour Fitness? When do they close? Once again the Glee actress has all the answers, saying, "Well they close from 12 midnight to one in the morning so they can scrub down the steam room." Ah, got it. Thanks Jane, please continue.
"She's kind of acting like, 'Hey I've got a new lease on life!' but I think she misses McKinley so hopefully she'll come back," Lynch says. I know for a fact that our brave and cape-wearing Blaine Anderson — a.k.a. Nightbird — is headed out to rescue our damsel in distress, so I have a feeling she'll be back at McKinley in no time. Want more Glee? Of course you do! Check out the six sensational songs from "Lights Out" and plenty of scoop from the episode right here!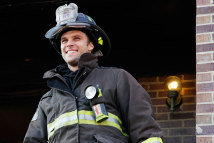 2. Chicago Fire: It's Getting Hot in Here
On Monday I looked into Jesse Spencer's piercing blue eyes and after taking two seconds to daydream about us frolicking in a forest together, I got down to scoop-snagging business. This first season of Chicago Fire has been a fiery whirlwind of action and drama, but Spencer teases that things are just heating up for Casey. "His ex-flame comes back and rekindles his relationship," he says.
Spencer explains that this blast from the past will lead Casey into dangerous territory. "Basically after that happens he takes a crazy turn and goes on a roller coaster ride," the actor says. "Casey kind of goes on the revenge trail which turns into some massive action sequences which we were just literally shooting yesterday." Sounds like we've got a lot of hot stuff coming up! (Pun intended. Sorry. I couldn't help it.)
The former House actor says he was eager to act out Casey's downward spiral on set. "To be honest I was excited about it. I love the physical stuff and I think that this show has offered me what I didn't get before," Spencer says. "In House is was all so cerebral for eight years so now it's good to chase someone down. It's great and I'm really enjoying the physicality of it." And we're really enjoying watching him do it!
3. The Vampire Diaries: Beware of The Woods
Confession: I absolutely adore The Vampire Diaries' Caroline Forbes. To me this blonde beauty can do no wrong and I'll openly root for her and any guys she even breathes on because I think she's a sweetheart and should have anything she wants. Steroline? I ship it. Klaroline? Damn straight. So after this week's sure-to-be amazing backdoor pilot for The Originals, I'm excited to return to Mystic Falls and see more of Caroline being her badass self.
At this point, the majority of our characters have already had the displeasure of meeting Silas — and experienced his terrifying mind tricks in the process. In episode 21, "She's Come Undone," Caroline will finally come face-to-face with the psychotic bloodsucker, but not in the way that you would expect.
That's right! Silas will once again cloak his true identity and appear to our former Miss Mystic Falls disguised as someone who will really mess with her head. Of course I can't tell you which TVD favorite sparks a dangerous conversation with an unknowing Caroline, but I can tell you to be wary of any character lurking in the woods. I seriously can't wait for Silas to stop this body switching nonsense and finally reveal his true identity — this is getting confusing!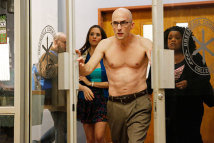 4. Community: Freaky Friday at Greendale
This Thursday's all-new episode of Community, "Basic Human Anatomy," finally feels like the good 'ol days. Annie and Shirley are obsessing over schoolwork, Pierce is mumbling nonsense, Troy and Abed partake in a hilarious body-switching bit, and Jeff continuously expresses how much he doesn't care about any of their problems. I heart you Greendale!
It's a delightfully fun episode — especially when Troy and Abed switch bodies after declaring their love for all Freaky Friday-esque movies. Their acting is so damn convincing that you'll want to rewatch the episode again just to catch all the quirky characteristics the two best friends have mastered about the other. Unfortunately the episode is not all fun and games, and two of our beloved GCC students have a heart-to-heart talk that could forever change the dynamics of the group.
Community fans can also look forward to seeing Dean Pelton channel his inner cool guy when he thinks he has switched bodies with Jeff. Warning: There are plenty of shirtless scenes and you may be blinded from the dean's pasty white complexion. I'd suggest having a pair of sunglasses close by when watching the episode to avoid any damage to your retinas.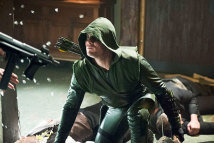 5. Arrow: Olicity Overload (In the Best Possible Way)
On Tuesday morning, I had the pleasure of interviewing Stephen Amell for the second time and I can now officially confirm that he is, without a doubt, the kindest and sweetest actor I have ever chatted with. Now that I've got that out of the way, let's jump straight into some Arrow scoop, shall we?
We know that Thea and Roy are determined to discover the identity of Starling City's hooded vigilante, and Amell promises that Oliver will learn of his sister's plan before she can get too close. "Oliver does catch wind of this before the end of the season which does lead to some interesting interactions between the three of them," Amell says. "It's time for Thea in the finale to really stand on her own and have some heroic moments of her own." I honestly think that Thea could be such a badass sidekick and I know that Willa Holland is more than ready to have her action moments.
And speaking of fierce females, many fans have fallen head over heels for Team Arrow's IT girl Felicity — and fingers crossed Oliver will too! "In episode 21 and in episode 22, Emily and I get very close." Amell says. "I think that every day he sees Felicity, he finds out how capable she is…By the time we get to 22 and 23, 23 especially, with the stakes as high as they are, it's not the IT girl in the Arrow cave; it's you are a member of the team, on equal footing with myself and with Diggle, and we need you as much as you need us in this scenario."
Amell says that Ollie's working relationship with Felicity always has the possibility of evolving into something more. "I think Oliver sees her as an equal and a very capable individual. And just based on her knowing more about me than just about anyone at this point in my everyday life, she can probably challenge me in ways that other people can't, and that's always very attractive," he says. Team Olicity!
Who do you think is Sue's baby daddy on Glee? Excited to see more Oliver/Felicity scenes in Arrow? Which Vampire Diaries character do you think Silas will disguise himself as next? Tell me everything in the comments below!
Follow Leanne on Twitter @LeanneAguilera
MORE:
Leanne's Spoiler List: The Vampire Diaries, Once Upon a Time And More!
Leanne's Spoiler List: Nurse Jackie, Revolution and more!
Leanne's Spoiler List: The Big Bang Theory, Glee and More!
---
From Our Partners


50 Worst Celeb Mugshot Fails (vh1)


33 Child Stars: Where Are They Now? (Celebuzz)