Leanne's Spoiler List: A New Twist For 'Revolution,' Smooches on 'Smash' and More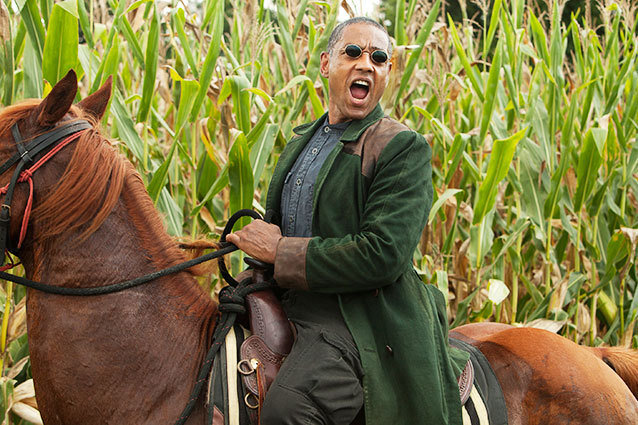 Fun fact: Did you know that when you go to Starbucks and ask for the strongest, most caffeinated drink on the menu, they'll give you an iced coffee with two shots of espresso? Not only am I wide awake, but I've discovered three amazing things this morning: 1.) I can spin in my chair eight and a half times before getting insanely dizzy. 2.) Googling Harlem Shake videos and then having a heated debate with your co-worker over the best one is a fantastic way to spend 30 minutes. 3.) I type really really quickly when I have amazing TV scoop to share.
This week's edition of Leanne's Spoiler List is filled with a great mix of five fantastic shows. Hollywood.com's spoiler spies gathered details from Giancarlo Esposito about Revolution's dynamic return to TV and chatted with the unbelievably lovely Keri Russell to learn more about the heated scenes between our favorite Cold wars spies on The Americans. Grab some tissues because I've got spoilers on a pivotal Beauty and the Beast death, and how our favorite dysfunctional family will be ripped apart on Shameless. Plus, I answered one of your Twitter questions with some sexy Smash scoop! Read on for all the caffeine-fueled TV craziness below!
RELATED: Leanne's Spoiler List: 'Once Upon A Time' Reveals The Father Of All Secrets
1. Revolution: A Fast-Paced Return
When we last saw Monroe, he had accomplished what seemed like the impossible for our favorite characters on Revolution: not only did he have power, but he used that power to control working helicopters! That doesn't mean good things for Miles, Charlie, Danny, and co. — something star Giancarlo Esposito agreed with when we chatted during a break from filming — but Esposito added that it may not be too good for Monroe either. "Monroe has got stuff going on and he's slowly becoming unhinged because he has too much to think about," Esposito revealed.
But what about Esposito's Captain Neville? "I would hope that Neville is off meditating in the mountains or the Himalayas but he's not," Esposito teased. "He's trying to figure out how to survive just like everything else." Let's hope that doesn't mean plotting retaliation against Miles, who had just kidnapped and threatened Neville's wife in the midseason finale. We know how much Neville loves to get his revenge… and it's usually bloody.
And just in case you were worried Revolution was going to slow down in the back half of its freshman season, time to put those worries to rest. "This show is quickening. The pace is quickening and also the storylines are quickening," Esposito said. "I don't want to spoil it, but it's probably going to be double-matched, doubly more action-packed than it was in the first [half] and I think people are going to be very surprised… It's going to be a full-on ride now for the next few months." We can't wait!
RELATED: Leanne's Spoiler List: Kaley Cuoco's Sister To Star On 'Big Bang Theory's Valentine's Day Ep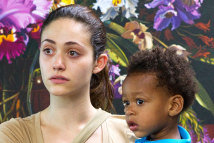 2. Shameless: Sibling Hide and Seek
Remember way back when in episode two of this season, when Frank drunkenly called Child Protective Services from the phone at the Alibi Room? Did you really think that Shameless would let that gem of a moment fall into the hazy alcohol-induced past? Nope! Since life is never easy for the Gallaghers, the kids' lives will get even harder when social services places them in different homes throughout Chicago.
Jumping straight into mommy mode, Fiona's first order of business is to find where everyone is — then to make sure they're all okay. And of course her next goal is to do everything humanly possible to get our favorite dysfunctional family back together. Unfortunately, even though she's been taking care of the kids for years, Fiona has no authority in the eyes of the court. Perhaps there's a more permanent solution out there…
Meanwhile, Veronica and Kev's quest to have a baby takes a bizarre turn when the couple tries to find a surrogate. Their selection is a person who's closer to them than you'd think — but they'll get even closer when they take unconventional steps to conceive. Gotta love that crazy couple.
And here's another tidbit, just for fun: Someone that several of the Gallaghers are intimately acquainted with returns to town. Who could it be?! Shout out your speculations in the comments!
RELATED: Leanne's Spoiler List: Couple Alert! What's Next for Nick and Jess on 'New Girl'?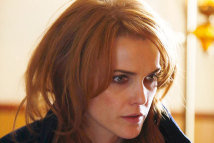 3. The Americans: Short-Lived Marital Bliss
The end of last week's episode may have infuriated some fans of The Americans (I know I was mad!) Here's a quick refresher: Philip gave Elizabeth the cold shoulder for her former affair with a colleague, possibly forgetting the fact that he is currently embroiled in an affair of his own. Double standard: party of one?
To help sort out all of the Cold War craziness, Hollywood.com spoke to Keri Russell last week, and she said that Elizabeth will catch on sooner than we think. "Oh, I think she's going to care," Russell teased. "I think she's going to start caring, a lot. I have a feeling she'll take care of things."
Uh-oh… does that mean a certain mistress may find her head on a stick (Oh wait, sorry! This isn't Game of Thrones… ) I'm not too sure, but I do know that their recent marital bliss will be short-lived. "Things heat up, instantly," Russell said. "They are heightening the relationship. Philip and Elizabeth have been working together all of this time — she has always been the hard-liner, where he's been the one that can bend."
The actress explained that even though these two are leading false lives, their feelings for each other are far from fake. "This new aspect of their relationship, where they may truly be in love now, doesn't change that past. Some things are going to be brought up that are documented facts of the way they were different back then, and could be very fractious to the relationship."
RELATED: Leanne's Spoiler List: Which 'Pretty Little Liar' Could Be A? 'Glee,' 'The Following' and More
4. Beauty and the Beast: A Killer Episode
Get ready for one killer episode of Beauty and the Beast when the Grim Reaper comes a knocking in Thursday's all-new episode. You read that right, fans: someone's going to die! Sheesh, first The Vampire Diaries and now this? Why can't you just let us be happy, CW Gods?!
Jay Ryan, the hunky hottie behind beastly Vincent Keller, warned us weeks ago that someone was going to bite the dust in "Tough Love"… we just didn't want to believe him! Sigh.
"Vincent is in a position where he has to save the life of Catherine's sister, and in doing so it forces the beast to accidentally kill someone that was in the way of saving Heather's life," Ryan told Hollywood.com. "And that person is very close to one of our series regulars. So it basically ramps up the witch-hunt on Vincent."
Eek! I checked in with my all-knowing CW spoiler fairy and we can confirm that this "someone" is definitely close to more than one of our series regulars. But of course I can't exactly tell you who, now can I? I can tell you that executive producer Brian Peterson says you definitely don't want to miss Thursday night's jaw-dropping episode.
"What happens after Vincent has killed somebody is that it will galvanize a certain group of people on the show against the vigilante and motivate their need to destroy him. Everything gets turned on its head. It is the most pivotal episode of the whole series thus far," Peterson told Hollywood.com. "The tragedy of Vincent's nature and his instinct to protect switches everything up."
One thing that BatB fans should definitely know: Make sure you have your kleenex box handy, because this episode is a tearjerker. Don't say I didn't warn you!
RELATED: Leanne's Spoiler List: Cocaine Fueled Adventure on 'Girls', Megan Hilty Talks 'Smash' Romance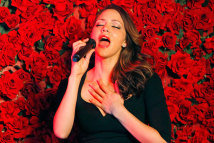 5. Twitter Question: @Whattowatch100: Smash news please! Is there hope for Karen & Derek after the beer bottle snub? #leanneslist
That moment — which I'm now officially declaring as the Beer Brushoff of 2013 — was certainly an interesting interaction in last night's Smash, wasn't it? We all saw that Karen definitely has a little bit of a crush on Broadway's newest bad boy, and in next week's episode things get even more heated. Okay, I'm all hopped up on caffeine so I'm just gonna say it: there's going to be a smooch, y'all!
Sure, it may not be the most romantical of moments, and there may or may not be heavy drug use involved, but let's be honest: If Jimmy's face was right next to yours, you'd kiss it too!
Just because next week's episode, "The Song," has some Kammy (Karen/Jimmy) chemistry, doesn't mean that all hope is lost for the world's most debonair director. Derek is a bit preoccupied with Ronnie's phenomenal Bravo-televised one-night-only spectacular, and dealing with the stage mom from hell. If you thought Rebecca Duvall was a diva, just wait for the ferocity to hit the fan when Ronnie's mother hits the stage.
And speaking of Season 1 storylines, does anyone happen to remember a smarmy, peanut-wielding, rat of an assistant named Ellis? Let's just say that my wish did not come true and he was not run over by a bus after last season's finale.
How are you feeling about the new Jimmy/Karen chemistry on Smash? Who do you think is going to die on Beauty and the Beast? Intrigued by the familiar face returning to Shameless? Tell me everything in the comments below!
Follow Leanne on Twitter @LeanneAguilera
—Additional reporting by Sydney Bucksbaun, Jean Bentley, Shaunna Murphy and Kelsea Stahler.
[Photo Credit: John Domoney/NBC, Will Hart/NBC, Chuck Hodes/Showtime, Ben Mark Holzberg/The CW, Craig Blankenhorn/FX]
---
From Our Partners:


Bradley Cooper Dancing Is Surprisingly Awkward, Sweaty (Vh1)


Kate Upton Bares All in Nothing But Body Paint: Video (Celebuzz)