Leanne's Spoiler List: 'The Vampire Diaries' Goes to Prom, 'Once Upon a Time' Adds a Dark New Character and More!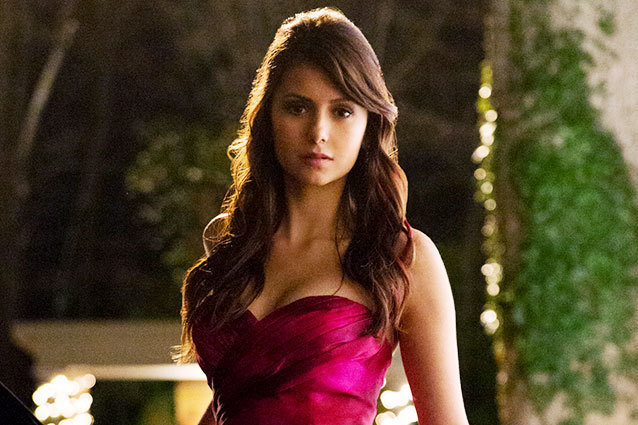 I can't believe that the TV season is already coming to a close! It feels like just a few weeks ago we were eagerly anticipating all of our favorite shows to return to the magical boxes in our living rooms, and now we have to endure the long months of summer before we see our favorite primetime hits again. But while we prepare to bid adieu to some of our favorites — yes, I'm looking at you Suburgatory — we also get to say hello to some new deliciously dark dramas.
This week's edition of Leanne's Spoiler List has a lovely selection of five fantastic shows from all over the TV spectrum. Ready to know about this week's killer prom on The Vampire Diaires? Read on for all the details on the gorgeous gowns and dangerous decisions. I chatted with the always wonderful Emilie de Ravin about Belle's darker alter ego in this week's all-new Once Upon a Time and caught up with the star of Awkward to bring you scoop on this season's drastic character changes. Hannibal's leading man Mads Mikkelsen reveals Dr. Lecter's taste in women and I watched the world's most perfect season finale on Suburgatory. Oh, and did I mention there's a lightning round?
1. The Vampire Diaries: Prom Problems
It's finally prom time for our favorite Mystic Falls seniors on The Vampire Diaries, but it's a bittersweet occasion considering at least half of everybody's friends and family are dead. Plus, there's that pesky business of Elena having turned her humanity off. The show returns Thursday at 8PM on The CW for "Pictures of You," the first of five brand-new episodes leading up to the Season 4 finale on May 16.
Since this is The Vampire Diaries we're talking about, there's a lot I can't tell you about what happens. But here's what I can reveal: Early in the episode, Caroline deems this year's prom a "friend dance." It's the perfect name, considering there are some lovely bonding moments between all of the seniors (except the friends Elena has shunned since her No Humanity thing). And shippers, take note: There's Klaroline, Steroline, (all of the -olines, basically), Delena, Stelena, and other coupled-up moments galore. Squee!
Let's see, what else can I tell you? Rebekah, the poor, dance-deprived Original, finally gets to a school dance. For real! And she looks great. Meanwhile, Bonnie learns some very important things about her magic (yes, they're Silas-related), and a prom king and queen are crowned — yes, we know them. Finally, just to get you ultra-excited for the episode, I'll leave you with this: You will see some familiar faces you might not expect. Yes, that was purposefully cryptic. No, I can't tell you any more!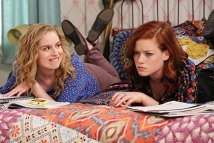 2. Suburgatory: What a Perfect Finale Looks Like
There are many reasons why I completely adore ABC's quirky comedy Suburgatory. In addition to the giggle-worthy characters and the amazing one-liners I also love their theme song — It's so catchy! So you can imagine my delight when I was watching tonight's season finale (Airing at 8PM!) and I heard a beautiful rendidtion of "Pleasant Nightmare," song by the incredibly hunky Jeremy Sisto — like father like daughter, right?! I can't reveal when or why George is gracing us with a song, but I can tell you that I definitely got a little misty-eyed. (Okay fine I was totally crying!)
I hate the fact that after tonight's special two episode season finale, I will have to endure many Suburgatory-free months until next season. (Fingers crossed!) But luckily, the powers that be in Chatswin are sending fans off with one ass-kicking, truth-revealing, game-changing season finale. Be prepared for a change of scenery — and I hope you like leather!
Since so many amazing things are going to happen tonight, I'm going to give you a lightening round of spoilers: Noah is going to get his revenge on Dr. Bob and it is terrifyingly creative. Tessa and Dalia have the best girl on girl TV fight that I have seen in a long time. (Think Kill Bill but with the return of the "lesbian boots" from the pilot!) Ryan Shay will take your breath away with his silent sexiness, and let's just say I'm curious about bathroom floors now. Lastly we'll see a familiar face return to Chatswin just in time, and learn a shocking secret about one of our favorite couples.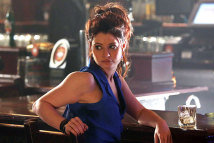 3. Once Upon a Time: Racy Lacey
It's finally almost here! After weeks and weeks of magic-free TV, Once Upon a Time finally returns to our lives this Sunday with a brand-new spellbinding episode. On Friday, I'll be giving Once fans a more in depth article on what to expect from "Lacey," but for now — to get you all as excited as I am — I just got off the phone with the incredibly sweet Emilie de Ravin to find out all the details on Belle's new alterego, and just have to spill some secrets!
As all Rumbelle fans know, when we last saw Belle she was wearing a hospital gown, completely stripped of her memories. Luckily, in this Sunday's episode her memories are restored — but unfortunately, they aren't Belle's memories. "Regina gave [Belle] this false memory to once again mess with Mr. Gold, and take away the one thing he loves," de Ravin explains. So, everyone, — let's say hello to Lacey! De Ravin explains that Lacey is the complete opposite of the Disney princess we've all come to know and love.
"Compared to Belle she's very free-spirited," she says. "She a smart girl, but she doesn't want adventure and she doesn't care about books. She'd rather hang out at the Rabbit Hole and drink and play pool." I also made sure to clarify an important distinction — we've seen in the past that Belle is very much about book smarts, so is it safe to assume that Lacey is more partial to street smarts?
"Ooh completely!" de Ravin says. "That's a very good analogy. Belle will have a cup of tea, Lacey will have a double Jack on the rocks. Maybe three." Oh, I can't wait to meet her!
For more details on Rumple's plan to restore Belle's rightful memory and scoop on the fairytale flashbacks, check back to Hollywood.com Friday morning!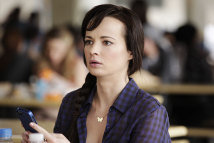 4. Awkward: More Mother/Daughter Bonding
How crazy was the Season 3 premiere of Awkward on Tuesday?! Not only is Ricky Schwartz no longer going to be ruining lives at PHHS, but we survived a almost-pregnancy-scare with Jenna, too! Thanks to Jake's big mouth, things are now rocky between Matty — who now knows the truth —and Jenna. I caught up with the Awkward cast last week, and star Ashley Rickards told me that Jenna is not mad that the secret came out. "I don't think that it was even a thought-out decision that she turned to Jake," she says. "I think that he was just there, and it just came out because she trusted him and their relationship."
Despite the fact that Jake might be regretting his "Jenna 4 Eva" tattoo right about now, there are bigger problems heading to our quirky heroine. Rickards told me that fans are going to see Jenna going to a much darker place this season. "I think she has spent two seasons trying to get where she is in life," she says. "There comes a point … where she's forced to wonder if this person is who she is — the person she wants to be. It's sort of the first time she's going to make some decisions that don't turn out in her best interest." Yikes!
At least we know that Jenna's relationship with her mother is finally in a much better place, and Rickards teases that this relationship is really going to become important to Jenna's dark days this season. "Between the letter and everything, what tore them apart also brings them closer," she explains. "They're going to lean on each other — and subsequently Jenna is going to be leaning on Lacey's fake boobs — a lot more this season." Aww. Well, true to the show's theme, that sounds awkwardly nice.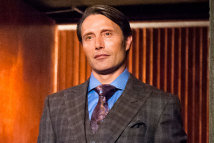 5. Hannibal: Deliciously Dark
If you're not watching NBC's smart, sick new drama Hannibal, you're totally missing out. Not only does it feature jaw-dropping performances from the likes of Hugh Dancy (swoon!) and Laurence Fishburne, but its lead Mads Mikkelsen offers a unique perspective on a well-tread serial killer that will have you both disgusted and mesmerized at the same time.
Although he's a horrible murderer, Hannibal's relationship with the other leads is quite fascinating — and when Jack Crawford (Fishburne)'s wife (Gina Torres) shows up as a patient in Dr. Lecter's practice who is dealing with cancer, we'll find out just how empathetic he can be. "[The cancer is] something that touches Hannibal," Mikkelsen tells Hollywood.com. "He likes to see emotions. He likes to see when people have emotions for certain things. He does have empathy — even though it is an act, a lot of it, he also… believes that this is sad. And his advice is sometimes very useful. It's not all a spin."
But despite his sympathy and compassion for Jack's wife, don't count on Hannibal getting a romantic lead of his own anytime soon — for very good reason! (Ahem, he eats people). Though the movie iteration of the character was drawn to Jodie Foster, it's more of a je ne sais quoi in women's personalities than a sexual attraction, Mikkelsen explains. "He finds them delicious," the actor says of women with a laugh. "I'm not sure [being in a relationship is] something he misses, but it's all very complicated. I think that we'll see more of [his relationship with women] — it's there in the first season, but we'll see more of it [down the line]." Eeek! Run away ladies!
Are you excited to see our favorite vampires at their senior prom? Intrigued to meet Lacey this week on Once Upon a Time? Sad to see Surburgatory go? Tell me everything in the comments below!
—Additional Reporting by Jean Bentley and Shaunna Murphy
Follow Leanne on Twitter @LeanneAguilera
MORE:
Leanne's Spoiler List: Nurse Jackie, Revolution and more!
Leanne's Spoiler List: The Big Bang Theory, Glee and More!
Leanne's Spoiler List: Game of Thrones Premiere Scoop!
---
From Our Partners


Jessica Alba Bikinis in St. Barts (Celebuzz)


Which Game of Thrones Actor Looks Least Like His On-Screen Character? (Vulture)