Leanne's Spoiler List: Game-Changing Injury on 'Game of Thrones,' 'Nurse Jackie' Season 5 Scoop & More!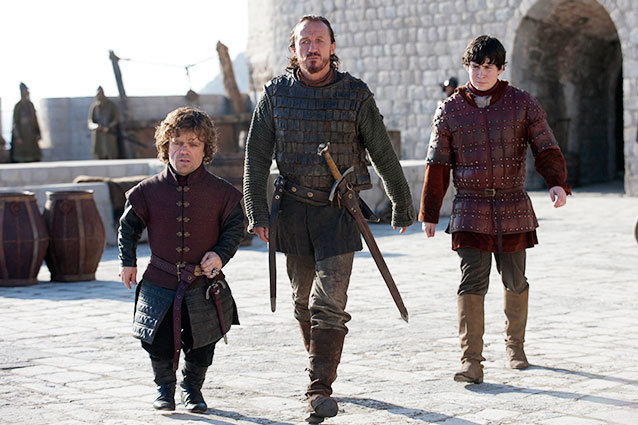 Let's get straight to it shall we? This week's edition of Leanne's Spoiler List features five fantastic shows. From dramas to comedies and even dramadies, this week's lineup has everything your little heart could desire. I uncovered talk crucial and painful secrets from this week's Game of Thrones and chatted with a Glee star about Thursday's incredibly intense episode.
Read on for tons of Revolution scoop from Billy Burke in anticipation for next week's shocking episode, and get excited to learn all about the hilarious antics from the always-funny Go On. Last — but most certainly not least — I watched the Season 5 premiere of Nurse Jackie to bring you all the drama from this week's exciting episode. Ready, set, enjoy TV Lovers!
1. Game of Thrones: A Game-Changing Injury
Good news for A Song of Ice and Fire lovers: a major, game-changing plot point from the books that you have been waiting to see is finally going to happen this Sunday. Yes, this tidbit of a spoiler is kind of vague, but this is definitely something you'll have to wait to see for the full effect. Otherwise, the powers that be at HBO might strike us down and mount our heads on spikes for all of King's Landing to see!
In the last few minutes of Sunday's episode, a major player — you either love them, hate them, or hate that you love them — suffers an injury, in a moment that ends up becoming a major turning point for this character. Did you hate them before? Well, you might change your mind over the next few episodes. Trust me, the Hollywood.com crew is all a flutter about this one!
The injury won't only mentally (and, duh, physically) effect this particular character, it will also impact the decisions they make going forward, and their relationships with the people around them. Will this mystery character be spurned to take revenge on the person responsible? Tune in Sunday night to find out. (And hey, fans of the books — please be kind about not further spoiling in the comments! We have Wikipedia for that.)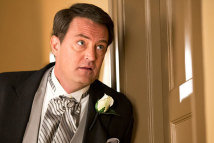 2. Go On: Ashes to Ashes
This season of Go On has been a delightful and almost unexpected treat. I've found myself looking forward to this quirky comedy each and every week and now I'm sad to see it go. Don't leave me, Chandler Bing! Ryan and the Go On gang have come so far this season and Anne wants to ensure that despite her failed wedding, she is still a successful leader of the group.
In Thursday's finale. "Urn-ed Run," Ryan — with the help of the group — decides that the time is finally right for him to lay his wife's ashes to rest. But here's the big question: Where's the best place for Janie to be sprinkled for all eternity? Also, how can we get Mr. K to stop eating candles?
In a delightful surprise, Go On fans are treated to flashbacks of Ryan and Janie's wedding day in which we learn that the big day, was almost a little too big for Janie to handle. (Ahem… the entire LA Kings team was there. Sticks and all.) Ryan is doing his best to find the absolute perfect resting place and after a hilarious — and apparently delicious — first run, fans will get teary end when they see the final spot.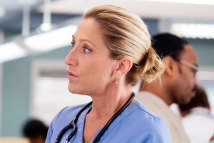 3. Nurse Jackie: Fresh Faces and Flashbacks
In today's TV world there are plenty of hospital dramas that will grab your attention and keep you ferociously engaged for the entire episode—but how many of them also make you laugh? Nurse Jackie has always been perfect at toeing that line between drama and comedy and I can't begin to describe how excited I am for Season 5 to premiere this Sunday.
I have magical powers (and access to the Showtime press website) so I'm lucky enough to have already seen the premiere episode, "Happy F**king Birthday." Let me just begin by saying that Jackie is back and better than ever! An overturned bus creates a crazy day at All Saints and it doesn't help that the new trauma doctor is MIA and a new face — whom I'm going to call Slutty Barbie Doctor — is too busy flirting her way through the day.
I don't want to give away too much from the amazing premiere so here are four quick facts that you can look forward to: There will be strawberry condoms lodged in one of the most uncomfortable places. Fans will get to witness some beautiful flashbacks into Jackie's past when life was easy and eyeliner wasn't a problem on picture day. Zoey will have an epiphany regarding her living situation. And Jackie receives heart-breaking news the day before her birthday. It's a great episode y'all so get excited. Our favorite nurse is back!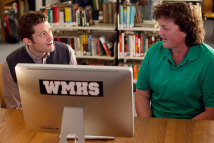 4. Glee: Runaway Bridesmaid
Earlier this week I had the pleasure of chatting with one of my all-time favorite Glee actresses — the lovely Dot-Marie Jones. When I asked for your questions on Twitter, many of you passionate Glee-bees demanded to know why Coach Beiste was absent from the Will and Emma Wedding (or lack of wedding, I should say). So of course I asked her!
In an endearing twist, Jones revealed that she was just as bummed to be missing from the Wemma wedding as we were! "I wanted to wear the most ugliest wedding bridesmaid dresses in the world! But this episode will explain why." Just imagining Coach Beiste standing next to all of Emma's ginger relatives in a bright pink gown is enough to bring a smile to any Gleek's face.
But like Jones teased, this week's episode "Shooting Star" will allude to the reason why Shannon was absent from the nightmarish nuptials. As we've all seen in the promos, Shannon sets up a lovely evening for her best friend Will and goes all out for the occasion. "I cook Will this really nice Italian dinner and I boil the pasta in the hot tub" Jones adds with a laugh, "But I changed the water! Like that really makes it better." Blegh! I think we should all pool together and get Shannon a new set of cooking ware.
Fans can rest assured that Shannon has put the horrors of her last relationship in the past and has moved on to a new crush. And although I can't reveal who the lucky fella is, I can tell you that it's definitely not a student. As we all know, Ryder is currently being catfished by a McKinley mystery woman, and just to be 100% percent positive, I asked Jones if Shannon has anything to do with this storyline. "Me? Oh god no! Leanne, that's a kid!" she exclaims. Phew!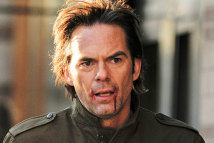 5. Revolution: Personality Swap
It finally happened! After months of wondering why the characters in Revolution have been forced to survive in a world without power, we finally learned that we can blame those damn little electricity-stealing bugs! This is why all bugs — whether from nature or technology — should be squashed. Blegh!
And while Rachel is on a quest to The Tower to restore power to their ruined world, we know that a reluctant Miles was asked to look after Charlie. I caught up with Billy Burke a few weeks ago at Wondercon and he told me that this newfound responsibility is something that Miles is unfortunately getting used to.
"He didn't want to be in on this crusade to begin with but you know now he's finding himself in this horrible position where he is actually caring about people other than himself." Burke explained, "Miles is a selfish bastard at heart but he's now learning that there are other things that unfortunately he cares about." Aww that's kinda nice!
And as for our new wannabe warrior, The Revolution actor revealed that as Miles' humanity is warming up, Charlie's kind soul will continue to harden from grief. "Charlie stars to take on some of these warrior characteristics that [Miles] would've never wished upon anybody, because in his mind you have to get rid of your heart to do some of these things." He said. "As she starts to lose some of herself, he starts to go the other way and we start to see glimpses of what's inside of him that we would have never seen otherwise."
Who do you think gets hurt on Game of Thrones? Are you excited for Nurse Jackie to return? What are you most looking forward to in this week's Glee? Tell me everything in the comments below!
Follow Leanne on Twitter @LeanneAguilera
MORE:
Leanne's Spoiler List: The Big Bang Theory, Glee and More!
Leanne's Spoiler List: Game of Thrones Premiere Scoop!
Leanne's Spoiler List: A Pregnancy Possibility on Shameless?
---
From Our Partners


Jessica Alba Bikinis in St. Barts (Celebuzz)


Pics of The Rock Making Things Look Small (Vulture)