Leanne's Spoiler List: Shocking 'Arrow' Secret is Revealed, 'Once Upon a Time' Murders and Mayhem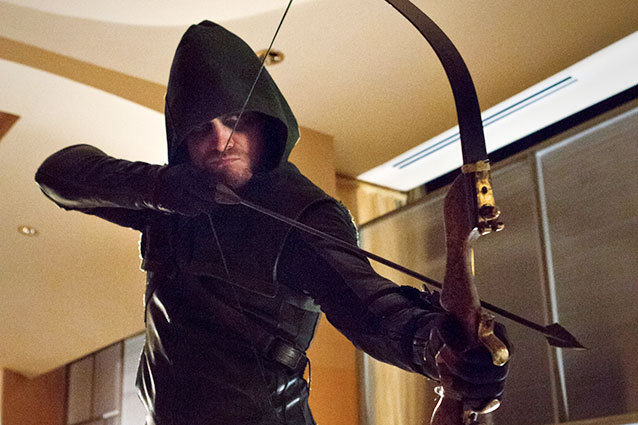 This week's edition of Leanne's Spoiler List is overflowing with fun and exclusive details from five phenomenal shows. I've got the jaw-dropping scoop on tonight's all-new Arrow, a hilarious behind-the-scenes story from the stars of Happy Endings, and a sneak peak at next week's chilling episode of Once Upon a Time. Plus, I've got details for upcoming episodes of Switched at Birth, and Grimm to bring you your weekly dose of delicious spoilers. Read on for all the smile-inducing TV craziness below…
 RELATED: Leanne's Spoiler List: Smash, Revolution, Shameless etc.
1. Arrow: Holy S**tballs!
Stephen Amell has been warning us for ages now that tonight's episode should be called "Holy S**tballs." Of course, that wouldn't exactly fly with The CW, so instead we get "Dead to Rights" — but we have to agree, Amell's name is much better suited for the crazy, game changing episode.
Yeah, yeah, I know we say that about every single episode (this show is seriously amazing, y'all!), but I truly mean it when we say this is the best episode yet. It actually has the feel of a season finale, but thank goodness we still have months to go before that arrives!
The biggest shock of the night: someone else finds out about Oliver's secret identity as Arrow. But this person isn't as psyched to join Team Arrow as Diggle and Felicity were. In fact, this might damage the relationship this person has with Oliver for good! Of course I can't reveal who this is, but believe me when we say you will either scream, gasp really loud, or throw something at your TV. I definitely did all three.
While that reveal would be enough action and drama for one episode, this is Arrow we're talking about so naturally so much more happens. There is an attempted assassination, a reveal in the last 10 seconds that changes the course of the show, and Tommy's birthday! Okay, that last one may not seem like a big deal, but his celebration does give us some great insight into Tommy and Oliver's friendship that shows how far back and how bonded they truly are. It's more than a girl (ahem, Laurel) could ever truly get between.
Plus, the island flashbacks show a decidedly less physically fit Oliver Queen attempting to do pull ups… and let's just say it's a stark juxtaposition from the working out montage we get at the beginning of the episode each week.
RELATED: Leanne's Spoiler List: 'Once Upon A Time' Reveals The Father Of All Secrets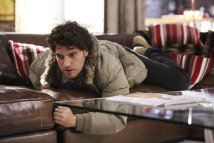 2. Happy Endings: Tiaras and Talents
By now you all should know that I am one hundred percent, absolutely, head-over-heels in love with Happy Endings. It's hilariously quirky and, if I could, I would hug the crap outta this sitcom. However, since that it physically impossible (believe me I've tried) I traveled to the Happy Endings set yesterday to hug the cast instead. Oh I also did my job and stuff and interviewed them.
Of the six sensational characters, the one that never fails to put a smile on my face is Max, the ultimate lazy friend who just so happens to be gay. But now that he's unemployed yet again, what's a limo-less fella to do to pass the time? I chatted with Adam Pally to bring you the amahzing answer: "Max competes in a gay beauty pageant. There's a talent competition, and a strength competition and a Q&A." Pally says, "And Max fails all of them miserably."
Goodness gracious. Just imagining Max's talent could take all day. Could it be turning all tee's into super-deep vee's? Flawlessly impersonating a hibernating bear? Or somehow making rent every month on that awesome loft, despite never really having a stable job?
Pally teases, "Have you ever seen Batman? The third one specifically where Jim Carrey played the Riddler and Tommy Lee Jones played Two-Face? So Imaging Two-Face but like way gayer." Oh my god I just can't . I can already tell that this is going to be an episode to remember.
In fact, when we asked star Casey Wilson about her favorite episodes this season, she was quick to talk about Max's quest for a tiara and sash. "I bore witness to Max's routine, which is the most insane thing I've ever seen. As a person on this earth, it's the craziest thing my eyes have ever seen," she says.
And although Penny does not get the honor of coaching Max in the pagent — that role will be filled by Miss Alex Kerkovich — Wilson on set to watch her bestie's routine. "It was shocking, it made me angry, it made me excited, every emotion is felt when you see what Adam is wearing." To say I'm excited for this episode would be the understatement of the century.
TV lovers please make sure you tune in to Happy Endings when it returns March 29 on it's new night: Fridays! We're bringing back TGIF people!
RELATED: Leanne's Spoiler List: Kaley Cuoco's Sister To Star On 'Big Bang Theory's Valentine's Day Ep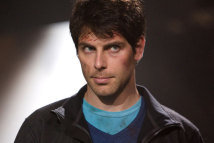 3. Grimm: It's Ba-ack!
After months and months of waiting, Grimm is finally returning to our TV screens and goodness gracious this episode is jam-packed with action and answers. On March 8, fans can tune into "Face Off' and witness Nick's devastating realization that his former fiancé and current Captain have been canoodling behind his back! Not to worry, Monroe is there to lend his bestie helpful, and always giggle-worthy advice on what's really going on.
The quest for key intensifies as Captain Renard (with the help of an extremely cool owl-like creature) finds and gains access to Nick's family-secret-filled trailer. Oh and for all you Nick/Juliette shippers out there, you might want to cover your eyes for a large part of the episode.
Lemme put it this way: you're going to witness a few make-out scenes between Juliette and Renard that are so intense you'll soon realize that they've got some deadly-serious passion (Hint-Hint!) Nick exclaims at one point in the episode, "Does anything not end in death?!" Silly Nick, did you forget that you're a Grimm?
Lastly, be prepared for a very unlikely alliance to form and no big deal but by the endof the episode, Nick's fate is totally up in the air. I never knew a face could turn that shade of red…
RELATED: Leanne's Spoiler List: Couple Alert! What's Next for Nick and Jess on 'New Girl'?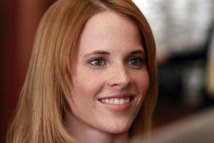 4. Switched at Birth: An ASL Extravaganza!
We told you a few months ago that the creative powers-that-be at Switched at Birth were planning an all ASL (American Sign Language) episode, and it's almost here! Spoiler Alert: It's absolutely incredible. The next episode of the ABC Family gem, (airing Monday, March 4 bee tee dubs) is told completely from the point of views of the deaf characters that we've come to know and love.
In "Uprising," the students of Carlton Academy are going through a rollercoaster ride of emotions upon learning that the school board may be closing the school for good. I just finished screening the episode and I have to admit, this was one of the most eye-opening hours of television I've ever watched — and we all know I was a lot.
Series creator and executive producer Lizzy Weiss says she hopes Monday's episode will give hearing viewers a deeper understanding of the deaf community and the hardships that they endure each and every day. "It's an exciting, visual, empowering story of kids who are different fighting back, and it allows our audience to experience the world as our deaf characters do. We've been building to this for 39 episodes and we're all thrilled to be the first to try this." Weiss says.
Daphne really steps up in this episode and empowers her fellow students and friends that it's time to fight back and let the world know that just because they're deaf, doesn't mean they cant be heard. But of course with drama, comes a hint of romance and a new potential love-triangle between Daphne, Noah, and Bay. Yikes!
The episode is filled with too many amazing moments: A moving all-ASL version of Romeo and Juliet, conflicts between Daphne and Regina, and my new favorite hashtag #TakeBackCarlton. Oh and of course how could I forget to mention: look out for a sign language rap that is so good, it'll put Jay-Z to shame.
RELATED: Leanne's Spoiler List: Which 'Pretty Little Liar' Could Be A? 'Glee,' 'The Following' and More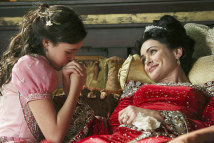 5. Once Upon a Time: Wicked Beginnings
Have you ever wondered how Cora became such a hateful, destructively manipulative, and heartless woman? I have, and luckily for all you fairytale fans out there, I've also seen an advance copy of the episode airing March 10th. That's right y'all, I've got two weeks full of Once Upon a Time spoilers and a column to spill 'em in. Let's get to it!
In this week's episode, "The Queen is Dead," we'll get a deeper peak into Snow White's childhood B.R. (Before Regina) and see what life was like for the pint-sized princess when her mother was still alive. However, by the episode's end you'll learn the true reason behind Queen Eva's death, and let's just say you'll be extremely and incredibly angry at one Storybrooke resident.
I'm still baffled at the fact that ABC was able to find a young Snow — played by the adorable Bailee Madison — who looks so freakily similar to our beloved Ginnifer Goodwin. Bravo to you random casting person! In other flashback news, Rose McGowan stars in "The Miller's Daughter" (airing March 10) and although she captivates as a young Cora, you'll also find yourself wondering how she's able to cry with all that Botox she's injected into her face. Sheesh!
Remember the original fairytale we read when we were young starring Rumplestilskin teaching the miller's daughter how to spin straw into gold? Well get ready classic fable lovers, because you're going to see our Dark One passing this skill along to his very first, power-hungry pupil: Cora. Oh and think back to episode 12, when Cora and Rumple decided to seal a deal they way they used to — with a kiss! I'm not saying anything more except: Rumple and Cora sitting in a tree…
Okay fine! Here are a few more magical bits each starring a different character: Someone puts a ring on it, someone enacts their revenge, someone dies, someone channels their inner magic, and someone is a murderer. Think you know who's who? Cast your speculations in the comments below!
What do you think is going down on tonight's Arrow? Excited for the all-ASL episode of Switched at Birth? Will you tune into Happy Endings on Friday nights? (Please?!) Tell me everything in the comments below!
Follow Leanne on Twitter @LeanneAguilera
—Additional Reporting by Sydney Bucksbaum
[Photo Credit: The CW, ABC, ABC Family, NBC]
---
From Our Partners:

Kate Upton Bares All In Body Paint (Celebuzz)


33 Child Stars: Where Are They Now? (Celebuzz)