Legendary 'M*A*S*H' Star Harry Morgan Dies at 96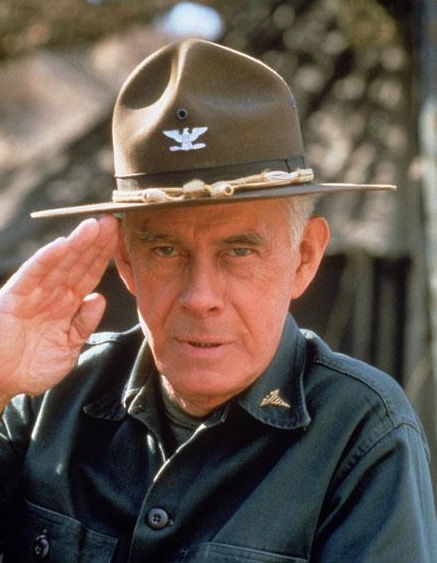 When Lt. Col. Henry Blake bid his heartfelt farewell to his tenacious right-hand man Radar O'Reilly on the third season finale of M*A*S*H, it seemed as though he'd be an improbable act to follow. When the series picked up again the fall of of 1975, reporting the shock to its characters and audience that Blake had died due to a plane crash en route to return safely to his wife and family, that task of adequately stepping in for Blake's portrayer McLean Stevenson was stepped up to near-impossible.
But then, we got to know Col. Sherman Potter, played so magnificently by Harry Morgan. And not only did our perspectives change, so did the entire show.
Early this morning, Morgan, a decorated character actor in film and television, passed away at the age of 96. Despite his extensive resume of playing memorable tough guys and no-nonsense authority figures, including a starring role on Dragnet, it is difficult not to associate Morgan almost universally with Sherman Potter, a character to whom M*A*S*H, one of the most influential television series in American history, owes a great deal of its sincerity.
Potter was not a humorless figure by any means, but his attitude was much less flippant than that of the troublemaking Hawkeye Pierce, Trapper McIntyre, B.J. Hunnicutt, and even the commanding officer Blake whom he replaced. In fact, before Potter's arrival on the series, the figures of responsibility and severity—Hot Lips Houlihan and Frank Burns—were seen as antagonistic "kill-joy" characters. In Morgan, M*A*S*H found a way to channel authenticity without sacrificing likability. The series began favoring the comical characters who shirked the chain of command and understood pleasure over principle. But once M*A*S*H found Morgan, it began to find its maturity.
And this is as much a testament to the writing of the character as it is to the performance. Morgan was able to make us feel comfortable with understanding the heartache of M*A*S*H, the significance of this time period, and the importance of growing up and accepting your lot in life. Hawkeye Pierce would rather have remained a hedonistic teenager—albeit, one quite talented at surgery—than really face the fact that he, as a military doctor, owed something to the world. Whereas the character of Frank Burns villainized the idea of "taking yourself too seriously," as Potter, Morgan humanized the notion, exemplifying the honor and dignity in becoming the man or woman you are destined to be.
Without this, M*A*S*H would have suffered an arrest of development. Morgan helped the show grow up, and helped many of its watchers do the same. It is astounding that a man who made so few jokes, a man who was thrust into the series as a replacement for a beloved, beaming, laugh-a-minute character, could be remembered as such a venerable figure in the show's history.
Morgan's task was not an easy one. His placement in the show was difficult, as was his journey of making his character, one among Hawkeyes, Klingers and Radars, a lovable one. But Morgan did this and then some. His fatherly, earnest performance as Potter is something so palpable, that it's difficult for fans not to think of him as some embodiment of a personal role model. If the true testament of a great actor is really touching, affecting one's viewers, and really becoming a part of their lives, then we owe Morgan this accolade.
Today, we should salute Harry Morgan, and fondly remember his service to the American public.