'Legit' Premiere: Meet the Characters of FX's New Raunchy Comedy With Heart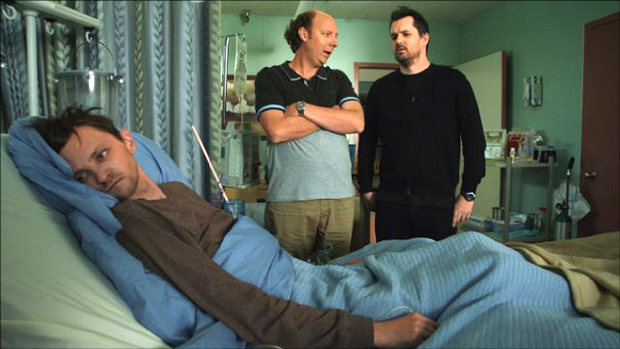 FX knows its viewers well and gives them what they want: raunchy comedies that don't apologize for being what they are. But if you're expecting another of the same when the network's newest comedy, Legit, premieres on Thursday, Jan. 17, you'll be sorely disappointed… well actually, you'll be pleasantly surprised. Because if you look deep down inside every FX comedy, you'll find that secret ingredient that makes them all successful: heart.
The newest show to mix raunch with emotion stars Aussie stand-up comedian Jim Jefferies as an edgy, foul-mouthed guy in his mid-30s, living in LA, struggling to make his life and career more legit – She said the show title! Drink! – only to find a difficult uphill battle every step of the way. Jim's cheerleading team is made up of his best friend/neurotic roommate Steve Nugent, a cyber-law library salesman struggling to stay on his feet in the wake of his divorce, and Steve's brother Billy Nugent, who suffers from advanced stage Muscular Dystrophy and is confined to a wheelchair. Jim realizes the way to make his life more meaningful is to help Billy experience all the wild and crazy things his condition has prevented him from doing. In Jim's mind, the way to help Billy is to take him to a whorehouse in Las Vegas to get him laid. Because, of course.
While this premise may sound like a Hangover-like debauchery-filled road trip (which it kind of is), Legit takes it a step beyond that and gives the story meaning. Jim really does care about his friend experiencing something everyone else may take for granted. There is compassion in the way Jim wants Billy to experience all the fun and happiness his condition prevents him from having, that normal life that seems so out of reach. These are real people, with real issues, albeit in hilarious situations most people don't find themselves in all too often. The balance of raunch to heart is perfect.
Before you watch the series premiere tonight, get acquainted with all the crazy people bringing Legit to life. Hollywood.com spoke with the cast at the show's red carpet premiere, so who better to tell you about the characters than the actors who play them?
Jim Jefferies as Jim: I'm playing a version of myself. It's a slightly douchier version of myself. If I just played myself it would just be a whole episode of me sitting around eating cereal playing video games. It's really me from about five years ago. It's me when I was still taking drugs and sleeping around. As for this season, you're going to be seeing a lot of development in Billy's character, John Ratzenberger comes in to play Billy's father, you'll see a women thrown in a trunk, you'll see an episode where we are in a disability home where we literally cast every disabled actor in Hollywood. We had them all there, there was chairs all over the place. It's a mental show.
DJ Qualls as Billy Nugent: Well I turned [the role] down initially because I was afraid of it. And then I realized the reason I was afraid of it wasn't the subject matter, which I thought it was. Out of all of the messed up stuff that I've done, this is the most messed up. But it wasn't the material, it was the fact that I was afraid of being that vulnerable. I'm in a wheelchair and I can't move except my fingers and my neck. It's a scary place to be as an actor because you can't use any of your bag of tricks. I can't play with that physicality. I was really afraid of that. I'm more proud of this work than anything I've done in five years. And that feels good.
Dan Bakkedahl as Steve Nugent: Throughout the course of the season, you're seeing Steve holding on [from his divorce]. For the first five or six episodes, I'm still wearing my wedding ring. I'm convinced that it's just a separation. I'm not going to live a house with this guy smoking pot and my brother in a wheelchair peeing in a bottle. That's not going to be my life. I'm going to go back to my regular life with my wife and kid, very soon. And we're going to see that deteriorate. There's a big event that makes it blow up for sure, right in my face. There's a real finality to it where you just kind of go, Wow, that's over. We see Steve go from a witless, hapless sidekick to kind of losing his mind to realizing the finality of the relationship with his wife to wanting to make his life his own.
Sonya Eddy as Ramona: Ramona is the caregiver in the house for Billy. She's a little tough, she's loving, she's imposing, but she also likes to have fun and she gets in there with the guys. You know how sometimes the inmates are running the hospital? She sometimes gets in there with the inmates and causes some trouble. She is one of the most fully realized characters I've ever had the chance to play. You'll see her laugh, you'll see her cry, you'll see her be sexy. You'll get to see her in some sexy situations… heh heh heh! You'll get to see her confront some issues from her past.
Mindy Sterling as Janice Nugent: I am a mother with flaws. With Steve, she thinks he's a big fat loser. With Billy, the younger son who's wheelchair bound, that's her baby. She wants to take care of him and do for him but at the same time she's annoyed by him. She does not like Jim. She finds him completely inappropriate, politically incorrect, foul mouthed, just wrong for her family. And later on in the season, there's an intervention she has to go through… it's pretty wild.
Legit airs Thursday nights on FX at 10:30 PM ET/PT.
[Photo Credit: Fox]
Follow Sydney on Twitter @SydneyBucksbaum
More:
'American Idol' Auditions: The 10 Craziest Things That Will Get You on TV
'The Vampire Diaries': Previously, In the Murder Capital of Fictional America
'Supernatural' React: Sam and Dean Made Their Bed, Now They Have to Lie In It

The Cutest Celebrity Kids! (Celebuzz)