'Les Miserables' Is Coming to Fox as a Present-Day Rob Thomas Legal Drama — We're Not Joking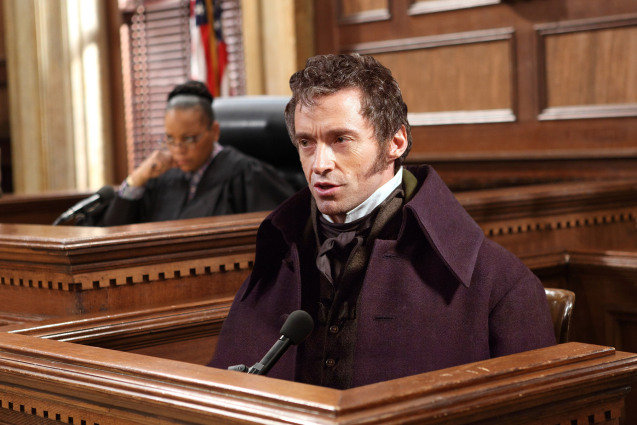 Hollywood.com
I know, I know, it sounds like a joke. But it's not April Fools, and we're not pulling one over on ya. Fox really has just inked a script commitment deal with Veronica Mars creator Rob Thomas to create a present-day TV legal drama version of Les Miserables. That is a sign of both how successful Tom Hooper's adaptation of the 1980s musical with Hugh Jackman really was last year (it grossed nearly half a billion dollars worldwide) and how close we are to a Dadaist fantasy come true.
Deadline first reported the news and revealed the official description: "The contemporary take is a primetime soap about a brilliant lawyer running a legal exoneration program who fights to evade the consequences of his own unjust conviction many years before. He must navigate high society, continue his mission of saving innocent people, and manage his tumultuous family and romantic life — all while staying one step ahead of a ruthless U.S. Attorney who refuses to let the ghosts of the past die." Because Jean Valjean was such a member of "high society" when he ran that mill and served as a provincial mayor in the original text. Not to mention the elaborate web of romances he weaved. Oh, wait, he didn't have a romance? Now he does! 
This news really makes us wonder. Are classic characters from the book — and/or the musical — that we all know and love going to make an appearance? Here's how we imagine they might get a primetime legal drama facelift.
The Thenardiers
The morally bankrupt duo will be transformed from shady innkeepers to shady white-collar criminals. And forget those plump waistlines and missing teeth. They are getting a full, sexy makeover. And instead of just abandoning their ward Cosette to a strange do-gooder, they will fail to collect her at boarding school. Basically, they're just going to be Conrad and Victoria Grayson from Revenge (another show based on 19th century French literature: Alexandre Dumas' The Count of Monte Cristo).
Fantine
When the show veers into full Les Miz: SVU territory, our 21st century Jean Valjean will defend a meth addict from charges of drug possession and prostitution. Apparently, he'll be a practitioner of vice law. After he fails to exonerate her and she dies before heading to prison, he takes in her child, Cosette, who she had given to her predatory society friends the Thenardiers years before. Also, he secretly loves Fantine and even had a steamy affair with her during the court case.
Cosette
Our do-gooder lawyer's adopted daughter, whom he always tries — and fails — to keep out of trouble. He considers her friend Eponine, the Thenardier's daughter, to be a bad influence. It's possible that Cosette and Eponine have hooked up…once or twice.
Marius
A playboy trust-fund brat who gives up his fashionable Porsche for equally fashionable politics: despite being a member of the 1% he joins the Occupy Wall Street movement, mostly out of love for Cosette, who hasn't exactly returned his affection yet. But Marius isn't a guy who gives up easily.
Expect far more hormones and far less sewer waste than Hugo intended.
More:
Lisa Kudrow Joins 'Scandal' Season 3 as a Scheming Politician: Watch Out, Olivia!
'The Walking Dead': David Morrissey Joins New ABC Pilot, So What's Next for The Governor
We Interrupt This Broadcast So Morgan Freeman Can Explain 'Twerking' To You
---
From Our Partners


Stars Pose Naked for 'Allure' (Celebuzz)


20 Grisliest TV Deaths of 2012-2013 (Vulture)