Let Us Herald Mike Ehrmantraut's Return on 'Better Call Saul'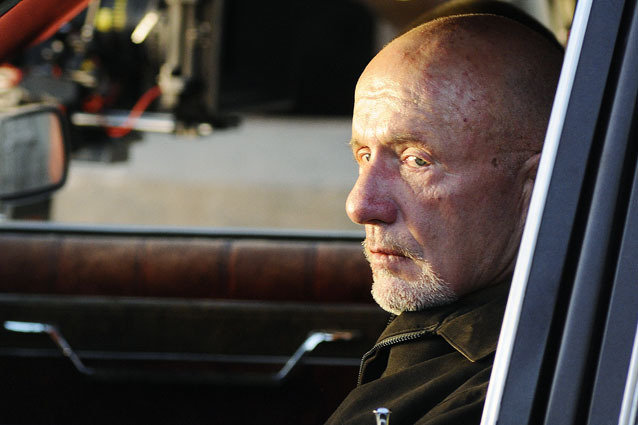 AMC Networks
Recently it was announced that Jonathan Banks would be reprising the role of dead-eyed fixer Mike Ehrmantraut in Better Call Saul, the spin-off/prequel to Breaking Bad. This elicited much jubilation among fans, who have been suffering much withdrawal after Walter White went to the Great Meth Lab in the Sky and Jesse Pinkman accomplished the feat of driving straight off a TV show and into a movie.
What I like about this is that Ehrmantraut is a fascinating character. I, for one, am interested in learning more about his back story, about how he became a corrupt cop and maybe even seeing that whole sequence of events that led to his 'no half-measures' mantra. Banks knows how to hold our interest on camera. That's not to say that Bob Odenkirk, Lavell Crawford and Bill Burr aren't fun to watch.They are and had some of the most hilarious scenes from the show. We've only been exposed to those in small sequences though: are we ready for all Saul, Huell and Kuby all the time? The show will need Ehrmantraut — and with his return, I am really hoping that Giancarlo Esposito comes back as Gus Fring — to help glue it all together.
There has also been news that Bryan Cranston and Aaron Paul would be open to cameos on this new show. That got me thinking, though: sure, I could see Pinkman crossing paths with Saul Goodman and his cohorts, since he knew that he was a crooked lawyer and all that. White had no idea who Saul was prior to his meth-selling partner introducing him. There are a couple of possibilities, though. White worked at a car wash before he learned he had cancer: Saul could walk through there sometime and have White in the background. Another possibility is they could see him during another Breaking Bad incident from Saul and not White's ultimate point of view. Of course, I know better than to try to second-guess Vince Gilligan.
The pieces are getting put together for another run with some very interesting characters. But if Banks hadn't signed on for this, I would hope that he would have held out for another spin-off: A Man Called Mike. I would have watched the heck out of that one and I know the majority of you fans out there would too. Besides, who wants our last memory of him being him dissolved in a vat of hydrofloric acid?