Lindsay Lohan on 'Anger Management': No Cocaine Joke Went Untold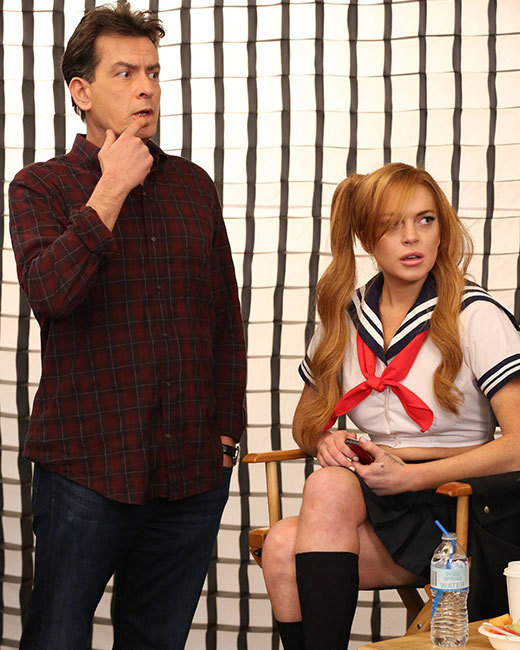 "Hi. I'm Lindsay Lohan, and I love the taste of alcohol."
When that's the first line out of Lindsay Lohan's mouth during her guest starring role on Anger Management, you know things are going to get real. Playing herself on Charlie Sheen's FX comedy Thursday night, Lohan left no stone unturned, and no scandal went unparodied. The half hour was filled to the brim with community service jokes, drug jokes, drinking jokes, jail jokes, sex jokes, shoplifting jokes, paparazzi jokes, cocaine jokes, and drunk driving jokes. You know, just a typical day in the life of LiLo.
Perhaps the most jarring part of Lohan's role was seeing her dating and sleeping with Sheen. Now there's a pairing you definitely don't want to see together (on screen, and off). That would pretty much be the end of civilization, right?
But regardless of the consquences, Lohan as herself spent the entire episode trying to live a normal life and date a normal guy, but Sheen's anger management therapist kept causing the situation to look bad in front of paparazzi — from powdered donut dust on their faces, to accidentally putting his daughter's sunglasses in Lohan's purse (everyone assumed Lohan was trying to steal them), to ripping her designer gown so she almost flashed the paparazzi… It was almost as if Lohan and Sheen were trying to spin all of her past scandals into miscommunications.
But we know better. And that's why her role wasn't funny. Because no matter how cleverly written and delivered the jokes were, it was too hard and too much to ask us to look past the person saying them. Lohan is nowhere near past all of her legal troubles (and should be heading to rehab very soon), so jokes about prison and drunk driving were just a little too soon and too real to elicit legitimate laughter. 
Thursday night's episode was a valiant effort from both Sheen and Lohan, but perhaps waiting until all of Lohan's legal and personal troubles were dealt with to film a parody on all her issues would have been the better course of action.
Follow Sydney on Twitter: @SydneyBucksbaum
More:
Lindsay Lohan Heads to 'Anger Management'
Lindsay Lohan Romancing Charlie Sheen on TV is a Terrible Idea
Charlie Sheen Confirms Lindsay Lohan Was Late to 'Anger Management' 
---
From Our Partners


Jessica Alba Bikinis in St. Barts (Celebuzz)


Which Game of Thrones Actor Looks Least Like His On-Screen Character? (Vulture)