Lindsay Lohan On 'Million Dollar Decorators': 'I've Kind Of Gone Through Phases'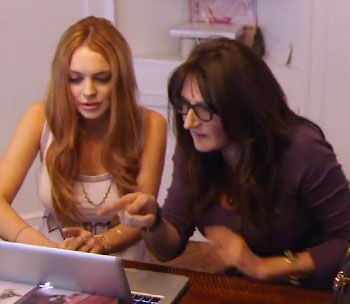 Lindsay Lohan is back in the headlines, but this time it's her own choice. The infamous star is looking for a change, and she turned to Bravo's Million Dollar Decorators to help with just that.
Lohan invited one of the show's decorators, Kathryn Ireland, to her new Hollywood Hills home for a consultation, which will be featured on the Jan. 1 episode. She takes Ireland on a tour of her new home, sparsely furnished because she had only just moved in. With a budget of $250,000, Ireland and Lohan make her new house a home, with a French cottage, shabby-chic, sophisticated and feminine feel.
When Ireland was getting ready for the consultation, she had her sons Google Lohan — though we're sure she didn't come up with her ideas from any results of that. Her sons were quick to remind her that Lohan is more known for being "on the news getting a DUI" than for Parent Trap. Ireland didn't seem too bothered by that, saying, "You've got to get the first prison sentence out of the way, like a first marriage. Same thing, really." Sounds like these two are going to get along great — professionally, and personally.
Check out a sneak peek of the episode below:
The episode airs Tuesday, Jan. 1 at 10 p.m. ET on Bravo.
Follow Sydney on Twitter @SydneyBucksbaum
[Photo Credit: Bravo]
More:
The Kennedy Center Honors: The Weirdest Thing on TV
'Game of Thrones' Is the Most Pirated Series of 2012, But What Network Show Finishes Third?
'How I Met Your Mother' Season 9: 5 Rules to a Good Final Year

20 Hottest Bikini Bodies of 2012: Kim Kardashian and More!