Lindsay Lohan on 'SNL': Worst Host Ever or Comeback Kid?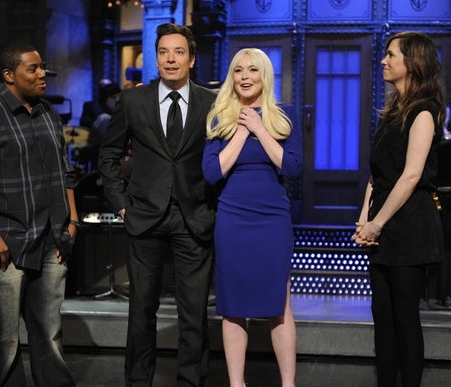 After telling Matt Lauer that SNL was her chance to redeem herself, Lindsay Lohan put herself in a bit of a pickle. Prefaced by a comment like that, the March 3 episode of SNL was doomed to be criticized to the ends of the earth. But no matter how much viewers complain about Lohan's lackluster performance, they can't beat one crucial factor: math. Lohan's episode delivered the second-highest ratings the show has seen all season. But what does it all mean? It means we still care. 
Lohan's episode not only beat out every other network for ratings on Saturday night, it also bested SNL's biggest performer all season: Charles Barkley's post-playoff hosting gig. But while we all tuned it, it seemed Lohan tuned out. She repeatedly flubbed lines and read obviously from cue cards and cheat sheets throughout. She got a chance to redeem herself without the pressure of a live-show in a pre-recorded skit parodying the Real Housewives series, but even then, Kristen Wiig's drunken Cinderella stole the show. 
While Lohan's performance may not have producers clamoring after her, those ratings certainly might. But is she doomed to be a sort of side-show for the rest of her career? Lohan is a character that no matter how downtrodden she gets, fans still want to root for her and see her make it. And as far as SNL goes, it seems that enticing notion is enough to grab audiences. Of course, if that doesn't work, bringing Jon Hamm in to spice things up never hurt. 
Missed Lilo on Saturday? Watch her best skit and her monologue featuring Hamm and Jimmy Fallon below!