Oprah's Lindsay Lohan Interview: The 6 Craziest Moments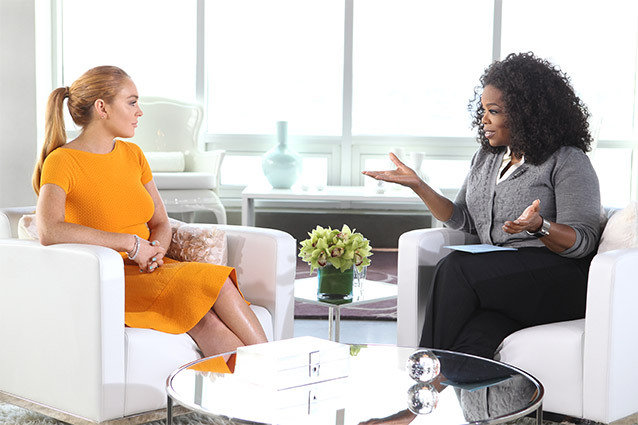 Lindsay Lohan sat down with Oprah Winfrey August 18 for an in-depth interview on Oprah's Next Chapter. It's the latest salvo in her campaign — after the release of The Canyons and her hosting of Chelsea Lately — to prove to the world that she is steady and employable. But her sitdown was still full of some wild revelations, particularly about her drug use, that might make an insurer think twice. Here are the six craziest moments from the interview.
1. She Wanted to Go to Jail
Yes, her two weeks in prison went just according to plan. "I think it was just to have some peace and just have no choice but to just sit and be," Lohan told Winfrey.
2. Yes, She's an Addict, But Not That Bad of One
LiLo cops to being an addict, but only when it comes to alcohol. And chaos! Yes, she says she's addicted to chaos, which by most accounts appears to be true. However, when it comes to harder substances, she says she only did cocaine 10-15 times. And even then she's quick to clarify that she only snorted cocaine, saying "I've never injected anything other than B-12 shots." When you have to clear the air by saying something like that, it really is time to look in the mirror.
3. She Proves She's Bought All the Oprah-isms Imaginable
"spiritual" and "ready to get honest." 'm really in touch, whether it's prayer or meditation… there are so many powers greater than me in the world.
Proving that she's watched a lot of Dr. Phil, Iyanla, and Oprah's own "Remembering Your Spirit" segments, LiLo was a veritable platitude dispenser. All the self-help descriptions of herself were there: she's "spiritual" now, "ready to get honest," "really in touch," and is aware that "there are so many powers greater than me in the world." 
4. She has no idea where her money went.
Just a few suggestions about where to look: legal fees, bondsmen, court-imposed fines, bottles of Dom Perignon '53.
5. Oprah Forbids LiLo from Going on a European Meditation Retreat
Because those Franciscan monks are such party animals with their Vow of Silence and all.
6. She Defends Her Parents!
Michael & Dina Lohan are prime contenders for the title of "Worst Celeb Parents Ever," but Lindsay thinks you should cut them a break. "I hate the bad rap that people give my parents. Because they are just parents, really, at the end of the day trying to stand up for their daughter and themselves." Okay.
Did you watch?
Follow Christian Blauvelt on Twitter @Ctblauvelt
More:
REVIEW: Lindsay Lohan Plummets Face First Into the Irredeemably Awful 'The Canyons'
What's Paul Schrader's Advice for Lindsay Lohan's Next Director?
How Did Lindsay Lohan Do Guest-Hosting 'Chelsea Lately'?
---
From Our Partners


Stars Pose Naked for 'Allure' (Celebuzz)


20 Grisliest TV Deaths of 2012-2013 (Vulture)