Lindsay Lohan's 'Million Dollar Decorators' Part 2: But Where Is Lindsay?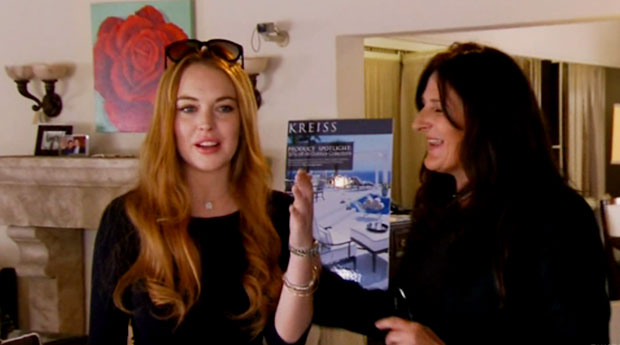 Poor Lindsay Lohan. I hate to say it, but I almost felt bad for her after watching the second part of her Million Dollar Decorators episodes Tuesday night. Not only was Lohan the butt of a pretty bad joke, but the girl just can't live down her drama. While the first episode, which aired last week, focused on her criminal past, this week's ep was all about Lohan getting into a bad car accident. The mean girl just can't catch a break!
Kicking into action, Lohan's designer Kathryn Ireland ran late for a meeting with the troubled actress to pick out floors for the new house. But, once Ireland got there, it was all good, though Lohan seemed a bit spaced out. Maybe she had been out partying late? I wouldn't put it past Lohan.
The women got right to business and picked out a pretty, almost gray-toned wood for Lohan's house. But once that was done, and the nauseating squeals of delight were out of the way, talk then turned to a more serious topic: Botox. Both Ireland and the guy from the wood store started complaining about upkeep. This made Lohan come right out of her dazed state. "I'm not getting involved in this conversation," she said. Of course Lohan didn't want to get involved in this conversation. She has been ridiculed and picked on for so long about all the work that she has supposedly had done to her face, that it was probably a safe decision to avoid the topic. Could you imagine if she had chimed in? I can only foresee that as leading to Ireland, who is Lohan's biggest suck-up, asking who did her work. And, well, no one wants to go to the same doctor that Lohan did for fear of scoring the same overly-plumped cheeks and lips.
With the floors out of the way, the duo went shopping for a chaise to put in Lohan's bedroom. Lohan picked out a $2,500 piece; they supposedly ordered two. This brought up the question again of where Lohan got the money for all of this redecorating. Does Lifetime really pay that well that she can afford a $250,000 decorating deal? If so, she scored a pretty good situation, since she has basically been out of work for the past few years. (Prior to her Lifetime movie, Liz & Dick, Lohan's last job was in 2010's Machete.)
All of this went down in the first 20 minutes of the hour-long episode — and the furniture shopping scene was the last time Lohan was seen on the screen. The next scene showed Ireland in Lohan's house evaluating the progress of her work. In the middle of her tour, she received a message from Lohan stating that the actress had been in a horrible car accident. The producers of course made this incident the highlight of the show. To overly dramatize the event, a panicked Ireland read Lohan's text message out loud. "I'm on a stretcher," the message from the actress said. "Will you come?" First of all, when did Lohan and Ireland break the boundaries of employer-employee and become best buddies? And second, this accident really didn't need to be included in a show that is supposed to be about design.
The rest of the episode, Lohan was MIA; the whole storyline ran on a slew of text messages and one-sided voice messages. Poor Lohan was supposedly in the hospital resting and trying to recuperate, while a frenzied Ireland just couldn't let her be. Ireland even went to the hospital and tried to see Lohan, but to no avail (probably because she and Lohan aren't as buddy-buddy as the way Ireland had built the relationship up in her mind).
In the end, Lohan was still in the hospital and unable to make it home to see Ireland's design. So, Ireland made a desperate call to Lohan to reveal that the project had been completed. But the call went straight to voicemail. While Lohan was probably still recovering, it is also possible that she may have been avoiding Ireland's calls. It seemed like Ireland had gone just a bit too far in trying to befriend the actress to the point that it may have started to annoy Lohan. It is also possible that Lohan just sketched out on the rest of her obligation to the production of the episode. Still, Lohan was in an accident, and design was probably the last thing on her mind.
Like Lohan's first Million Dollar Decorators episode, the plot line of Tuesday's had more to do with Lohan's personal drama than design. I know that's how I expected it to play out and that's exactly why I tuned in both weeks, but I also would have liked to have seen a little bit more of the story focused on decorating. After all, the show's title does have the word "decorators" in it.
Follow Lindsey on Twitter @LDiMat.
[Photo Credit: Bravo]
More:
Dina Lohan: Lindsay Is 'Screwed Up' Because She Witnessed Parents' Abuse
Lindsay Lohan's Drama Leaves Little Time for Design on 'Million Dollar Decorators'
Lindsay Lohan On 'Million Dollar Decorators': 'I've Kind Of Gone Through Phases'

30 Hottest Lingerie Scenes from the Past 30 Years (Celebuzz)