Lindsay Lohan Talks About Liz Taylor's Drinking in New 'Liz & Dick' Clip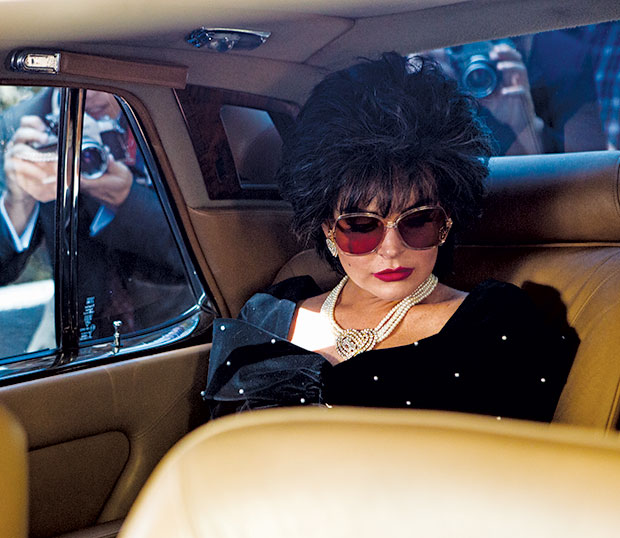 Screen legend Elizabeth Taylor wasn't a lady of many secrets (though how she turned White Diamonds into a $75 million-a-year fragrance is still a mystery for the ages) but there's one thing that we didn't know anything about until now. Apparently she made really awful noises when she puked. Yes, it's true, at least according to this clip from the instant-camp-classic Lifetime movie Liz & Dick.
In the scene Lindsay and Grant Bowler run into screenwriter Ernest Lehman, played by Miranda's Husband from Sex and the City. After some clunky exposition, he tells them they're totally wrong for Who's Afraid of Virginia Woolf and they don't fight enough, so they totally start a brawl about who sounds worse when they vomit from being too wasted. Yes, the clip is made to make us think that they're going to stop the party by getting into a huge brawl, but they're really just going to stop fighting in two more lines and then have a giggle with Miranda's Husband from Sex and the City after he figures out how great they are at fighting and how good they'll be in the movie. Oh hahaahahahahaha. We all clutch our pearls together and sip our martinis and giggle. Aren't they the pair?
Man this thing is going to be so wondrously awful. Set your DVR now, because it's on Sunday, November 25. It may try to refuse to tape something this cheesy, but you have to make it. Don't let the machines win.
Follow Brian Moylan on Twitter @BrianJMoylan
[Photo Credit: Lifetime]
More:
New 'Liz & Dick' Trailer Offers Little New Footage, Is Still Hilarious
Lindsay Lohan in the 'Liz & Dick' Trailer: 'They Drink, They Fight, They Fornicate'