Listen: 'West Side Story' Songs from 'Glee's' Sex-themed Episode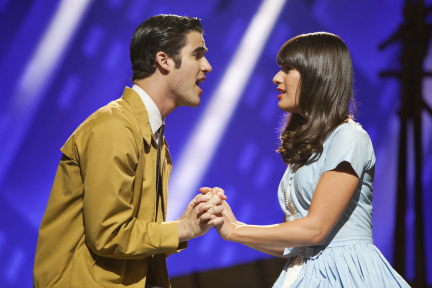 It's finally time! We're going to hear Glee take on those classic songs from the beloved musical, West Side Story. And I don't know about you, but recently I've enjoyed their Broadway-style performances far more than their pop song renditions. But this episode's not all about the stage play, it's also about sex. Actual sex. Both Klaine and Finchel share their first times together this episode, though Finn's the only one who's not still carrying a V-card thanks to his tryst with Santana. This of course begs the question: what about Emma and Will? Are she finally going to get over her fear too?
In the meantime, here are a couple of fantastic tunes to tide you over. First, Blaine and Rachel's pitch-perfect "Tonight," followed by Santana's jazzy rendition of "America." Then we get a little more Santana (which I'm pretty excited about) and an extra helping of melodramatic Rachel with "A Boy Like That" — where has Santana's sultry voice been hiding? We heard something we liked with "Valerie," but she really brings out the big guns here. Last, but not least we have "One Hand One Heart," which is another sweet duet between Blaine's Tony and Rachel's Maria.
Let's hope the rest of the episode lives up to these songs.
Glee airs Tuesday nights at 8 p.m. ET/PT on Fox.
Source: AOLtv