'Liz & Dick' Scores a Solid 3.5 Million Viewers for Lifetime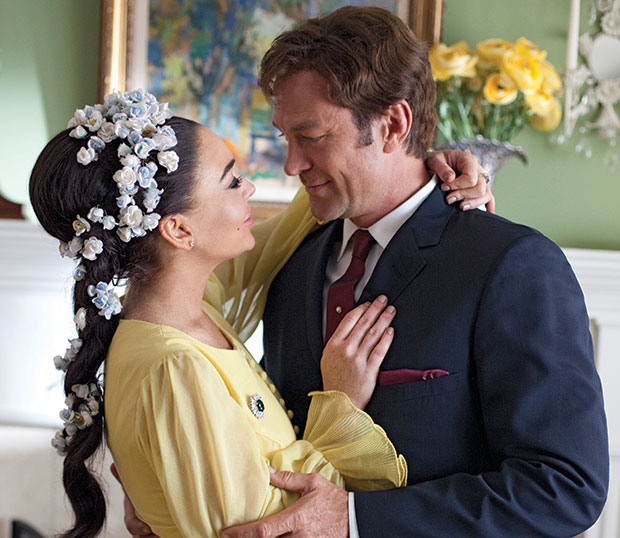 Lifetime's highly publicized Liz & Dick, starring Lindsay Lohan as Hollywood icon Elizabeth Taylor, wasn't quite a white diamond for the network. According to Nielsen Research, it drew 3.5 million viewers and a 2.8 household rating during its first broadcast last night. That's respectable by any cable standard, but not extraordinary, especially given the intense amount of media interest in the project. In fact, it fell about three million viewers short of October's Steel Magnolias remake starring Queen Latifah, which became Lifetime's third most-watched program in history. Liz & Dick also fell short of two other 2012 Lifetime movies, Drew Peterson: Untouchable and Abducted: The Carlina White Story.
In the key 18-49 demo, Liz & Dick scored 1.3 million viewers. Again, it's solid, but not spectacular. This may be a time where the old axiom "any publicity is good publicity" may not hold true. Sure, there was a lot of attention on Liz & Dick in the months before its broadcast, but much of that buzz was tabloid-friendly criticism of Lohan, for whom the biopic represented a kind of comeback vehicle. The reviews of the film, and her performance in particular, were unforgiving.
Were you among the 3.5 million who tuned in to Liz & Dick?
Follow Christian Blauvelt on Twitter @Ctblauvelt
[Photo Credit: Lifetime]
More:
'Liz & Dick' Is Bad In the Worst Possible Way
The Worst Lindsay Lohan Moments in 'Liz & Dick'
'Liz & Dick': Lindsay Lohan Goes Cleopatra

Chris Brown Makes NSFW Poop-Related Insults, Deletes Twitter Account

'Liz & Dick' Is Bad in the Worst Possible Way: Review