'Lizzie Borden Took an Ax' & Gave Her Mother 40 Recaps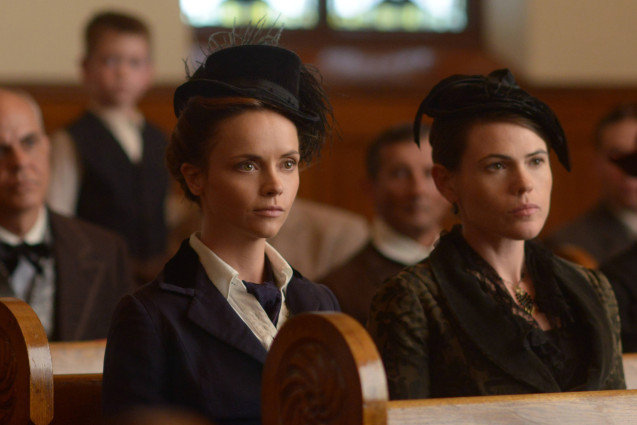 Lifetime
After last week's premiere of Flowers in the Attic, Lifetime really kept the January creep-fest going with its new movie, Lizzie Borden Took an Ax. Based on true events, Lizzie Borden Took an Ax tells the story of a 32-year-old woman in Fall River, Massachusetts in 1892. She was accused of brutally murdering her father and stepmother, Andrew and Abby Borden. From neglectful and abusive parents to children who kill their parents — shouldn't these movies have premiered closer to Halloween?
Whether you know the whole story of Lizzie Borden, most have probably heard the rhyme: "Lizzie Borden took an axe, and gave her mother forty whacks. When she saw what she had done, she gave her father forty-one." (Though the number of whacks is exaggerated, sort of — 18 and 11.) Christina Ricci stars as the titular character in Lizzie Borden Took an Ax. Clea DuVall costars as Lizzie's sister Emma; Billy Campbell plays the Borden's lawyer, Andrew Jennings. 
The plot of the movie sounds like something along the lines of Snapped: 1892 edition, and the set up of the story is particularly procedural. The first half hour is spent establishing the characters before the Bordens are murdered. Then the police investigate for a half hour before the 1890s equivalent of a district attorney (Gregg Henry) charges Lizzie with the murder. It takes forty minutes to get through the trial as the prosecutor and Mr. Jennings weave two possible scenarios. Finally in the last ten minutes, after Lizzie is acquitted, she comes clean to her sister about what went down on that hot day in Fall River.
On a technical level, the color of the film is unsaturated and made to appear aged. However a bluesy alt-rock soundtrack throws off the old-fashioned sheen of the movie, though, to be honest, I didn't hate the music. Ricci pulls off the aloof and slightly sociopathic Lizzie while Campbell puts as much effort into his role as the defense attorney. Currently, we love Campbell on Syfy's Helix, but we're glad he took a break from mysterious viruses to delve into the mysterious 1892 crime. 
Since Lizzie Borden Took an Ax is the story of an actual unsolved murder — though everyone really believes she did it — this Lifetime movie is perfect for people who enjoy learning about creepy historical figures (similar to Marie Delphine LaLaurie on American Horror Story: Coven) or fans of Snapped. 
The best part of the whole movie however is the end, where the film includes the well-known rhyme. There's nothing like a group of children singing about a gruesome double murder while skipping rope to really set the menacing tone of the ending. (Seriously what is it about kids singing that is so hair-raisingly spooky?) It was the perfect creepy end to a not-so-creepy movie.