Award Watch: Lizzy Caplan in 'Masters of Sex'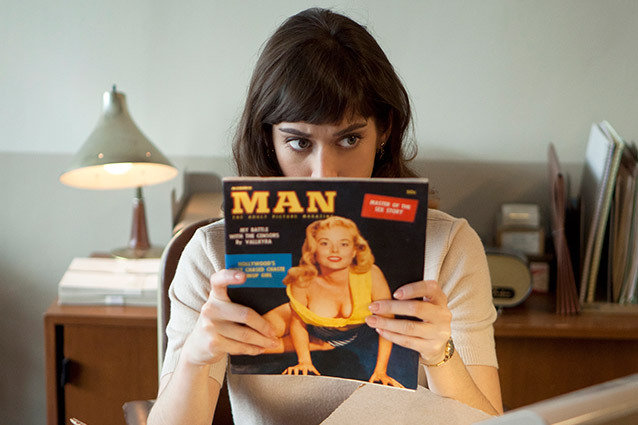 Craig Blankenhorn/SHOWTIME
With only three episodes of Masters of Sex under our belt (get it?), is it too early to call an Emmy nomination for Lizzy Caplan?
It bodes well that Academy has a massive crush on premium cable dramas and starts rewarding them with nominations almost as soon as they hit our eyeballs. But Caplan, so far the standout in a series with massive potential, may not need that bias working in her favor. To know Lizzy Caplan's work is to love her, whether you prefer Janis Ian (Mean Girls) or Casey Klein (Party Down). Virginia Johnson, however, is the role that will prove wrong anyone who thinks her range stops at deadpan and sardonic.

It's a huge, juicy part — the kind that's unfortunately rare for actresses in their 30s, or frankly, actresses at all. We feel like we know everything about Michael Sheen's character almost from the minute we meet him. Dr. Masters is a workaholic; distant from his wife; so desperate to continue his work that he'll do anything to make that possible. But Virginia is an enigma. She's fearless and aggressive in pursuing her own life. Other women — like the admissions secretary at the college — resent her for it, and Caplan plays the swallowed anger of a person who realizes that it's best to politely demand than to fight back. She knows how to work people and their prejudices: in her interview with Masters, her words are bold, but Caplan softens her voice. She's not ashamed to enjoy sex, and doesn't believe that it always has to come with an emotional attachment. (In the pilot, this freedom seduces and then terrifies Dr. Haas.) But she's also warm to Bill's patients and his lonely, frazzled wife. She charms everyone who hits their exam table. We can see why the study would have failed fantastically without Virginia's bedside manner. Masters is afraid of her too, though, and he seems relieved when he can blame the leak of their couples studies on her. But the indomitable Virginia just hires herself right back.
The tension between Masters and Virginia is the main reason to tune into Masters of Sex so far, and we're looking forward to seeing how it plays out. What do you think of the Showtime series so far? Does Lizzy Caplan have your Emmy vote? Discuss in the comments!