'Louie' Recap: Auld Lang Sigh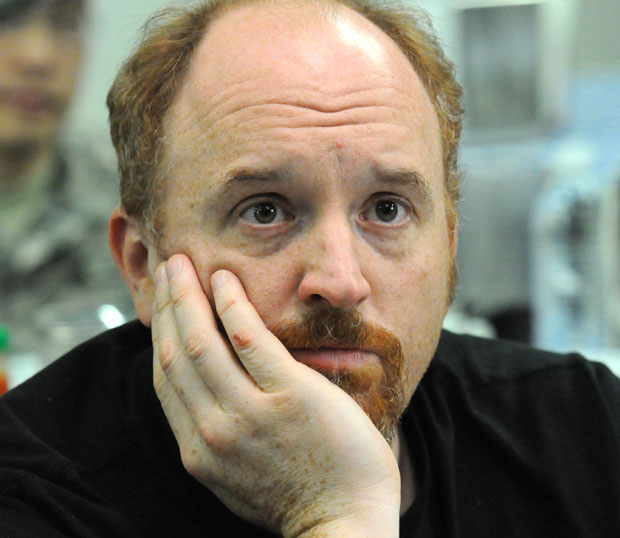 I cried three times during last night's devastating and wonderful Season 3 finale of Louie. Once because I was laughing so hard, once because I was so upset, and once because I felt so inspired. How many television shows can pull that off — not only in the span of thirty minutes — but over the course of an entire season? Not many, and certainly not in the way that the unstoppable Louis C.K.'s Louie does. 
Of course, the feelings of joy, misery, and hope are all essentials of the holiday season, so it's no surprise they translated so well in this episode, titled "New Year's Eve." Opening on the shot of a miserable-looking Louie, the camera pans out to find our hero is actually sitting in his living room with his daughters on Christmas morning. 
As his daughters happily open their gifts, we see in flashbacks the utter hell that went into making Christmas magic happen, like wrapping those impossible-to-wrap gifts. (Full admission: I wrap presents in the exact crappy, frustrated manner that Louie did). But it was Louie's frantic attempt to fix an antique doll ("What the hell happened to your eyes?") for Lilly that made for one of the most laugh-out-loud and daring moments of the entire series. 
In one extended scene (it reminded me a bit of the dinner scene at the beginning of
Little Miss Sunshine
in that it took a risk of letting the moment run longer than most comedy allows), Louie tries desperately to get the glass eyes back in their rightful place. Everything about this scene resonated, from the expletives that can fly from your mouth ("S**t on my father's balls!") to the utter failure that comes when you try to fix something and make it irreparably worse. By the time Louie had drilled the doll's head open, super glued it to the couch, and then tried to paint it back to its original color (think something along
this line
in recreation accuracy) I had to pause my DVR from laughing so hard, not just at the hilarity of what a sight it was to see him dunk the doll's head in the toilet, but the sheer empathy of it all. 
But Louie, as I mentioned in last week's recap, does everything for his daughters, so the torment of the holidays paid off. Especially when Jane (Ursula Parker) asked him to read a book he got her. The book, Marjorie Flack and Kurt Weiss' beloved classic The Story About Ping, tells the tale of a unique little duck on a big journey, something Louie is quite familiar with. (If Louie has a spirit animal, it's an adorable yellow duck). All felt calm and bright until Louie's ex-wife and her new beau Patrick came by to collect the girls to take them on a trip for New Year's. Not only did Louie have to sheepishly admit the Letterman gig didn't pan out to his ex-wife, but he had to watch as his happy family holiday now belonged to someone else. So when Louie haphazardly disposed of any trace of Christmas and closed the blinds to go to bed and shut out the world, could you really blame him? The holidays are f**king miserable as is, let alone having to deal with a broken family unit and a missed opportunity at a career high. 
Season 3 has been packed with unforgettable celebrity cameos, from
F. Murray Abraham
to
Jerry Seinfeld
to
Parker Posey
. (Good luck to Emmy voters next year trying to narrow down not which Louie guest deserves a nomination, but how many of them). But none may have gotten me more excited than the appearance of
Amy Poehler
in last night's episode. Not just because we here at Hollywood.com are fans of the idea of Louis C.K. and Poehler
together off-screen
, but because these two have such great on-screen chemistry (see:
Parks and Recreation
) they don't even need to be in the same frame to be wonderful together. 
Turns out, Louie has another sister in addition to
the flatulent Gretchen
, there's also little sister Debbie (played by Poehler). Debbie, who is married to a brash Southerner who refers to Kennedy as a "left wing" airport, calls concerned about her brother and invites him on her family's New Year's trip to Mexico. Louie, much to the worry of Debbie, doesn't seem thrilled at the idea. "I love you Louie, you know that," a choked up Debbie tells him over the phone, knowing he'll spend his holiday alone instead. 
After falling asleep to the sounds of a (fake, albeit hilarious) news program on TV in which co-hosts Fanny and Flappy tell Louie to "go ahead and put that gun in your mouth" and having a depressing dream about a grown-up Lilly and Jane discussing just how alone their father is, he wakes up, takes a cold shower, grabs his passport and heads off to the airport. He's not going to die a lonely old man or let his daughters follow in his footsteps. 
Only, life doesn't care how many times you pick yourself up. It will kick you square in the ass at any moment it so pleases. On the bus en route to the airport Louie runs into none other than Liz (Posey) and both look positively thrilled to see one another. Maybe this won't be such a bad year for Louie, after all. And then, because life can and does stop at any given moment, Liz's nose begins to bleed and she is rushed to the hospital with Louie by her side. In the emergency room, a doctor tells Louie something is wrong and Liz knows it, too. "I'm not ready for this," she cries to a scared s**tless Louie. "I'm dying," she tells him. And she does. At 11:59 PM on New Year's Eve. A stunned Louie walks through the hospital as strangers joyfully usher in the new year and the show delivers one of its worst emotional gut punches yet: the universal knowledge that even when someone dies, the world keeps going and so do you. 
In turn, Louie finds himself at the airport and after uncomfortably sleeping on airport chairs, he looks at departing flights for Mexico City to meet up with Debbie and her family. His eyes then dart up and down the board, with endless options in front of him. My instinct (and faint hope) was that he'd choose Paris to go get Pamela, but Louie has had enough pain already this year. Instead, he follows in Ping's webbed footsteps and chooses Beijing instead to see the Yangtze River. 
Upon arrival things get a little lost in translation, to say the least. He doesn't speak the language, nor they his. He tries and fails, repeatedly, through a series of miming to get someone to direct him to the river. Then, as fate would have it, a man with a truck carrying ducks offers to give Louie a ride. Only, instead of the majestic Yangtze River of his dreams, it's a dried-up ravine. In spite of his surprise and disappointment, he carried on, and the lost Louie stumbled upon a home of locals who welcomed him in for a hot meal. The language barrier was still there, but much like
"Duckling"
 and even "Miami" proved, that means nothing to the collective human spirit. That we can all laugh and smile and share together, even if our cultures and background are wildly different. Perhaps
that
is the story of
Louie
. And man, is it a brilliant and important and lovely one. 
[Photo credit: FX] 
More: