'Louie' Recap: Better Late Night Than Never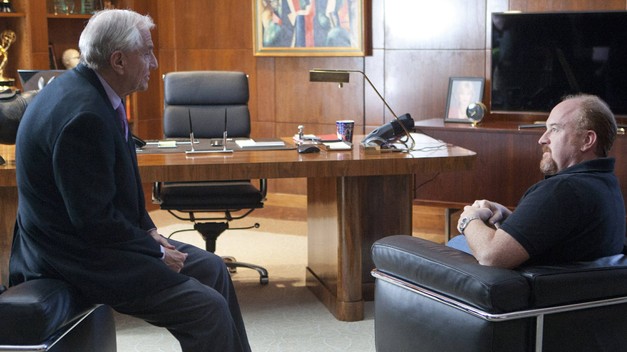 In the smart, lovely indie Sleepwalk with Me (in select theaters now, go find it) comedian Mike Birbiglia acknowledges that to be a stand-up, one must be completely delusional. That no person of sound mind would ever get back on a stage again after the first time they bombed, nor would they quit after they realize when an audience doesn't laugh not only are they saying we don't like your act, we don't like you. 
Comedy is, far and away, the most difficult job in show business, and as
Louis C.K.
suggested during last night's surprising episode of
Louie
, one with an oft tragically short shelf life. That even the most polished comics on the top of their game (see: Louis C.K.) have trouble enjoying their success because they are acutely aware of their place on the comedy pecking order. 
But if there's anyone who shouldn't worry about their place in the comedy world, it's Louis C.K. During the opening scene in this week's Louie, which took our hero out of New York City and into Los Angeles (possibly for good), he is delivering a brilliant set that proved, yet again, he is the George Carlin of this generation. Among the sets gems (including a brilliant tirade against consumer reviews of electronics "all made from the same Asian suffering") Louis mused that Americans wonder when they can explain the concept of war to their kids, while children in Afghanistan ponder, "How come Uncle Henry's head is gone now? Oh, because of the war." 
With his childlike producer Doug in tow, Louie learns he'll get to do ten minutes of material on
The Tonight Show with Jay Leno
on the same night
Tom Cruise
will be there. He'll get bumped for sure, he worries. But Louis would come to have a rude awakening (and not just by the hotel staff that didn't quite comprehend the premise of the "Do Not Disturb" sign a little later in the ep). On the day of the show, Leno (who makes a cameo in the episode) informs Louis that he is getting bumped… to the top guest slot after Cruise drops out at the last minute. 
As fate would have it, Louis kills on
The Tonight Show
, and his appearance goes viral. We don't see what the set is, but if we're following a loose timeline of the real Louis, it would probably have been
this
. The next morning, a frenzied Doug alerts him that he has to be at CBS in an hour. "There's not even time to jerk off," Louis cries aloud, in quintessential Louis manner. Louis gets the phone call most comedians wait their whole life for, and his biggest concern is not having enough time to masturbate. If that doesn't personify the tragic nature of most comedians/funny people, I don't know what does. 
At CBS, Louis and Doug meet with the chairman of CBS, played by the great
Garry Marshall
. The old fashioned New York straight shooter, he tells Louis, under a strict confidentiality agreement that
David Letterman
will be retiring this year and offers him his coveted position as the host of
The Late Show
. Louis immediately says no, that he is not the man for the job, that CBS should aim higher and go for a sure thing like
Jerry Seinfeld
. (
Seinfeld
 did not appear in this ep, though as
we exclusively reported earlier in the season
, he will eventually make a cameo.) 
But CBS already knew that. In fact, they'd already offered the television legend the job, but he would cost the network a cool $12 million, while Louis would only set them back a million. He would also have to lose 40 pounds to do a test show and, if he failed on the air, would catch all the heat as a failure. Of course, compared to his alternative of becoming a sad, old, broke comic who is "circling failure in a rapidly decaying orbit" (as Marshall's chairman sugarcoated it), a grand-scale failure soon sounded like the better options. A delusion that only a comic could have. 
I can't imagine that for Season 4 Louie will veer into the The Larry Sanders Show territory, though if any show could pull it off, it's this one. But for now it's thrilling to watch Season 3 take so many creative risks and propel the story in such unexpected ways. The next few episodes may just prove to be the ultimate love letter to the art of comedy. But what do you think? Is Louie heading into exciting new territory or do you, like Louis, simply fear he's going to f**k this all up? Share your thoughts in the comments section.