'Louie' Recap: Welcome to Miami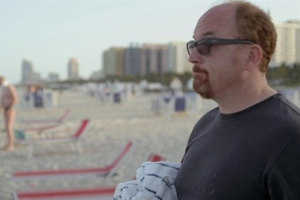 As someone who, according to Louis C.K., can get away with using the word "wonderful" without it jeopardizing my sexual identity, I'll go right ahead and say it: last night's episode of Louie was wonderful. 
First and foremost, it was just wonderful to see Louie get out of New York City. As much as he so effortlessly gels with the chaos of the city, he, like everyone else who lives in New York, needs to come up for air occasionally. And though Louie has had some disastrous ventures off the isle of Manhattan (his last exodus from the city, as you'll recall, lead to one memorably bizarre tryst in a truck) he, like the show itself, can be pretty wonderful anywhere. Look no further for proof of that than episodes like "Country Drive" and "Duckling."
This time Louie headed to Miami for the episode titled, you guessed it, "Miami." While he was technically there for business, he indulged himself in pleasure, too. Well, as much as a person like Louie can in a city that caters to people that look and behave nothing like Louie. "This is bullshit," he cried, in a sea of hyper-attractive people, on behalf of the rest of us. 
The terrible and wonderful (that's right I can, and will, say it as much as I please) about going on vacation is the opportunity to reinvent yourself. To temporarily vacate not only your surroundings, but you. The only reason I say it's terrible is that  so many of us, like Louie, tend to pack our baggage, too. Feeling defeated after not wanting to take his shirt off for a swim on the beach, Louie retreated to his hotel to eat a burger and fall asleep. But after noticing that the coast was clear (i.e. the unreasonably hot people left for the day) Louie finally dove in. 
Of course the very best part of a vacation, of getting out of your comfort zone, is opening yourself to new experiences and new people. After a non-near drowning, Louie is "rescued" by a handsome, easygoing, spirited Cuban lifeguard named Ramon. They are about as different as two guys could be. Later, after Ramon checks out Louie's act at the hotel, the two trade stories about their heritage and we see something in Louie we haven't seen in a long time: the desire to connect with another person. 
The following day (after having a priceless poolside interaction with a vapid bikini-clad girl who takes a strawberry off Louie's plate under the false assumption he, like every other man, would cater to her every want) Ramon invites his new pal to see the "real" Miami. There are certain scenes in movies and television shows where you would give anything to be there. Not just because of an enticing location, like Miami, but because of the feel of the moment. Those very rare ones in life where everything that bothers you goes quiet, and you simply take it all in.  (For the record, my favorite on-screen escapes are Before Sunrise and Before Sunset.)
At Ramon's party, which was filled warm people and good music, the lifeguard talked to his new friend about the people in Miami who live under the facade of happiness in high rises. Those sitting high above, looking down on the real people, but are truly lonely at the core. Ramon was someone who not only genuine and took in all the beauty in life, but put it out there in the universe. And for someone like Louie, who always tries to be a good guy but tends to come up short, it's no wonder he liked being around him. 
While Louie got a tour of "real" Miami, what he really got was something even more important: meeting someone and experiencing something that them that is pure and untainted. Louie would always get to remember Ramon the lifeguard fondly and wonder how he was and if he remembered their friendship, too. He would get to forever hold on to the feeling of that party and unbridled joy of riding along with Ramon and his friends through the bustling streets of Miami. 
Even better, Louie could remember what it was like to open himself up to people. After the two shared a sweet, simple goodbye ("I wasn't drowning, but I'm glad you saved me," Louie told Ramon, unconsciously not realizing the depth of that sentiment.) For once, Louie, who is typically pretty terrible at goodbyes, got something so right. Not ready to let that feeling go, Louie, after making a phone call to his ex-wife (in which we learn the pair has been divorced for three years) decides to stay and hold on to it a little longer. The only problem is, Louie was actually hoping, in a way, to be rescued by Ramon. Rescued from his loneliness and rescued from the peril of being a heterosexual middle-age white class male who simply wants to enjoy the company of another man. 
After the two reunite on the beach, which was a lot less Shawshank and a lot more Louie, it's pretty clear that's not going to happen for our poor hero. Their lines get awkwardly crossed when, later at the bar, Ramon kindly, not judgmentally told Louie he was not gay. But Louie, trying simaltaneously to sugarcoat his embarrassment and rejection and protect his heterosexual middle-age white class manhood, gets flustered and stumbled over his words, only making him look like he actually was hiding his sexuality. Ramon got the "real" Louie tour and bid his friend adieu for good this time. 
Still, even with that excruciatingly awkward interaction (which Louis C.K. played so authentically) I still sense a turning tide with Louie. No, he probably won't be able to effortlessly fall into a friendship with another man or realize when to actually say goodbye, but I do think Louie is about to swim into the unknown again and try to connect. No one wants to be alone on their balcony.  
I really loved this episode of Louie for so many reasons. The trip to Miami was not only a nice one for Louie (for the most part) but the viewer as well. As sickly wonderful as it is to watch Louie in bizarre, soul-crushing scenarios, it's nice to see an episode not rooted in depths-of-despair weirdness. So often the show gives viewers real moments that are amplified (a bad date for Louie isn't just bad, it's bad) but here it was universal feelings (i.e. being very much aware of your body on the beach) that made "Miami" shine. Plus, that end credit footage of Louis C.K. and his team filming in the Atlantic Ocean was just, well, wonderful. Share your thoughts on "Miami" in the comments section below. 
Follow Aly on Twitter @AlySemigran.
[Photo credit: FX] 
More:
Louie Recap: A Gorilla Walks Into a Ballet… 
Louis C.K. Discusses New Season of Louie, Including Jerry Seinfeld's Cameo
Daniel Tosh's Rape Joke Firestorm: Are You Havin' a Laugh?