'Louie' Season 4 Will Not Air Until 2014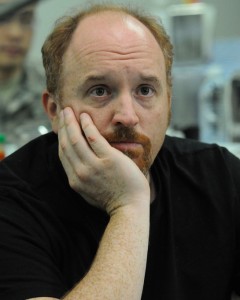 Sad news for impatient fans of FX's acclaimed Louie: The series, renewed for a fourth season, will be on extended break until spring 2014.
FX President John Landgraf — who delivered the information alongside the series' Emmy-winning creator/star, Louis C.K., in a conference call with press — said the decision to move Season 4 from its initial summer 2013 start date was a creative one. "The goal of FX, in terms of its relationship to Louis and his creative process, has always been to say yes, and to give him whatever space he needs to create as best he can," Landgraf said. "The result of that is an extended hiatus."
And though we might feel tempted to sing out like the moaning sirens who introduce the show week after week (Louie, Louie, I'm gonna cry), fans shouldn't be too devastated. The break could even improve the series further. "I want the show to keep getting better," C.K. said. "I don't want it to be making the donuts, I want it to keep being something that comes from somewhere fun and important, and I want it to stay funny. It's a luxury that I asked for, which is more time to create Season 4 … I'm going to take a whole lot of time to turn it in. That's why I wanted this break, and I'm excited about what we can do in the future." 
C.K. had the full support and blessing from Landgraf and FX, who not only wanted to give the show time to breathe, but the busy family man as well. As the President of the network acknowledged, "You have to live as an artist in order to grow and recharge your batteries, and sometimes there's not enough time to live when you have a really successful show." Said Landgraf, "Louie has continued to raise the bar and recharge his batteries. I don't think there's anyone else in business who's produced, starred, directed and edited all but seven episodes … I'm not surprised he needs a bit of a break." 
Does this mean the genre-bending comedy will break even more from sitcom formula? Based on C.K.'s words, we should expect the unexpected. "I want Season 4 to go somewhere new," he said. "Even if it's only a small degree of shift." C.K. added, "The last three seasons have been a surge of fun stories and it's been great to share all the stuff and I want the show to keep getting better. I want it to keep being something that comes from somewhere fun and important."
The comedian also assured reporters that a good portion of the interim period will be devoted to taking advantage of a more generous work schedule to write and shoot the forthcoming episodes of Louie. "I usually start shooting in March for a June launch," said C.K., who also did mention the possibility of another standup special prior to Louie's fourth season. "I think, this time, we'll start shooting in something like September, October, for a May launch." Any later, Louie, and, yes, we're gonna cry.