What We Want to See on Season 4 of 'Louie'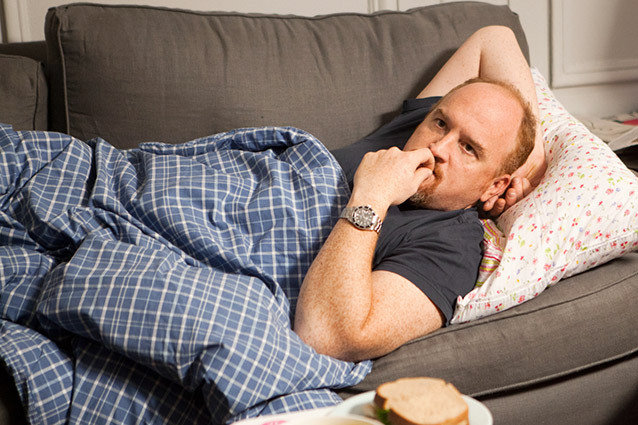 FX Networks
Season 4 of Louie is expected to return to FX this May. Fans of the television series, which is created, written, and directed by Louis C.K., are aware of the comedian's complete artistic and creative control over the material, and we trust that C.K. will do everything he can to make the show as great as the first three seasons. To begin the anticipation, below is a list of things that would make Season 4 one for the ages.
Multi-episode arcs
Although Louie is known for its lack of continuity, some of the most fascinating stuff happens in stories that span more than one episode. Season 3, for example, gave us "Daddy's Girlfriend," a harrowing portrait of a date gone wrong, and it remains the show's greatest achievement.
Guest stars
The best thing about Louie is its perfectly cast guest stars. Among the more notable ones have been Ricky Gervais as Louie's hilariously inappropriate doctor, Melissa Leo as Louie's sexually aggressive date, and (perhaps best of all) David Lynch as Louie's professional mentor. Not to mention cameo appearances by Robin Williams and F. Murray Abraham. Here's hoping that Season 4 surprises us with more guest stars.
Flashbacks
Every now and then, a Louie episode will provide a glimpse into Louie's childhood. The Season 1 episode "God," in which a young Louie contemplates the existence of a higher power, is already a classic; in "Poker/Divorce," Louie reminisces on a former classmate to hilarious results. It would be fun in Season 4 to witness Louie's first attempts at stand-up comedy, or even to observe how he interacted as a teenager.
Pamela
It's been a while since we've seen Pamela (Pamela Adlon), Louie's love interest from Seasons 1 and 2 who turned him down before moving to France to live with her son and ex-husband. Although Louie has always avoided the conventions of television storytelling, few fictional relationships are as authentic and moving as the one shared between Pamela and Louie. Wishful thinking, perhaps, but it would be a beautiful moment if Pamela returns.  
Daughters
Louie understandably revolves around the comedian's daily adventures, but it's always lovely to observe his interactions with his daughters Lilly (Hadley Delany) and Jane (Ursula Parker). Now that they're getting older, it'd be interesting to see how this relationship is tested, and whether or not it can sustain through adolescence.