Louis C.K. Discusses New Season of 'Louie', Including Jerry Seinfeld's Cameo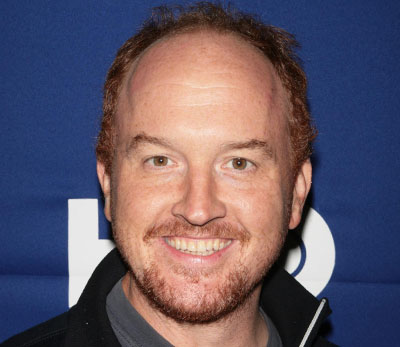 Louis C.K.— who is having something of a banner week between kicking off an unconventional, but wildly successful tour (tickets for the flat-rate, surcharge-free shows have already raked in a whopping $4 million), being put on the cover of the new Entertainment Weekly, and making some memorable talk show appearances — can add another feather to his stuffed cap: the third season of his critically praised FX series Louie premieres on Thursday night at 10:30 PM ET. 
During a conference call on Wednesday, the comedian revealed some things fans can expect in the always-unpredictable comedy. For one, there's a bevy of cameos. In addition to appearances from Oscar-winners like
Melissa Leo
,
F. Murray Abraham
, and
Robin Williams
, there's also going to be a visit, as Hollywood.com reported first, from fellow comedy legend
Jerry Seinfeld
. But C.K. stayed relatively tight-lipped about Seinfeld's appearance in Season 3, telling reporters, "I don't want to say anything about any of it, because it's got a lot of guest stars and a lot happens. It's big turn for the character and for, it's a cool, fun story, I just don't want to talk about it," he explained, "Jerry did a part in that, and what he did was very different from what you're used to seeing him do. Jerry did a really great performance. I was really happy." 
In fact, a happy Louie is something you'll see in Season 3 as the single father of two opens himself up to the dating scene again (which includes a guest stint from Parker Posey) and takes a perspective-changing trip to Miami. "I spend enough time on screen looking hangdog and depressed so I think it was okay to let me smile and chase a chicken for a minute," he said during the call, adding "[Season 3 is] more about family and missing being in a family and being in a relationship, that keeps happening." 
For the first time, the series will introduce Louie's ex-wife, who has always been a fixture on the show, but never actually seen until now. "I'm introducing new elements. Each year I try to do something that's new to the show," he said of his decision to bring the character — which he said is "completely not anything like my real ex-wife" — into the equation. But it's likely not the attitude of the character (which the 44-year-old described as "really direct and self-possessed, she's got a great demeanor for someone who has moved on in life") but her appearance that will get some people talking: the actress C.K. chose to play his ex-wife is African-American. 
"I think when people probably first see her their brains do a little bit of DNA math and go, 'I'm not sure I get how that would happen,'" C.K. acknowledged, but also noted, "I think with my show most people just go, 'Oh, alright, just go ahead' and then they watch the scene. I like what that character brings out in the story and in [my character] and to me that trumped whatever logistical notion." Hey, no one ever accused Louis C.K. of playing by the rules. 
Season 3 of Louie premieres on FX on Thursday, June 28 at 10:30 PM ET. Be sure to check back in to Hollywood.com on Friday morning for a full recap of the new episode. 
[Photo credit: WENN.com] 
More: