Louis C.K. on 'SNL': The Most Unpredictable Host Yet?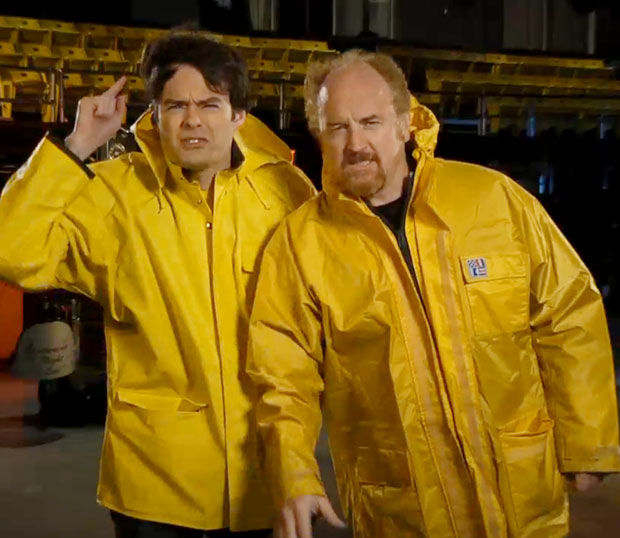 So far, during the 38th season of Saturday Night Live, we've seen a line-up of unfamiliar hosts. We saw first-timers Seth MacFarlane, Daniel Craig, and Bruno Mars take the stage at Studio 8H, each with varying degrees of success. Still, it was easy to predict what each of the debut hosts would deliver: MacFarlane would bring his bag of random tricks (see: the episode-ending Amish skit, which might as well have been a Family Guy outtake), Craig would deliver jokes stiffly as SNL's pros emoted around him, and Mars would gamely act as the show's experimental puppet, allowing the writers to to play with an untapped comic source for better (see: "Sad Mouse") or worse (see: the disastrous Yeti sketch).
So how strange is it that the season's most unpredictable host thus far happens to be one of the biggest names in comedy, Louis C.K.? The star of the critically acclaimed Louie certainly has proved he's funny, but he's also proved he's one to buck convention. (Just look at both his genre-defying FX series and his 2012 Emmy bits thumbing his nose at silly ceremony tradition.) 
And though SNL began as a hip venture, its domination in the business has slowly and naturally turned it into the most conventional sketch comedy show on air. (Of course, that doesn't make the show any less funny.) We're used to seeing Louis C.K. joke about sex, aging, and life's misery in front of a mic stand, but watching him act alongside Bedelia is as difficult to imagine as the comedian in a suit. Of course, he'll likely eschew groan-worthy recurring character sketches for something far more original, which also makes this weekend's SNL the most exciting episode yet. 
At least, it will cure
SNL
host boredom that makes us feel like
this
. (Oh, please give us an
Ursula Parker
cameo,
SNL
!) Excited for tonight's show? Talk about Louis C.K.'s stint here, and be sure to come back Sunday morning for our full recap!
[Image Credit: NBC]
More:
Saturday Night Live: Anne Hathaway, Jeremy Renner Named as Upcoming Hosts
Louis C.K.'s SNL Promo: Come Hell or High Water, There's Comedy to Be Had
Saturday Night Live Recap: Bruno Mars Was Out of This World

Country Music Awards: Best-Dressed! (PHOTOS)
(Celebuzz)