Louis C.K.'s 'SNL' Promo: Come Hell Or High Water, There's Comedy to Be Had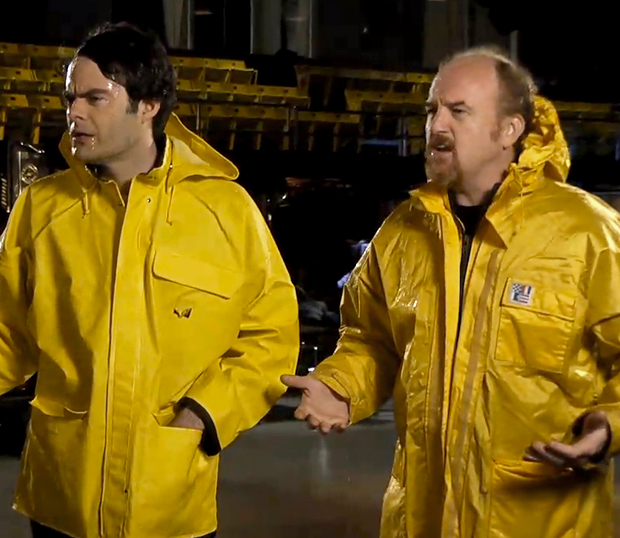 If there's anything that
late night New York-based comedy shows have proven this week
in the face of Hurricane Sandy, it's that come hell or high water (which has, quite literally, been the case) the show must go on.
Letterman
has done it,
Fallon
has done it, and now
Saturday Night Live
is gearing up to do it, which is especially great considering man of the hour
Louis C.K.
is hosting for the first time in his career. (Though, as
SplitSider.com
pointed out in their fascinating piece, the comedian has a long history with the series.) 
The promo video for the Emmy-winning
Louie
 creator/star's
SNL
stint was released on Wednesday, and it's everything C.K. fans would hope for. The clip features the host alongside fellow terrific human
Bill Hader
, in a series of hilarious rapid-fire gags… including Louis dressed up as Hader's mom (he looked much prettier
here
), experiencing the horrors of the haunted 30 Rock studio 8H, and, of course, surviving the storm. They're all pulled off with Louis' pitch perfect timing and that signature deadpan, uncomfortable grimace he's all but turned into an art form. 
Make sure you stay until the very end of the video so you can hear C.K. say, "What the f**k is wrong with you people? What kinda s**t is this?" Watch: 
Louis C.K. Set To Host Saturday Night Live

Heidi Klum Cancels Her Annual Halloween Party Due to Superstorm Sandy
(Celebuzz)