Louis C.K.'s HBO Special 'Oh My God': Watch a Living Legend Do His Thing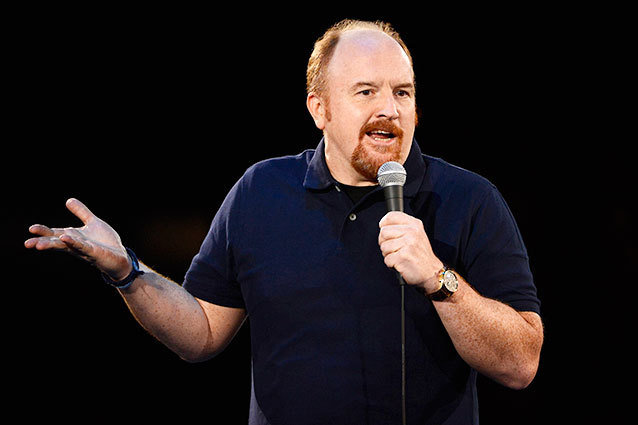 While the entire hour of Louis C.K.'s new HBO special Oh My God is an expertly crafted and unapologetically crudely hilarious hour of stand-up comedy, the final segment during the last five minutes is stuff of legends. It will rank up there with routines like George Carlin's "Seven Words You Can't Say on Television", Eddie Murphy's "Ice Cream Truck", and, well, all of Richard Pryor's catalogue. Louis C.K.'s "Of Course…But Maybe" is everything great stand-up comedy should be: daring, intelligent, and just damn funny. I'd never be able to do the segment justice (that's why he's the pro and exactly why you should watch) but just know that the critically-beloved comic is so good at what he does that he can make you laugh at the trauma of war veterans and the benefits of slavery. No kidding. 
Of course, it's that very same deranged, but brilliant, sense of humor that's made Louis C.K. the Emmy-winning comedy mastermind that sells out arenas by not selling out to the man he can so relentlessly skewer. It's the reason why his his FX series Louie is so loved by fans and critics even though it can more often make you cringe and really feel, rather than laugh out loud. Louis is someone who can both ruthlessly deconstruct human behavior and social standards, and still make d**k and fart jokes. He's painfully aware of his existence and ours, and dammit if he's not going to make us all laugh in spite of ourselves and in the face of mortality. ("There's no candlelight vigils for 50-year-old guys who die," he muses in the special). 
Even with that bleak, if not realistic outlook on the absurdity of life, it's crucial to remember that Louis C.K. is also a sweetly devoted, divorced father of two. His daughters are not only a huge part of his life, but his routine as a whole (both in his comedy specials and his show). He might be a twisted foul-mouth, but he's a twisted foul-mouth big old teddy bear at the core. Though parenting and and his kids are talked about in Oh My God, this 2013 special is decidedly less sentimental than Live at the Beacon Theater and Hilarious, which featured two of his best, and shockingly sweet segments. (Protecting his oldest daughter on the playground and the hilarious parental experience of dealing with a three-year-old, respectively). 
In fact, Oh My God feels like a more old-school, back-to-basics version of Louis C.K. It's raunchy (there's an entire segment, if not an overly long one, on why men love boobs so very much), cynical as hell (he rightfully calls out that no one is actually watching those YouTube and Facebook videos of your kids, just blindly giving complimentary comments), and just so, so blisteringly, funny ("I'd like to make one of this 'It Gets Better' ads for just dumpy, young guys"). 
Oh My God  will either make you scream that phrase with laughter or shake your head in disbelief at what he's willing to say that most of us can't. It will probably be a little bit of both. But that's what makes Louis so great: he's a masterful joke and storyteller who makes you lose your mind with laughter and then make you wildly uncomfortable with your own laughter at the same time. Of course Louis C.K. is a mad genius (and Oh My God is proof positive of that), but maybe, in time, he'll end up being the greatest stand-up comedian of all-time. 
Louis C.K.'s Oh My God debuts on Saturday, April 13 on HBO at 10 PM ET. 
Follow Aly Semigran on Twitter @AlySemigran
More:
'Louie' Season 4 Will Not Air Until 2014 
Louis C.K. Hates His Own Comedy Special Trailer
Why is 'Girls' Criticized for the Very Same Reasons 'Louie' is Praised? 
---
From Our Partners


Jessica Alba Bikinis in St. Barts (Celebuzz)


Which Game of Thrones Actor Looks Least Like His On-Screen Character? (Vulture)