'Love in the Wild' React: Ladies' Choice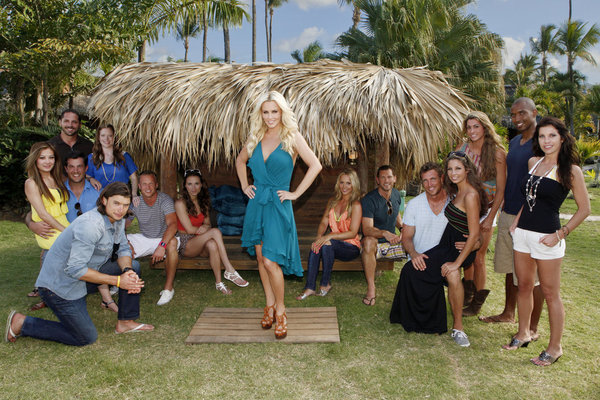 NBC's Survivor meets Bachelor meets Real World Challenge-on-speed dating show Love in the Wild was a pleasant summer surprise last year, mostly because throwing spoiled, gorgeous 20/30-somethings in a jungle with the expectation that they'll find love (or heartbreak!) is an idea so absurd that it actually might work. Also, because the douchiest and whiniest ones got sent packing with nothing but emotional scars and zillions of mosquito bites to show for it, while the two leading couples actually found love and stayed together. Hey, New Yorkers and Angelenos who love to complain that dating in your city sucks – next time you should try to find love… in the wild!
This year NBC upped the fun humiliation by adding seven additional male lambs to the slaughter for the premiere episode, and as well as likable yet diabolical host Jenny McCarthy. They also moved the setting to the Dominican Republic, so we'll get to see beaches and a muggy jungle. Ooh, sharks!
After the initial teams were picked, seven additional dudes showed up to make the chosen duos a trio. This was a fun twist for the ladies, but oh-so mean to the guys who would face increased odds of going home week one. The trios ended up being Summer/Jesse/Quaison, Cina/Chase/Jason, Tara/Tim/Leo, Jenny/Ben/Franky, Ali/Jason/Darwin, Yanina/Ken/Mike and Shauna/Christian/Ryan. The challenge went a little something like this — and bear with me here, because none of this is going to make any sense. But that doesn't matter, because it all ends in annoying Arkansas Ali and her partners having to sleep in a dilapidated lean-to. The campers' packs were dropped in the ocean, and one member from each team had to swim to get them. Summer, the only female to take on this part of the challenge, kicked ass — so we like Summer. Next, all of the girls had to jump into a pit of snakes (!!) to retrieve the first conch shell, because this is a really good exercise to prepare singles for the dating-verse. Then the guys had to throw coconuts at a clay mask to knock it down to get some sort of clue. The guy "more responsible" for knocking it down got to kiss their girl for five seconds, while the other guy had to film it. This was so, so weird, and I loved it. Next the teams rode wooden boats to a dive site to get another conch, and the final leg involved climbing up a poll to retrieve the final conch in the game. Then it was a race to the finish, with the final order as follows: Jesse/Summer/Q, who shared an "oasis" with a private chef, Yanina/Mike/Ken, Leo/Tara/Tim, and Cina/Chase/Jason, who shared some pretty nifty cabins, Christian/Ryan/Shauna and Jenny/Ben/Franky, who were stuck in average-sized camping tents, and Jason/Darwin/Ali, who spent the next couple of nights in the afore-mentioned abysmal lean-to. Ali spent the next 48 hours threatening to leave the show, while her main suitor, Jason, talked her down from an impending anxiety attack. Ugh, she's terrible
Over the next couple of days, the duos/trios/whatevers tried to "bond" with each other so the ladies would have an easier choice going into the elimination, err, "Couple's Choice Ceremony." Keep in mind that each oasis/tent/cabin/lean-to only had one bed, so this typically ended in the more forward dude staking his claim on the lady, who just wanted to get some f**king sleep, while the non-alpha male crashed alone on the floor. During the day, Mike and Ryan both went after Shauna — who is annoying, but I'm choosing to like her because there aren't too many of us out there, and we have to stick together. Everyone liked blonde bombshell Tara, Ken instantly bonded with Yanina, and goofballs Jenny and Ben actually seemed perfect for each other. The adorable Jesse thought he had Summer in the bag, while Jason's attempts to sooth Ali had him convinced that she'd pick him in the Couple's Choice. So, basically, this was a confusing mess of fourteen desperate dudes flirting with seven lucky ladies on a gorgeous beach landscape. Was everyone else drinking during this? I love this show.
The Couple's Choice, as promised by Jenny, was a doozy. Summer had her pick of any dude in the group, and viciously threw out Jesse and Q for Tara's brainless hunk, Tim. Tara looked like she'd been punched in the gut, as this meant she was stuck with the insufferable Leo. Yanina chose Ken, Cina gave up the pretty cool Chase for Jason, Shauna chose her yoga-buddy Ryan, Jenny chose Ben, and Ali went with other-Jason, the really nice one who tried his best to make her feel comfortable in their lean-to. So, seven miserable dudes were stuck in the humiliating "Unmatched Area," destined to never find love, ever. OR WERE THEY?
Jenny then announced that all of the ladies (sans Summer, who already had her pick of the litter) could swap their dude for one in the unmatched area. At this point, Leo knew he was a goner. Tara swapped him out for Jesse, and Ali ditched a seriously bummed Jason for Chase, the cute Marine who used his military know-how to calm down a lady in warlike conditions. All in all, it was a pretty satisfying silly summer show premiere. I know I'm hooked.
Follow Shaunna on Twitter @HWShaunna
[PHOTO CREDIT: NBC]
MORE: