Making Sense Of The Love Triangles (And Quadrangles) on 'Revenge'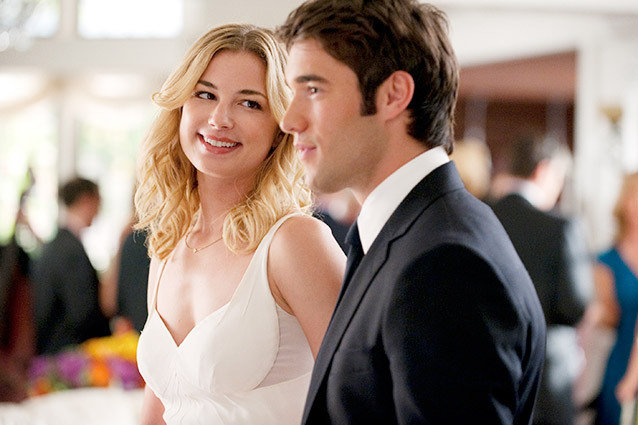 ABC
The third season of ABC's Revenge is officially underway and there's more hooking up going on than we know what to do with. Just like any good drama, romantic entanglements are a must. But the main character on Revenge – Emily Thorne (played by Emily VanCamp)— wears so many different faces it's difficult to keep track of her true loves, her faux loves, and the guys she's using for her own revenge-y purposes. But we're here to help! Here are some of the love triangles (and quadrangles) that are making season 3 worth the watch.
Emily and Jack/Emily and Aiden/Emily and Daniel:
See what we mean? Emily (AKA Amanda Clarke) started out the season making out with Jack (her childhood love who finally knows her true identity), but remains engaged to Daniel (although she's still trying to take his entire family down), and in the most recent episode shared a passionate kiss with her ex-boo Aiden. How does she juggle all of it? Well, she doesn't always do such a great job and jealousies abound in just about every episode. It doesn't always make for a smooth revenge plan, but it definitely makes for good television. Plus all these guys are pretty hot, so there's that to enjoy as well.
Jack and Margaux/Jack and Emily:
This season we met Daniel's old friend Margaux (played by Karine Vanasse), a beautiful French bombshell who runs her own magazine in the Hamptons. After a failed attempt to hook up with Emily's fiancé Daniel, she ends up pulling Jack out of his shell. Jack has to be the cutest single dad/widower we've ever seen and Margaux? Well, she's French! They make a great couple. but not everyone's into it. Emily's own jealousy may start to get the best of her, as she still hasn't resolved her feelings for her childhood sweetheart. And we can expect all of these emotions to complicate her plans to take down high society in the Hamptons.
Nolan and Patrick:
There's no real love triangle here, but some attention must be paid to Revenge favorite Nolan Ross (Gabriel Mann) and this season's hottie newcomer Patrick (Justin Hartley). Nolan's sexuality has never been clearly labeled and we've seen him date women and men throughout the show's seasons. But the relationship between Patrick is especially complicated because — like many of the relationships on Revenge — it's not quite clear yet whether or not the two are legitimately interested in each other, or using each other for their own personal agendas. Chances are, it's a little bit of both. Which means we'll all have to keep tuning in to see how all these little affairs continue to bring on the drama.