'Luck' Recap: Earthquakes Can Do Magical Things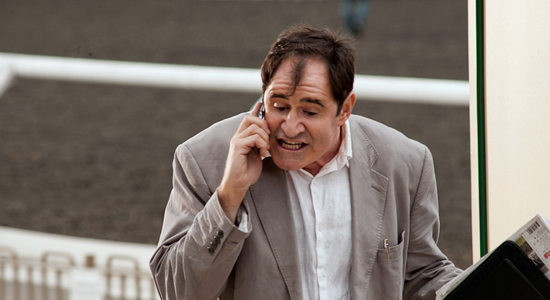 S1E6: After establishing that its biggest fault up to this point has been an overuse of thematic jargon and scenes relying too heavily on the machinations of the gambling world, Luck takes a divergent path this week, giving us an episode that is in large part free of dialogue altogether. The sixth episode of the series marks a turning point in several of the characters' stories, and a sort of shift in mood for the show on the whole. From what I can tell, everything to come as indicated by this week's episode is promising.
"I have seen people profoundly changed just be being in proximity to horses…Don't be afraid of that, Chester." – Claire
"Of what?" – Ace
"Everything that can be." – Claire
Ace Bernstein has no dearth of hostility towards his fellow man. However, there is one character who we've seen Ace show nothing but affection for: Gus. This week, though, tensions arise between Ace and Gus, having something to do with Gus' barely masked disapproval of Ace's budding romantic feelings for Claire Lachay. From start to finish of this week's episode, Ace is shown to have thinning patience for Gus—even when the latter's behavior is largely innocuous. After snapping at his friend for falling asleep during a conversation, Ace chastises himself alone, recognizing that something inside of him is changing, which he is not at all comfortable with.
Mrs. Lachay tries to convince Ace that change is something to be celebrated. Better things are inevitable. But Ace's state of mind remains affixed against the idea of change. Meanwhile, Ace sends Nathan Israel on his first field mission: delivering a message to Mike and his cronies. Recognizing Nathan's earnestness, Mike offers the young man a "double agent" position: working for him while maintaining the air that he is working for Ace. However, Mike is unaware that that very con is being pulled on him. Although Nathan accepts, he is really working for Ace, tricking Mike into thinking he is tricking Ace into thinking he is working for him. It's what you call a long con. Or so other shows about criminals have taught me.
"Hello. My name is Joey Rathburne. Tommy Bahama. One hundred percent cotton. Extra large. Made in China. Machine wash. Cold water. Do not use chlorinated bleach. My name is Joey Rathburne." – Joey
The story of maximum interest this week surrounds Joey Rathburne. We saw in weeks prior that Rathburne is troubled by the failing of a relationship—perhaps a marriage—that he had with a woman some time ago. This week, Joey gets the woman on the phone, eager to speak to her, but is dealt only derision and hostility. After hanging up, Joey seriously considers killing himself, handling a loaded gun by his head before his bathroom mirror. While Joey hesitates, California is struck with an earthquake, causing him to fire the gun, which sends a bullet ricocheting throughout his bathroom and grazing his face. Joey, naturally, is thrust into a panic, but there is some oddly good news that arises from this event: as we see in the scene thereafter when Joey's cheek is stitched up by a doctor, Joey's crippling, agonizing stutter is entirely gone.
Joey enjoys his new freedom with a great deal of confidence. He speaks in long, eloquent, often unnecessary sentences, talking loudly and proudly to everyone he encounters. Throughout the episode, Joey sails high, carrying himself with more pride and happiness than we've seen yet. Unfortunately, it is short-lived. At the end of the episode, Joey is faced in conversation with one of the several banes of his existence, jockey/addict Ronnie Jenkins. Almost immediately, Joey's stutter returns, which sends the visage of self-gratification from his face. Joey is, once again, sour and miserable.
Joey's storyline is terrific in its simplicity. We have seen Joey as troubled from the get-go, and have never really known for certain whether his anxiety and depression were results of his stutter or the other way around. Likely, they sort of inform one another. Joey might be the best representation of what Luck seems to be about: he is entirely alone, beyond any of the other misfits on the program. Ace has Gus, the members of the degenerate foursome have each other, Escalante has Jo, even Walter has his horse and dog. But Joey is completely without a companion—he is invested entirely in a job that doesn't seem to afford him any real satisfaction or happiness. He's conquered by his anxieties and leads his life without hope for victory. It's heartbreaking, as is story on this week's episode.
"He's already dead. You wake up with that no matter where you wake up." – Escalante
Escalante and Jo hit a bit of a rough patch this week. Although their relationship has been shown to be offbeat and primarily carnal, she seems to have some deal of emotion invested in him. This is why she takes it so hard when Escalante shows especial insensitivity to one of his employees whose son is killed in Mexico. Teaming that with the fact that Jo finds out she is pregnant with his child makes for a tough decision to have over your head.
Walter has an emotional week: he takes tremendous issue with rider Rosie's decision to whip his horse mid-race—his disapproval is something she takes to heart quite a bit. Walter, despite being catastrophically eroded, is still a soft man with a forgiving nature, so he is able to allow Rosie kindness. Also this week, Walter his met with some legal troubles involving a figure who claims ownership of his prized horse. Naturally, any man who wishes to take control of Walter's beloved horse will prove a destructive force to the fragile man…especially if the fellow is not the horse lover Walter is. And this guy doesn't seem to quite measure up.
"What do you think will be our strategy today? As far as…strategy?" – Renzo
Although their story is minimal this week, the four outcasts are still good for some fun scenes. My favorite shot of the week has got to be one of the closing scenes—Marcus, Renzo, Lonnie and Jerry each standing outside of his motel room, all in a row, bidding one another silent goodnights and glaring out into the sky before retiring for the evening, after a victorious day on the track. Their stories are so much fun that even when nothing new is offered, they command the entire episode. I am waiting on edge for something of real excitement to overtake the crew—as of yet, they've only dealt in small matters. In fact, the show on the whole has kept its issues pretty tame thus far. We'll probably see more dire circumstances arise as Ace's plot involving Mike continues, but hopefully the foursome will find some of its own more demanding adventures soon.
What did you think of this week's episode? Did the silent scenes work for you? Do you think Ace has positive things in his future, or will his mind drag him down? Let us know in the comments section or on Twitter @Hollywood.com and @MichaelArbeiter.