Lucy Hale and Co. Dish on 'Pretty Little Liars' Halloween Special: "Someone Will Die"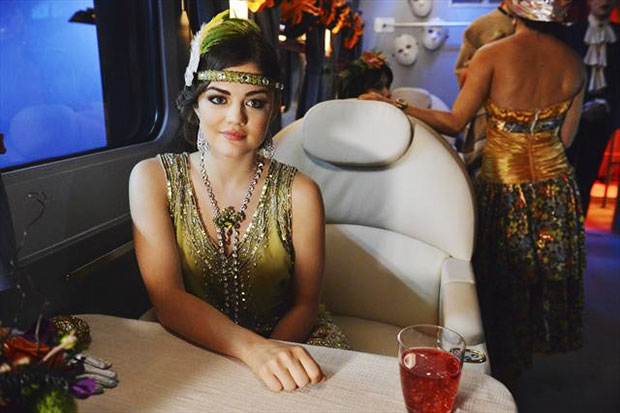 All aboard the crazy train! The Pretty Little Liars Halloween Special is almost here and fans should be prepared for heart-pounding, fear-inducing, Fant-A-stic thrill ride! After their completely traumatizing experience with Nate (aka Maya's fake cousin) the four friends—Aria, Hannah, Spencer, and Emily—are hoping to leave their troubles at the station and hop aboard the Rosewood Halloween Ghost Train for a little All Hallows' Eve fun. However their hopes for a low-key night are quickly derailed when they realize that there are multiple "A's" working together to turn their journey into the train-ride from hell.
SPOILER ALERT! Do not proceed unless you really want to know more about tonight's thrilling new episode of Pretty Little Liars. No seriously stop reading right now!
Hollywood.com braved the beyond-creepy Hollywood Forever Cemetery last week to catch up with the stars of Pretty Little Liars and find out just how terrifying Tuesday's Halloween special will be. The lovely Lucy Hale can sum up the craziness of the hour-long episode in just three words: "Someone will die."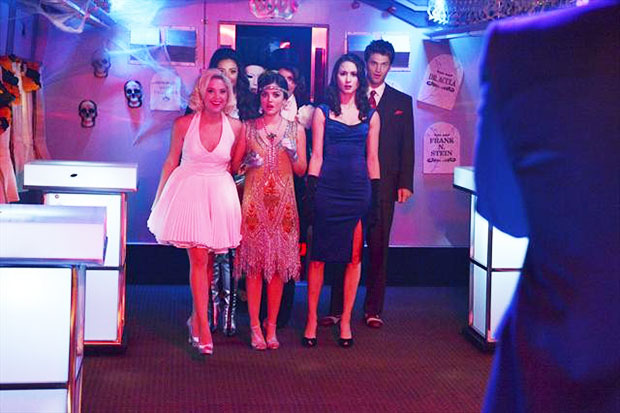 Executive producers Marlene King and Joseph Dougherty admit that this episode is unlike anything PLL fans have seen before. King boasts, "This is a movie. This is not a typical episode of Pretty Little Liars in any, way, shape or form. We set out to make a movie and that's what we're bringing the fans." Dougherty stresses that viewers should pay close attention to each and every little detail that fills the screen. "Be prepared to look at it again because you're friends are going to be screaming during the whole episode." He explains, "There's a lot of stuff going on. You'll be looking at things in the frame that you won't know what you're seeing until the end of the episode."
One of the most unbelievable and shocking moments in PLL history was finding out that Toby (Keegan Allen) is actually apart of the "A" team. (Our jaw are still on the floor!) So of course we had to ask the EP's what the oh-so attractive two-timer is up to on this mobile Halloween bash. King reveals, "It's safe to say that Toby maintains his rouse during the Halloween event and it's not until we come back in January that the PLL's are going to start to question his motives." Dougherty warns, "But keep your eye on him when he doesn't think that anyone is looking." Yikes!
Unfortunately it's not just Toby who will be causing havoc on the tracks. The showrunners revealed that there are "multiple foes" aboard the train who are going after the liars. Dougherty concludes, "Yes it's bad enough when you're on the train and you can't get off. It would be bad enough if it was only "A" on the train—but there are other forces at work on this train."
To get more details on these other forces, we caught up with the original A, and recent asylum escapee herself Janel Parrish, aka Mona. The 23-year-old actress says fans can expect to see a whole lot of "WTF!" moments in the 13 Nights of Halloween Special. "There's a lot of twists and turns and people working together that you're going to be like 'What is that? How do they know each other? Why are they talking to each other?!' Just connecting the dots a little bit and keeping people on their toes, as per usual." Parrish admits that she was floored once she found out who dies at the end of the episode, but she would expect nothing less from Rosewood. She laughs, "It's a creepy small little town, everyone has their secrets."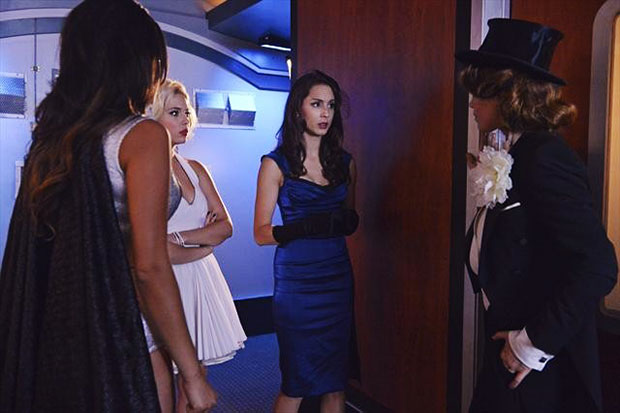 Tammin Sursock, who plays Jenna, echoes Parrish's thoughts saying that this death is definitely not someone that she would've ever expected. "Someone dies and it's someone that is a main character. I think that when any main character in any show dies it's a big deal, but for this it's even bigger because it shows you so many more clues about the show and I think more people will die too," she said. 
When asked if this character dies at the hands of an "A," Sursok was quick with her response: "Yes. Yes, yes, yes!" The South African native says the mysterious details about her on-screen stepbrother Toby will eventually be addressed. "I don't think in this special, but definitely the next couple of episodes you find out who is connected to him, and just how evil he really is and how connected Jenna is to that whole sort of saga."
It's hard to believe that Spencer's (Troian Bellisario) ab-tastic beau is in fact a true member of the "A" team. So to help clear up some of these rumors we made sure to catch up with Allen on the carpet for some mano-a-(wo)mano bonding to get the scoop. Allen begins by saying that the backlash from August's season finale has been brutal. "I feel like I did something wrong and I didn't I just play a character on TV that did something wrong." He continues, "Okay it's really really wrong. Actually pretty unforgiveable. He is an "A" and I would never forgive him for this." It's nice to know we're all on the same side here!
Many fans are hoping that Toby is working as a pretend "A" to defeat Rosewood's psychotic cyber-bullies from the inside. When we brought up this speclation to Allen he just smiled and said, "That's a great theory but I can neither confirm nor deny that." Aw shucks! But there is one thing we do know for sure: Spencer is definitely going to find out about Toby's double life! Whether it's in this Halloween special or not is something that we can't reveal just yet, but Allen does warn us that tonight's episode is definitely not one to be missed. "What is so great is the audience is going to watch this episode and they're going to know that Toby is "A" and nobody else except for Mona knows and that's gut-wrenching to watch." Allen says darkly, "The worst nightmare for a lot of people has come true."
The Pretty Little Liars Halloween Special airs tonight on ABC Family at 8 PM. Plus check back to Hollywood.com for a PLL Post Mortem to discuss tonight's devilishly daring episode!
How are you feeling about tonight's Pretty Little Liars episode? Which character isn't going to make it off the train? Who do you think is apart of the "A" team? Send us your sppoky speculations in the comments below!
Follow Leanne on Twitter @LeanneAguilera
[Photo Credit: ABC Family]
MORE:
'Pretty Little Liars': The Mystery Will Continue into Season 4
'Pretty Little Liars' Summer Finale: The Betrayal
'Pretty Little Liars' Recap: Wild Things
From Our Partners:

Pippa Middleton Acknowledges Her Famous Bottom in New Book: 'It's a Bit Startling to Achieve Global Recognition'
(Celebuzz)

LeAnn Rimes Sits Down With Katie Couric For First TV Interview Since Treatment For Cyber Bullying
(Celebuzz)