'Mad Men' and The Super Bowl: How Would Sterling Cooper Draper Pryce Advertise?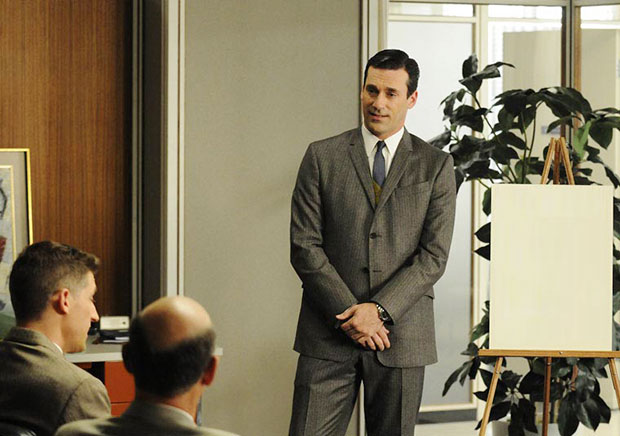 Whether or not you're invested in the teams (or in the case of Super Bowl XLVII, the coaches) that are facing off against each other, or if you prefer the Halftime Show (you should, for goodness sakes, it's Beyoncé), there's one thing that all Super Bowl viewers are united on: the commercials are terrific and awful and the thing we'll all be talking about come Monday morning. It's something the advertisers — who spend millions upon millions of dollars for a couple of minutes, sometimes just seconds — are entirely aware of. 
Of course, when we think of advertisers we think of Mad Men's Sterling Cooper Draper Pryce. (Sorry, real advertising companies!) So we wanted to imagine what it would be like if certain members of the creative team over at SCDP came up with a Super Bowl spot. And mind you, this isn't a future storyline that's entirely out of the realm of possibilities, as Season 5 left off in 1967, the year of the very first Super Bowl. This isn't just a tribute to the best part of the football/pop culture event — it's a cry for help, because we really, truly miss Mad Men. Jeez, is it April 7 yet? 
Don: Well, Don would most certainly do a spot for an alcoholic beverage, no? Perhaps in a desperate attempt to save his obviously drowning marriage, he'd cast actress wife Megan in it as a bombshell brunette sipping on a drink while she translates the English narrator's message in her native French tongue. A beautiful woman and booze: it hits all the Super Bowl commercial marks. C'mon, Draper knows what he's doing. (It's a safe bet that Stan would come up with a very similar campaign.) 
Roger: What better a time to advertise for the release of Sterling's Gold than during the heavily watched Super Bowl? He'd narrate the spot (with jazz playing in the background), of course, while glowing early reviews flash across the screen. 
Harry: Thanks to all his ins with TV execs out in Los Angeles, Harry would certainly be game to do a spot advertising a television show. He couldn't advertise for The Defenders, but how about Dark Shadows? At the very least, Harry could introduce the world to the power of the teaser trailer. 
Ginsberg: Let's be honest, Michael would stir the s**t. Something political, something questioning the very status quo that is tuning into the big game, something that would be a piece of social commentary or satire. You know, like those Groupon ads, only not done horrifically wrong. 
Pete: Something creepy like this old Apple ad, no doubt. 
Peggy: We know, we know, Peggy doesn't work for SCDP anymore, but she's still the best in the biz. The trailblazer that she is, Peggy would flip the Super Bowl commercial on its head and make it appeal to women, without alienating male viewers. Plus, she'll finally get to recruit Joe Namath to appear in one of her ads, after all. 
[Photo credit: AMC] 
More: 
'Mad Men': Season 6 Promo Photos of Jon Hamm and Co. Are Chic, Smoldering
'Mad Men' Returns: Season 6 Will Premiere on April 7
10 Iconic Super Bowl Commercial Stars: Where Are They Now?
---
You Might Also Like:

Biden? Ford? Surprisingly Hot Young Pics of Politicians

Who Wore This Crazy Hat?

Stars Who Changed Their Look After Love