'Mad Men' Conspiracy Theory! Is Megan Draper's Star T-Shirt Symbolic of Sharon Tate?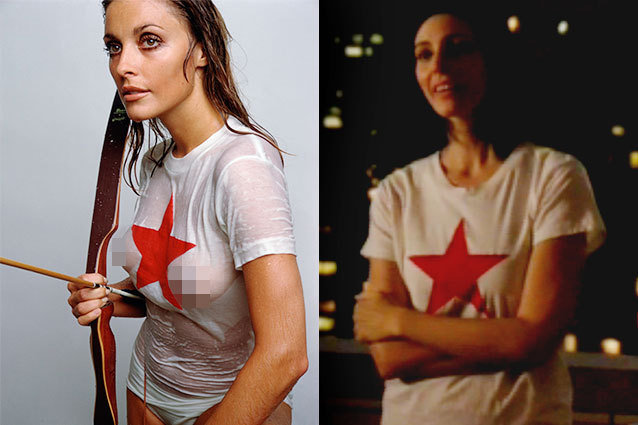 This is the kind of conspiracy theory Reddit was made for. On Sunday's episode of Mad Men, "The Better Half," Jessica Paré's Megan Draper wore a white T-shirt with a big red star. I know, you all thought at first that she's a big fan of Macy's! But, actually, it was a reference to the T-shirt tragically-murdered actress Sharon Tate wore for a 1967 Esquire magazine photo shoot. Mad Men costume designer Janie Bryant confirmed on Twitter that this was "no coincidence," after the daughter of the Esquire photographer who snapped that photo pointed out the similarity. 
Two years after that photo was taken, Tate, then eight-and-a-half months pregnant, was brutally murdered by the Manson family. A whole thread on Reddit has sprung up wondering whether this is some grim foreshadowing on Mad Men creator Matthew Weiner's part for what may ultimately be Megan's fate on the show — especially given all the references in recent episodes to rising crime rates in 1968 New York.
But if Megan's meant to be an avatar for Sharon Tate, does this mean her husband Don Draper (Jon Hamm) is symbolic of Tate's husband Roman Polanski? It would certainly fit, since both Polanski and Draper are tireless skirt-chasers with a flair for kinkiness — and even criminality. Something dire may be on the horizon for Megan, but Don may be in trouble as well. Maybe he'll finally suffer the consequences of his sexual improprieties as Polanski did after pleading guilty to rape in 1977 and being an exile from America ever since. It'd be a fitting comeuppance for horndog Don.
Unless we're reading this all wrong and that woman who invaded the Draper's apartment in "The Crash" was supposed to be Charles Manson?
Follow Christian Blauvelt on Twitter @Ctblauvelt | Follow Hollywood.com on Twitter @Hollywood_com
More:
5 Theories about 'Mad Men' Mystery Character Bob Benson
Ken Cosgrove's 'Mad Men' Jig Gets a Daft Punk Mashup Assist 
'Mad Men' Recap: Don and Betty Go to Camp
---
From Our Partners:


Zoe Saldana Strips Down For Magazine (Celebuzz)


33 Child Stars: Where Are They Now? (Celebuzz)