'Mad Men' Goes to Hawaii for Season 6 — PHOTOS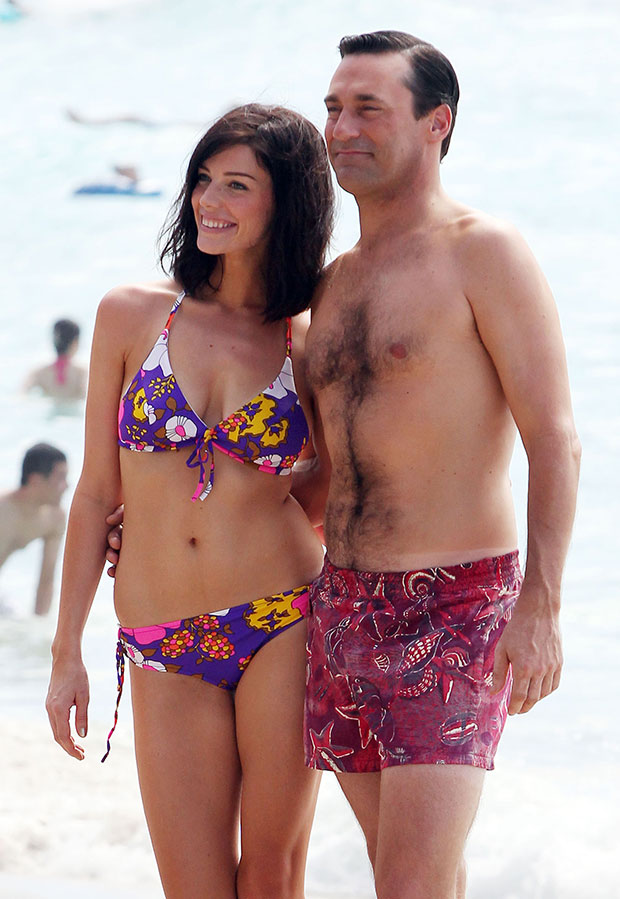 When we last saw Mad Men in June, the hit AMC drama left its characters, and us, in a place of uncertainty. Don Draper contemplated an attractive young woman's unwittingly-loaded question—"Are you alone?"—while listening to the sweet refrain of Nancy Sinatra's "You Only Live Twice." Were Don and Megan headed for Splitsville? Was his decision to encourage his wife's nascent acting career really the much-needed support of a devoted husband? Or was he putting distance between them to set the stage for his own departure from the marriage? And when the heck would we find out the answers to these questions?
Luckily, these new photos of Jon Hamm and Jessica Paré shooting season six suggest that all will be revealed sooner rather than later. No 17-month hiatus between seasons this time! And what better place for a struggling couple to work out their marital kinks than Hawaii? Yes, despite the unfortunate Howard Johnson's Incident of 1967, Don and Megan seem to be all smiles in the Aloha State, happily lounging in psychedelic swimwear on a beach in Maui.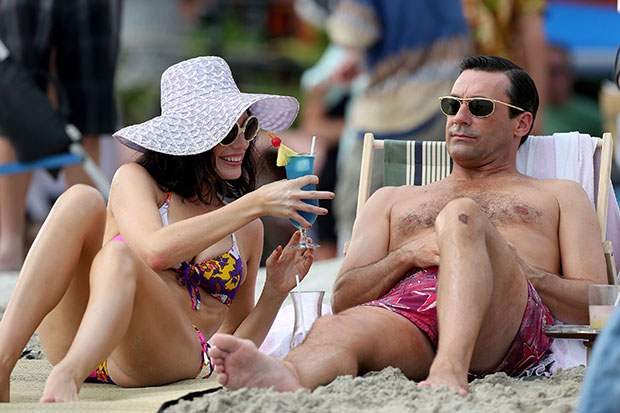 One dark note, though. Don is apparently devouring a copy of Dante's Inferno. Unusual beach reading, huh? But if Maui is one of the Seven Levels of Hell, then sign…me…up.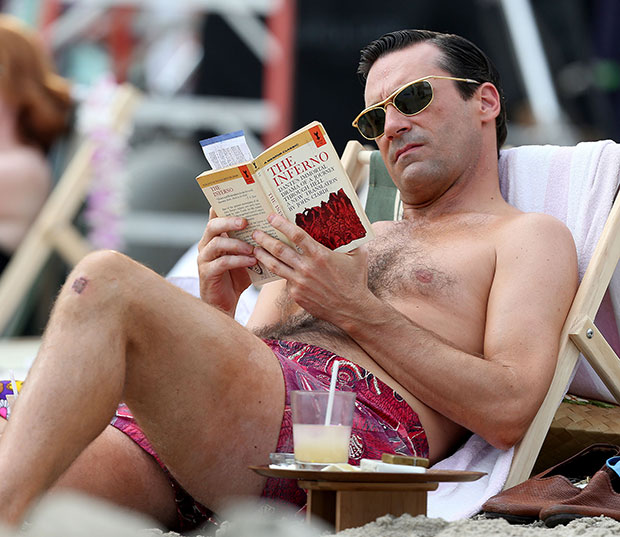 Don even officiates at a lei-strewn Hawaiian wedding!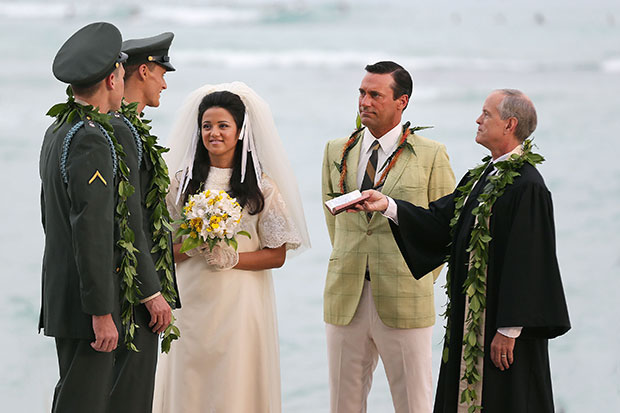 Basically, there's no chance we're going to get through the Drapers' Maui trip without "Zou Bisou Bisou" chanteuse Megan doing the hula, is there? A return date for Mad Men hasn't been set yet, but it's widely expected to return in Spring 2013.
[Photo Credits: Zeus/Apollo/FAMEFLYNET PICTURES (4)]
More:
'Mad Men' Recap: Season 5 Finale
Jon Hamm, Paul Rudd, and Adam Scott Create 'The Greatest Event in Television History'
'Mad Men': Why the Show Can't Go On Without Peggy
---
You Might Also Like:


15 Oscar-Winning Nude Scenes


Young Jack Black Is Totally Unrecognizable