'Mad Men' Recap: The Tragic Ballad of Joan Holloway Harris (Season 6, Episode 10)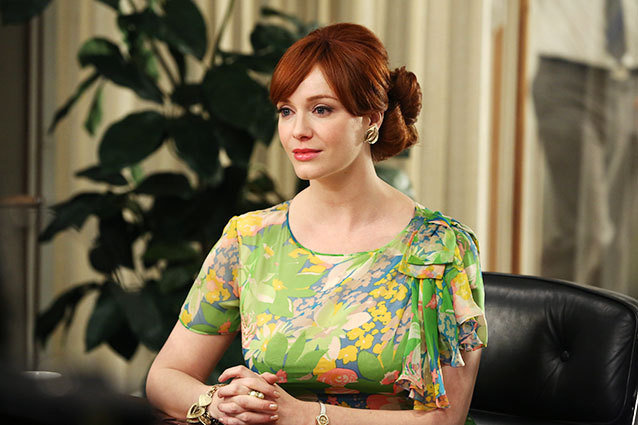 For these past few months, Mad Men fans have been forced to get their Christina Hendricks fix (Christina Henfix, if you will) from AMC's ceaseless roulette of Johnnie Walker commercials. Hendricks' character Joan has been conspicuously absent from the bulk of Season 6, dropping in for seldom more than a scene or two per episode — albeit occasionally quite substantial ones). But this week's chapter, "A Tale of Two Cities," lends focus to the Sterling Cooper & Partners (oh yes, they condense Draper, Chaough, Campbell, Pryce, Harry Hamlin, etc. into the all-encompassing "Ampersand 'P'," as Don calls it) ladder climber, offering up new professional opportunity for Joan, while maintaining the stronghold on her consistently poor fortune.
Joan Holloway was introduced as a villain of sorts, imposing the status quo over Peggy, an entity of the changes yet to befall the advertising company and the 1960s America in general. As the world around her ascends, represented by foil Peggy, Joan slips from a lonesome plateau to a desperate valley — their rivalry transformed to friendship as the playing field leveled, with Peggy empowered and Joan infused with a stirring humility. The later seasons have seen Joan near rock bottom, though not for lack of a rigidly dominant affect, for the crowd: her destitute marriage, her affair with Jaguar's Herb Rennick, her dwindling reverence among fellow Sterling Cooper partners. This week's episode allows Joan to grasp at a new beginning, mimicking the early climb of Peggy from secretarial to advertising departments.
A would-be blind date organically turns to a professional relationship when Joan meets an Avon representative, bringing the new potential client to the attention of Peggy and hoping, despite "protocol," to take the lead on roping in the account. But as far as everyone is concerned, that's not the way it's done here.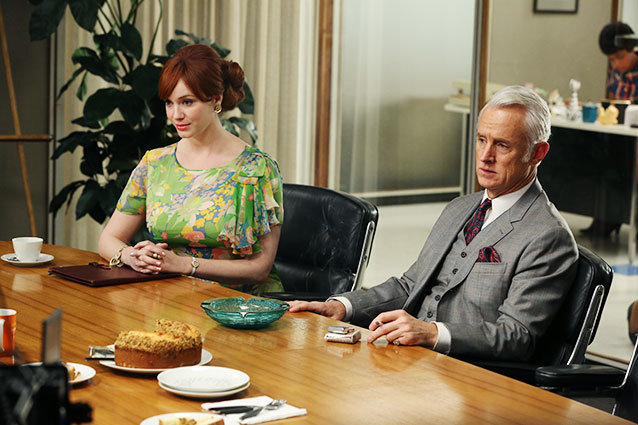 It's funny that the very mentality that identified Joan in the early days of Mad Men has become her adversary: Joan wants to advance. More than that, Joan wants to feel worthwhile. But standard practice entails that Pete Campbell head the next meeting… a standard practice that Joan shirks when she organizes a sit-down with the Avon rep, Peggy, herself, and nobody else. This enrages Pete, concerns Peggy (who goes to bat for Joan, but offers a holier-than-thou tongue lashing about her insolence), and rustles the feathers of, but otherwise doesn't inspire much consequence, from Ted Chaough. All this on top of the meeting having not gone particularly well sinks Joan to the bottom of a murky pit — her brave stab at initiative has landed her back in the poor graces and fleeting thoughts of the men who run her office. When is she going to get a win?
On the other side of the country, Don, Roger, and Harry high-tail it through the high-on-acid high societies of Southern California. Again with the drugs, Don fulfills his lack of despair over the Democratic National Convention protests by indulging in mind-altering drugs, facing a hallucination of Megan as he struggles to unite with the semblances of humanity that he so very sporadically experiences (there was that one when he said he loved Bobby for the first time a few weeks back… and… uh… um…).
And the Bob Benson mystery thickens when the rosey-cheeked young man halts an altercation between partner Hamlin and an agitated Michael Ginsberg, who identifies the advertising industry as "part of the problem," refusing to take on a new project. Appeasing both men, Bob allocates his reverence for the chain of command to Hamlin, and bucks up the passionate artist (and Jew! He makes sure to bring up the fact that he's a Jew!) in Ginsberg. Who the hell are you, Bob? Where do you come from?
Follow Michael Arbeiter on Twitter @MichaelArbeiter | Follow hollywood.com on Twitter @hollywood_com
More:
'Mad Men' Recap: Don and Peggy Go to Camp
'Mad Men' Recap: What Just Happened?
Five Theories About Bob Benson
---
From Our Partners:


Zoe Saldana Strips Down For Magazine (Celebuzz)


33 Child Stars: Where Are They Now? (Celebuzz)