'Mad Men' Preview Predictor: Shhh, Someone Has Something Vague To Say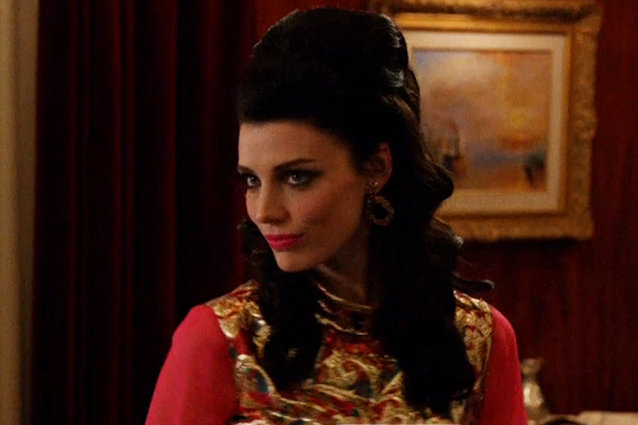 Whenever I watch the ads for next week's episode of Mad Men (which, I absolutely wait through the end credits for) I wonder how they'll top themselves with absurd vagueness. Well, I'm happy to report, fellow Mad Men enthusiasts who are also endlessly amused by these pointless previews: we may have the best one yet. 
While they are still the patented brand of blanket phrases and statements that give zero indication of what the hell is going on ("So, where's our check?"), this week's trailer went so far as to get rid of those brief words completely. There's a hilarious snippet of the exceedingly cranky and rude Harry Crane (Rich Sommer) shushing someone and another of black hair Betty (January Jones) letting out a sigh while putting her hand over her eyes. So much exhaling next week! And nary a cigarette in sight! 
That said, even with the needless shots in the trailer (Pete is walking out of his office!), there are some moments of substance. For instance, there's Megan (Jessica Pare) throwing Don some seriously coy glances and telling him, "We can't avoid it forever." Now, whether that's her swinger bosses (does that mean that's actually going to happen?) or their imploding marriage, will remain to be seen until next week. 
It also looks like we'll finally be getting more of Ginsberg and his sweet-a** facial hair. Though, it looks like it's just more of his paranoia about what's going on in the office without him. See: "I'm sorry, am I interrupting something?" and "I sure as hell didn't arrange this!" Though, I'd like to believe this is all just about a facial hair-related falling out with Stan. 
Here are some other key moments from this week's insane preview, which you can watch here: 


"I thought it would solve the whole thing."—Roger. I'd venture this has to do with the whole Joan/secretary debacle from last night's episode. 
"I don't know why I'm so surprised."—Pete is likely talking to his wife Trudy, who is hopefully still laying down the law with him about not coming home. 
"Forget about her… Don't do anything stupid."—Peggy seems to be at the same soirée as Don and Megan, but I doubt she'd say anything so daring to either one of them. My guess is that she's talking to her own boyfriend Abe. 
"Everything is fine"—Henry. But judging from that exasperated sigh from Betty, something is awry in the Francis household. Perhaps something with Sally, though she makes no appearance in the trailer. 
"That's disgusting!" —Pete, to a mirror, presumably. 
While I admit I didn't do so hot with last week's preview predictor (though I did properly guess that Don was giving some serious sexy eyes to Sylvia), check back in next week to see how I fare? What are your assumptions for next week's episode? Lots more shushing? Share your theories in the comments section. 
Follow Aly on Twitter @AlySemigran
More: 
'Mad Men' Preview Predictor: Dying To Hear What They Say Next
'Mad Men' Preview Predictor: 'What Are You Talking About?' Exactly. 
'Mad Men' Recap: Finally, Some Alone Time With Joan
---
From Our Partners


Stars Pose Naked for 'Allure' (Celebuzz)


Which Game of Thrones Actor Looks Least Like His Character? (Vulture)