'Mad Men' Preview Predictor: What Does It All Mean?!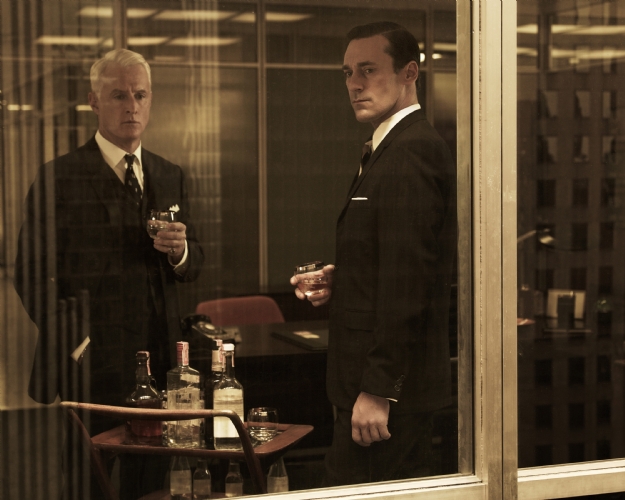 "Next week on AMC's Mad Men"… someone says something vague and cryptic. Week after week, fans of the Emmy-winning drama stick around until the very last second of each new episode, and not just to hear which perfect song will play during the closing credits. Despite knowing that Matthew Weiner will never give any spoilers away and that our DVR probably won't let us see the entire thing anyway, Mad Men fans watch those 30-second teasers in which there's absolutely no way to tell what the next new episode will entail by watching our beloved characters spout nondescript one-liners. (What did Don Draper mean by "What"?!) 
Last night's trailer was no exception (Joan tells someone "I could care less"), but by God, we're still going to try and guess what the heck the employees of Sterling Cooper Draper Pryce are talking about to make the wait for next week's episode more bearable. In fact, every week until the finale we'll dissect the puzzling phrases from those ads and see if we can guess what's going to happen. Then, when the new episode airs the following week, we'll see how we did. Now, as one of our Mad Men characters might frustratingly ask, "What does it all mean?" 
After last night's ep "Dark Shadows" (
strange coincidence?
) here's what some characters had to say during the teaser: 
Harry: "They're derived from reality, but they're hopes and dreams." First of all, that's some deep stuff, Harry Crane. Assuming he's not talking about his coveted White Castle burgers, the guess is that he's chatting with someone about the look of a new campaign. Sounds groovy. Can't wait to see what it is, man. But, things could be a mess with said campaign or his bosses, as his secretary tells him "He's sort of been threatening to stop by lately." Maybe Roger wants that bribe money back, after all. 
Don: "Someone's not going to be happy and I'd rather not stand it in for a month." Uh oh, there's a chance in hell something has gone awry with either Heinz or Sno Ball. Later in the ad Don told someone, "Maybe you and I should go as a couple." Since he's seen going somewhere nice (the opera?) with Megan in the spot, he's probably kidding around with Pete or Ginsberg. 
Lane: "Your promise was to extricate me from this situation all together." Trouble on the home front? This sounds like a classic lost-in-translation conversation between Lane and his wife Rebecca. 
Joan: "I could care less." Classic Joan, saying it with just the right amount of conviction. That tone sounds reserved for one of her secretary underlings who messed something up and wants her advice. (Jeez, can anyone ever get anything right the way Joan does? Answer: No.) 
Pete: "You may have to stay past 5:30." Ugh, Pete, you are the worst lately. It's bad enough you're cheating on your lovely wife, but then to tell, presumably Ginsberg, he's got to work late, makes us like you even less than we thought possible. 
Okay, your turn! What the heck was everybody talking about during that preview for next week? Share your guesses in the comments section below and then check back in next week to see how we did with our theories. 
[Photo credit: AMC] 
More: 
Jon Hamm Nearly Lost Mad Men Role Because He Wasn't Sexy Enough