'Mad Men' Recap: Don Draper Is a Whore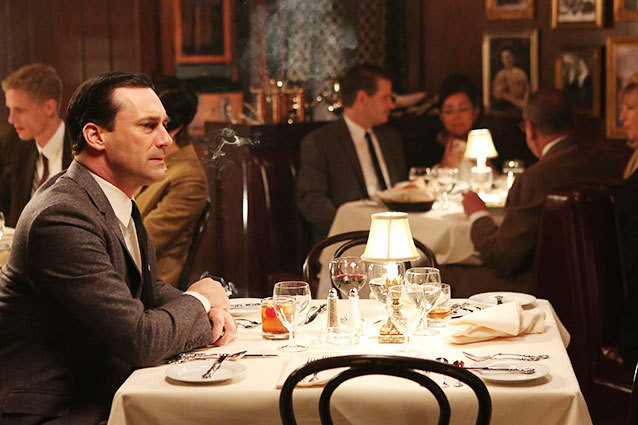 We are only two episodes into the season and, wow, it sure isn't anything approaching subtle. Even a blind deer wandering around a forest could tell that the season premiere was about death and last night's episode, well, it was about whores. If that wasn't enough, we even got some flashbacks at the beginning and end of the episode of 10-year-old Dick Whitman watching his pregnant stepmother have sex with a man for money. Talk about a subtle clue. And this episode was directed by Jon Hamm, so we know who to blame. (Oh, and speaking of lack of subtle, the Vietnam conflict was playing in the background the whole episode, if you didn't catch that. Yeah, I did too.)
Yes, the scenes were of Dick's father's second wife Abigail arriving at his Uncle Mac's whorehouse (Don mentioned Uncle Mac before and said he was nice, but never explicitly mentioned his house of ill repute). I assume Dick is supposed to be about 10 years old since his half brother Adam, who is now dead, is 10 years younger than him and Abigail is pregnant with him when they arrive. It would make sense that these scenes of Abigail and Dick moving into the whorehouse happened shortly after Dick's father died by being kicked in the head by a horse, but the actor who played Dick (aside from sporting the worst haircut not seen on Ke$ha) looked closer to 14 than 10. 
Of course, Dick's mother was a prostitute who died in child birth and so it appears that all of Dick's earliest dealings with women were with those of the oldest profession. We know that Don is no stranger to paying for some strange either (remember in Season 4 when he was regularly paying for an S&M hooker?) but this is the first time he's so explicitly paid one of his mistresses like he paid his neighbor Sylvia. Well, he did give Midge a $2,500 check once. Does that count? Guess it does. 
Though he claimed at the end of last week's episode that he didn't want to "do this anymore" with Sylvia, he's already returning to her at the beginning of the episode. He runs into Arnold and Sylvia fighting about money in the hallway (for a New Yorker, Don sure does run into his neighbors a lot) and when Don sees something that he can exploit in her he goes for it. It also has more to do with Arnold than it does with Sylvia. Don sees this smart, talented, righteous man and wants to take what is his as if spoiling that man's magic will somehow transfer that power onto himself. Before Don leaves, he gives Sylvia some cash for whatever she wants. He's paying for it, just like old times.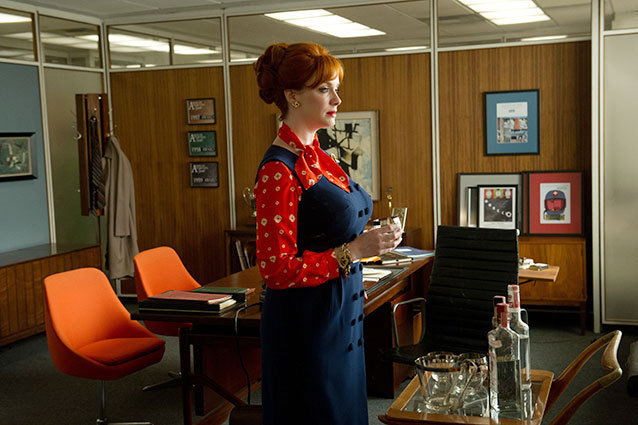 Not just the transactional sexual relationship, but how the man treats the woman after it's done is the other concern of this episode. Don treats Sylvia with respect, but he is not the kindest (perhaps that is his mommy complex speaking). Pete treats his hooker with nothing but contempt as soon as they're done sleeping together and Herb, the sleazy Jaguar salesman who Joan slept with so the firm could get his business and so she could get a percentage of the company, treats Joan like she's his possession, like a chew toy that he now owns because he's slobbered all over it. Joan goes from their confrontation into Don's office and pours herself a drink. She was always a reluctant prostitute, but she did it so she'd never have to be beholden to a man ever again. As Don watches her swallow her regret with a mid-afternoon vodka in his office it's clear to him – and to the audience – that he has become Uncle Mac. He's running a brothel all of his own.
Don is not only the madam but also one of the whores, and we saw this last episode where he was willing to do anything just to keep the Hawaiian hotel from walking out the door without spending their money. This time around he's more reluctant when he sees the way that Herb treats Joan. He hates himself for selling her, for becoming what Dick Whitman was always destined to be, a whoremonger like his Uncle. When Herb wants to pull back on national advertisements for Jaguar so that he can sell more cars and insists that the SCDP team to do the selling for him, Don initially agrees, but then changes coarse at the meeting. He nominally going along with the plan, but does everything he could to torpedo the idea with the big brass. He's not going to sell out to this guy again.
Later Don says, "So we're just going to keep saying yes no matter what because we couldn't say no to begin with?" This not only applies to their relationship with Jaguar, but Don's relationship with Sylvia. He wants to fight his impulse and stop saying yes to having sex with her, but he can't stop. Later, when Don and Sylvia are alone at dinner, there is a strange transference that occurs. Sylvia is the one who wants to stop and now Don is the one who has to sell it to her. He's selling her an idea of love; he's telling her that he thinks about her all the time and she can't fight it because he knows she wants it to. Don is not only the saddest cliche of all, the guy at the strip club who thinks that the girls actually like him and are in love with him, but he's also selling her on the fantasy. He's selling himself on it, too. He's creating a reason to keep saying yes just as he's buying her continued compliance in the realtionship with this specter of something more (something we all know he's not able to actually deliver). Don has gone from being the John to being the whore. If this wasn't telegraphed enough, as he slumps down in the hallway at the end of the episode "Just a Gigolo" plays over the credits. Thanks, guys. We figured this one out on our own.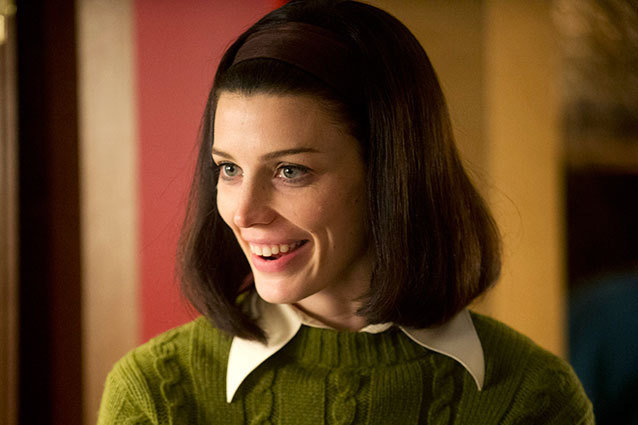 The interesting thing about Megan so far this season is that we only see her through someone else's perspective. Even when she is firing the maid in the laundry room, we see he only because Sylvia is looking on. Megan isn't really her own person anymore, just a character that other people react to — in stark contract to last season, as Don and the audience were getting to know her, where she had some agency of her own. She has a dramatic arc about her miscarriage, but we don't see it through her eyes, only when she's telling other people about it. That most likely speaks to Megan's lack of prominence in Don's life.
Yes, Megan had a miscarriage and didn't tell Don about it. And if she was six weeks along, as she said, it means she had a pregnancy that she knew about and didn't tell Don about either. She says she's not sure if she wanted to have a baby or not, that they had never even discussed it and she doesn't think it's the right time. What seemed to be making Megan sad was not the miscarriage so much as not feeling bad about it. She was happy when she didn't have to choose between being a wife and mother and having a profession. Megan always wanted to be something more than a housewife but she's sold herself to Don in that role and now she can't seem to get out of it. Ironically, it also seems like the role she's better suited for. We see this in her problem with the maid, too. Megan doesn't want to deal with any domestic duties, which is why she has a maid in the first place, but when the maid can't do them she is in charge of firing her and doing the cleaning herself.
The other interesting thing is, when Megan, usually a dynamo of emotion, finally tells Don about the miscarriage she tells him that she didn't know what to do because they've never talked about it. Don tells her that he wants what she wants and is ready to talk whenever she does. This, of course, would be the time to have a conversation, but Megan shies away. She is still unsure of what she wants to do with herself and if she doesn't seal the deal with a child soon, it seems like she's going to be out the door. Don is not only sleeping around again, he is letting his heart get invested. Even if it is only a love that keeps him from thinking he's buying a whore, it's a still love and that is the most dangerous thing of all. At the end of the scene he is comforting Megan and they both are there, not as a unit, but as two people who are using each other to achieve their own ends.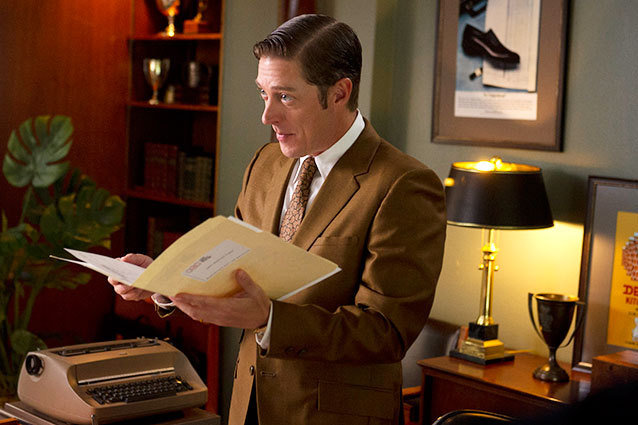 It would seem from the outside that Pete wasn't a whore at all this episode, that he was the one purchasing a neighbor with the promise of adventure and some free tickets to Hair, but you would be mistaken. Pete has been a hooker for a long time, playing up to Trudy for her family's money and her father's business at the ad agency. His father-in-law bought their suburban house (even the pool that everyone wants to skinny dip in) not only figuratively by keeping Pete employed, but quite literally too. Maybe that's what caused Pete to start buying women in the first place. The first time he visited a brothel it was with Don, Lane (RIP), and a fellow from Jaguar. It wasn't the first time he stepped out on Trudy (there was Peggy, the au pair he raped, and Alexis Bledel) but it seems like now he has a bachelor pad where he lures women in with the thought of favors and has sex with them.
It's probably that Pete feels so badly about himself for letting Trudy purchase him that he treats these women so shabbily. He's all charm when the woman arrives at his crash pad, but as soon as they're dressing or looking for more, he's shooing them out the door. It's simple transference, if he can make other people feel the way Trudy makes him feel – incompetent, powerless, worthless – then he can feel better about himself.
But we all know that Pete's biggest crime wasn't one of infidelity but one of indiscretion. In the brilliant scene where Trudy throws him out of the house, she tells him as much. Like any other John, she doesn't care what happens in their off time, but she doesn't want him rubbing his promiscuity in her face. Sleeping with a neighbor with an abusive husband was bad enough, but having to care for her when she shows up in the middle of the night battered and bloodied is a whole different thing.
When she's kicking him out, Trudy, who has always worn the pants in this relationship, treats Pete just like he treated the woman who he slept with. She hurries him out of the house, cussing him out as he hits the curb. Initially he tried to keep Trudy, trying to smooth things over with their battered visitor so she wouldn't find out, which seemed strange considering how miserable living in the suburbs has made him the past couple of seasons. But like any good hooker, he wants to ride the gravy train for as long as he could. Now it's over and he tries to burn it down on the way out, telling Trudy he is everything that makes her life exciting. He might be right, but I have a feeling that Trudy is going to do quite well on her own.
What made me so sad about this whole storyline was how expected it was. Of course Pete is sleeping around, of course he's not that discrete about it, of course Trudy finds out, of course she wants a divorce. Of course. Of course, of course, of course, of course. It's Don Draper all over again but in reverse (as powerful as Don is, Pete is equally as weak). This has always been his arc and it seems to have taken all the shock out of his story now that it has finally happened. If he's going to have an affair, can't he get it on with a manic depressive Gilmore Girl like he did last season? We need something to spice it up, and not just Pete, but the other characters as well. We've known for years that Don, Roger, and Pete were on a downward trajectory as Peggy is ascendant and watching that continue to play out seems like old news. Where are the Mad Men surprises we always loved? 
The one thing that I find exciting about Pete is Bob Benson. We see him in the Heinz meeting and the Jaguar meeting and no one has quite any idea what he's doing there or what he actually does. All we know is that he is a striver. He is a enthusiastic whore. He's so eager to sell himself to the company that he'll do any sort of scheme or scam to get himself attention. He's not even above going to get Pete Campbell's toilet paper and even paying for it himself (it seems like he comes from a long line of bankers, so he's probably got an extra nickel for some Charmin). Again, Pete is using Bob to make himself feel better. If he can pimp out this young man, that means he's not on the bottom rung socially.
What I can't figure out is Bob's place in all of this. How is this eager beaver going to fit into the greater narrative of the story? Even someone like Ginsberg, who seems to be the replacement for Don Draper, has a purpose. But this Bob? What is the point and why has he been more prominent this season than people we know and love, like Harry and (especially) Joan? Oh, Bob, I'm watching you.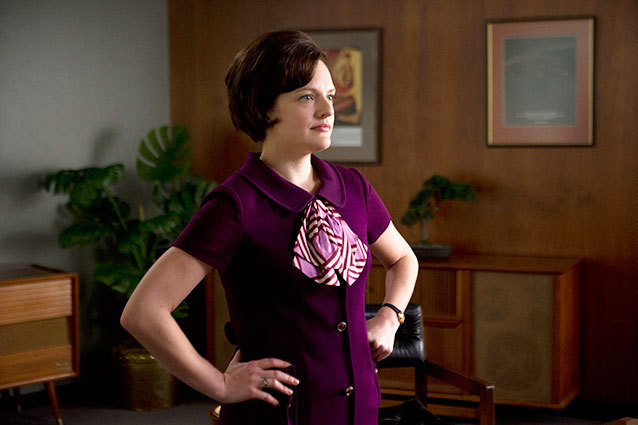 Peggy had two convergent storylines this week, the first seemed to be about everyone hating her at her new firm. This shouldn't be that strange for Peggy, since she felt like everyone hated her at SCDP as well. But it was a different kind of hate. At her old job, no one respected her because she was a secretary who rose through the ranks. It was like she didn't deserve to be where she was. Now the staff hates her because she's better than them, makes them work hard, and doesn't like anything they do. They hate her the way that everyone hated Don Draper.
If Peggy's transformation into Don wasn't complete, she now has a black secretary just like he does, albeit one she encourages to be better and to try to rise about her station. Phyllis, the secretary, tells Peggy to try to give the guys a pep talk and Peggy tries and tells them she doesn't hate their work because they're men, she hates their work because it's bad. But they can do better! It's the world's worst pep talk. They respond by leaving feminine hygiene powder on her desk with a snarky note. Even though she is in charge, her being a woman will always be a way to knock her down and deride her.
Of course, her other story line is about how her boss Ted makes her into a reluctant whore. During one of her late night calls with Stan, Peggy finds out about the meeting with Raymond from Heinz baked beans and how he doesn't want Don doing any work for Heinz ketchup (how much do you think they paid to be so prominent again this season?). When she tells Ted this, all he hears is that Heinz is unhappy and he makes Peggy go after the business. She initially refuses, telling Ted that her friendship is worth more than landing an account. But he presses and she gives in. He has purchased her and she has to do whatever he wants, whether she likes it or not.
This stands in contrast to how Don handled Heinz. Naturally, Ken Cosgrove wants to go after Ketchup anyway, because that is the big fish. Don's response, appropriate for an evening dedicated to escorts says, "Sometimes you gotta dance with the one that brung you." He's unwilling to sell out of his principles to get ahead. (Also, you see him sticking with Raymond, a man who is on his way out, rather than with his protégé Timmy, who is clearly on the rise. Don is already on the wrong side of history. For the first time, his ordering an Old Fashioned is incredibly ironic.) Peggy, on the other hand, is not. As much as she is like Don, she doesn't yet have the clout or position that he does to do what she thinks is right. For so long she was the little boy staring through a crack in the wall of the whorehouse watching the action. Now that she's found her way inside, she's found that she might not have what it takes to be the corporate whore.
Follow Brian Moylan on Twitter @BrianJMoylan
More:
'Mad Men' Premiere Recap: Don Draper Has No Idea Who He Is
What Is This 'Mad Men' Season 6 Party All About Anyway?
'Mad Men' Goes to Hawaii
---
From Our Partners


Jessica Alba Bikinis in St. Barts (Celebuzz)


Which Game of Thrones Actor Looks Least Like His On-Screen Character? (Vulture)