'Mad Men"s Jessica Paré: Why Megan is Better Than Betty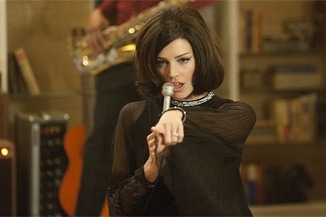 After stealing the show during Mad Men's Season Five premiere and releasing her first single on iTunes in conjunction with the series, actress Jessica Paré has a lot to celebrate. The new Mrs. Draper hopped on a call with reporters to discuss why she's a great match for Don, the "life-changing" experience of being on the show, that racy "sex on the floor" scene, and of course, the song everyone's talking about, "Zou Bisou Bisou."
Megan: Better Than Betty?
When Betty and Don were together, there was an almost unfair power struggle between the two. Don generally won, but Betty was floundering about trying to resist the outcome. But after the season premiere saw Megan asserting her sexual power over Don in the lingerie scene (below), it seems that Don may have met is match. Paré explains, "She's Don's equal … she has some power over him in that they are compatible sexually." But it's not just her power, it's the way she looks at Don: "Don is a very smart, very funny … she doesn't see the Don the rest of us see as viewers … she accepts the whole person in front of her and that's why he likes her," she said.
Finally, Megan's got one thing Betty didn't have: staying power. "The big surprise this season is that they're actually happy and they're a pretty good match for each other," she said, adding, "I don't think we've ever seen him go that far." And of course, there's the element of the office: they work together and Don seems to not care so much about work anymore: "They're a real couple; they spend real time together," she said.
About That Dance Number
Of course, being that "Zou Bisou Bisou" hit iTunes and Insound after the episode aired, a bit topic of chatter has been this seeming instant classic. Paré said it was like living out "her rock fantasy." She said, "I got to go into a real, grown-up recording studio," adding that for Megan, "it was a very gutsy move … a lot of awkwardness was felt [on set]. It takes a lot of courage to do do that." And while it was somewhat funny, the actress was very careful about the way she performed it, "I didn't want her to be laughable."
Working with Jon Hamm: Dream Job
Paré was mum on the idea of locking lips with one of Hollywood's most desirable actors, but she did note that Hamm is "stupidly talented" and "not bad looking, I guess" with a healthy dose of light sarcasm. She also praised co-star January Jones and her character Betty for being "a great portrait of a woman from that time." And while she didn't say Hamm was a direct cause of her good feeling, she did speak about how much she loves her job, "I can't think of anything as creatively rewarding as this." Yes, we'd like to work with Jon Hamm too. 
Is Megan with Peggy or Against Her?
Peggy is often mistaken as one of Don's past conquests, so it's natural that viewers might wonder if Megan is contentious or threatened by her. According to the actress, that couldn't be further from the truth: "Megan and Peggy are friends," she said. "Peggy has taken Megan under her wing, not totally unlike the way Don did to Peggy … she looks up to Peggy and admires her and likes her."